all photos Visit Corpus Christi unless otherwise indicated
The Coastal Bend is the heart and soul of live music on the entire Texas Coast. Folks come from all over for inspiration, to play gigs and to interact with our homegrown musical heroes.
With so many live music venues – bars, nightclubs, farmers' markets and festivals ­– you know that there is some strong behind-the-scenes support. Come meet our three hometown music shops that will happily cater to all your harmonious needs.
Largest Selection in the Coastal Bend: Sound Vibrations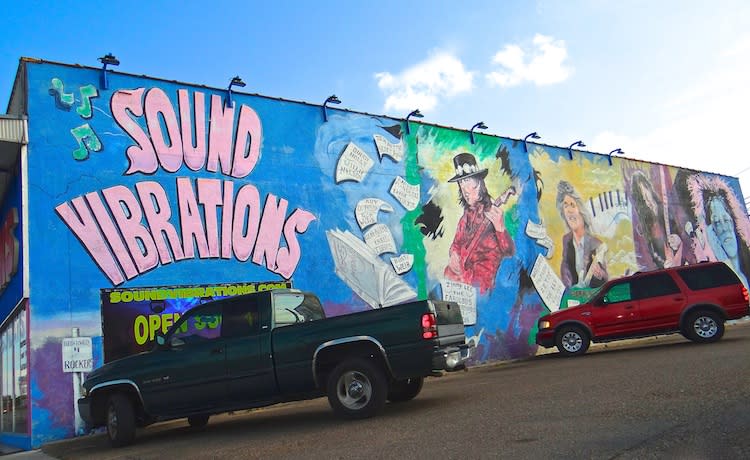 It ain't braggin' if it's true: The inventory at Sound Vibrations Music Center – walls and walls of guitars, drums, PAs, you name it  – is the largest in Corpus Christi. "The Roberts," as they are affectionately known – owner Robert DeGraaf and manager Robert Arsuaga – have been taking care of Corpus Christi's tunesmiths for decades, since 1975.
Take a stroll up the staircase to soak in the massive percussion selection. Check out the stacks of tom-toms in a rainbow of shades. There's a room just for DJs and sound tech as well as an exclusive palace of high-end acoustic guitars – gorgeous Gibson jumbos and Taylor dreadnoughts among others – requiring staff access. You'll be sitting among royalty, after all.

Sound Vibrations takes pride in their service policy. No need for an extra warranty or to ship an instrument off for repair. They service what they sell.
So bring your camera for a pic outside of the colorful mural/tribute to Texas music, featuring Stevie Ray Vaughan, Freddy Fender, Pantera's Dimebag Darrell and Janis Joplin.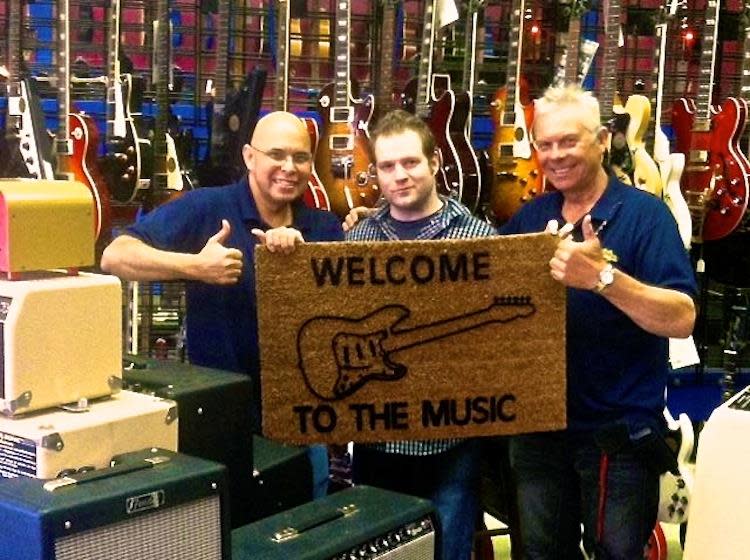 photo courtesy Sound Vibrations Facebook page
Manager Robert Arsuaga, a March Radness contest winner and owner Robert DeGraaf.
Multicultural Landmark: Galvan Music Co.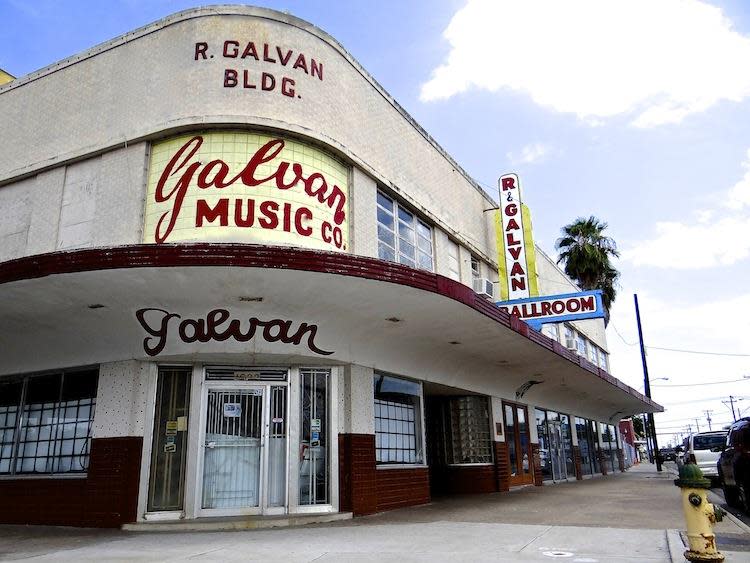 It's tough to miss the glamorous Streamline Moderne curve of the Galvan Music Co. and Galvan Ballroom building on Agnes Street near the Crosstown Expressway. Opened in 1950 by Rafael and Virginia Galvan, Galvan Music is a bona fide South Texas musical landmark, on the National Register of Historic Places and designated as a Texas Hispanic Heritage site.

The ballroom became a venerated house of jazz, bebop, Latin jazz, and swing, luring in the great live acts of the day to play Corpus Christi: Tommy & Jimmy Dorsey, Duke Ellington, Gene Krupa, Oscar Martinez, Freddy Fender, the entire Galvan clan, and so many more. The Galvan music empire led the way in integrating audiences and players of all stripes in South Texas.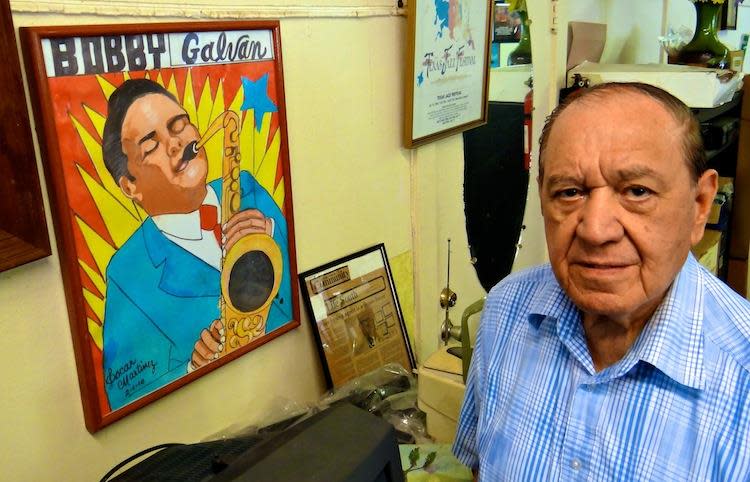 Bobby Galvan next to Oscar Martinez's portrait of him as a bandleader
Come breathe in this living history. The shop is a time-capsule of old-school music store goodness. Lines of beginner guitars sit next to elegantly carved bajo sextos. Nearby, a glass display case stands loaded with funny-named tools of the trade like key oil, cork grease and saxophone cream. Say "Hi" to current owner and esteemed bandleader Bobby Galvan. (Look for the pic of the Galvan Brothers with Duke Ellington!) Amidst all this history, there's a practical side: friendly sales, service and music lessons continue the Galvan legacy for generations to come.
Generations of Service: Clawson's Music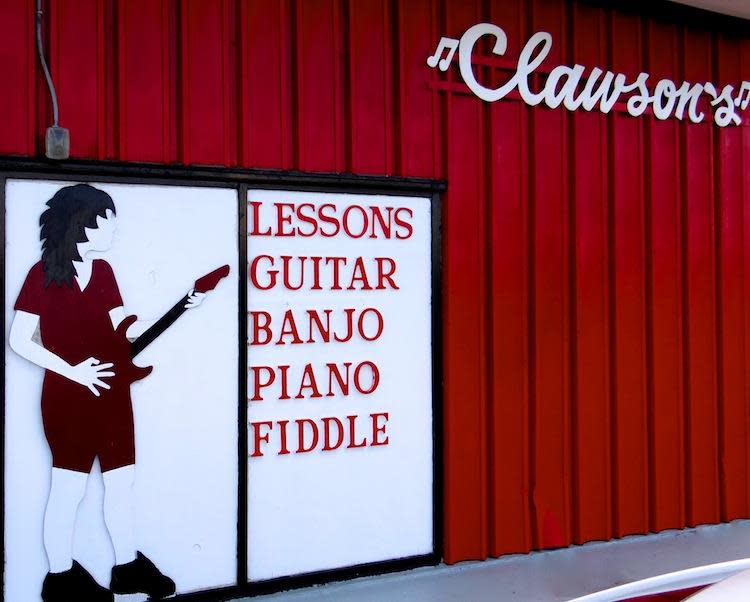 Talk about your musical dynasties! Owned and operated by three generations of the Clawson family – Bob, Barbara, Bob Jr. (Bubba), and Bob III (Bobby), Clawson's Music has earned a keen reputation for amazing service and great sales advice. Bob and Barbara Clawson opened their first (and much smaller) store in 1963 as an extension of her growing music-lessons biz. The music shop grew in the early 70s thanks to Barbara's successful country music career.

The royalties from her album One in a Million and the numerous singles it spawned, including the 1968 hit "One Bud Wiser," "put a lot of guitars on the walls at Clawson's Music," according to the Caller-Times. The present, 7,000-square-foot location opened in 1974.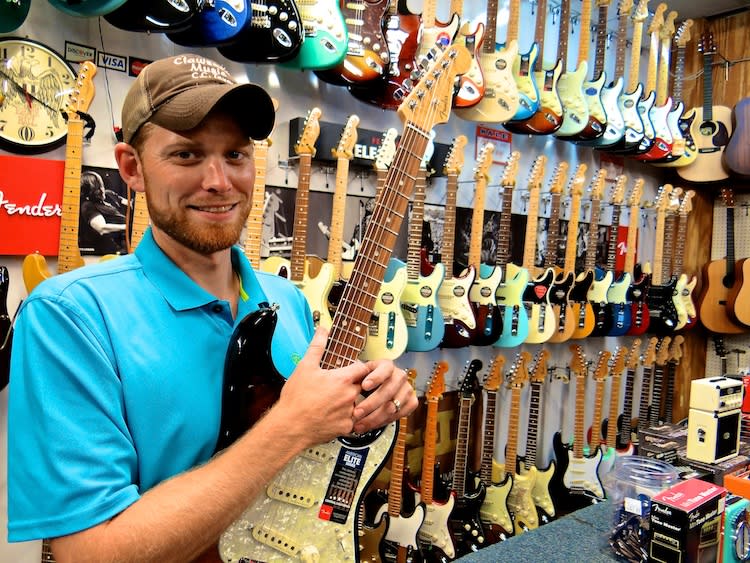 Bobby Clawson (aka Bob III)
Stop in and say howdy to the Bobs and Ms. Barbara. Bob IV (Bo) is getting ready to enter grade school, so there's no telling which Bob will sell you that next guitar! The store is full-service, with a wall of Fender electrics, plus an impressive stock of accordions, acoustic guitars and sound equipment. Barbara Clawson was inducted into the Country Music Association of Texas 2015 Hall of Fame, and the legacy of her guitar lessons, as with the Galvans, is sure to carry on through the generations.
Let the Music Play!
Whether you want to grab a guitar for an evening around the campfire on the beach, venture into a local open mic night or maybe you just want to shop for musical goodies and admire the talent that's here, we've got the music in us and are eager for you to explore the musical magic of Corpus Christi!