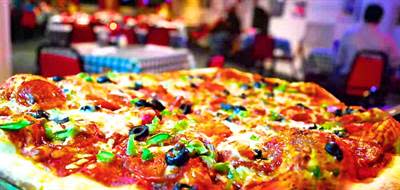 As much as we wished pizza would grow on trees, finding the best pizza in Corpus Christi and its surrounding areas can be tough. That's why Visit Corpus Christi has mapped out the locations of the best-tasting pizza in the Coastal Bend!
---
 Come enjoy a nice gourmet pizza at Padre Pizzeria out on the Island for pizza perfection. Padre Pizzeria offers calzones, lasagna, salads and gourmet pizza pies for dine-in, takeout and delivery! Pizza heaven. 14493 S. Padre Island Dr.
---
Follow your taste buds to B&J's Pizza where you'll find a laid back atmosphere, a HUGE beer selection and a menu worth coming back for again and again. Try out the famous "Jack's Special" with TONS of roasted garlic created by B&J's owner Jack himself. Or, join the beer club while you grub! It's no wonder this spot has been 53rd in the top 100 Independent Pizza Restaurants in the United States! 6335 S. Padre Island Dr.
---
Pizza + Movies + National Pizza Day = YES. 7601 S. Staples St.
---
Authentic New York Pizza is exactly what it's name is: authentic and New York-styled pizza.  5838 S. Staples St.
---
House of Rock is pizza is like biting into a slice of pure bliss. They make your slice of pizza pie anyway you'd like it, even gluten free! If you're a ranch dipper with your pizza, opt for the signature Rooster Sauce. House of Rock is celebrating National Pizza day by giving away a free slice of pizza with this printed coupon from 11:00 a.m. to 4:00 p.m.! Go get your pizza!
Nothing has ever tasted better. 511 Star St.
 
---
The meats are home cooked, and the marinara is made in-house. Maggie's Italian Restaurant offers mouth-watering selections for the pizza lover in you! 5334 Everhart Rd
---
Pizza State is the closest pizza place to Texas A&M University-Corpus Christi and if the perfect stop after a long day of classes. Pizza State offers a daily lunch and dinner buffet and dellivers! You'll see why Pizza State is a local favorite after grabbing a slice...or ten. 6133 S. Alameda St.
---
Panjo's Pizza is a Corpus Christi staple, serving pizza-hungry customers since 1964. This family-run joint offers thin-crust and deep-dish pies, plus live music nights! 1320 Airline Rd.
---
Seriously, have you even seen anything so glorious? (See paper plate for scale) Simply stated, Brooklyn Pie Co. is the only place to get true New York style pizza, plus wings, sandwiches and more! The use all natural ingredients and have a killer in-house made sauce. 15326 S. Padre Island Dr.
---
Freshly made from scratch pizza crust, bread dough, and sauces rule at this pizza joint. 615 N. Mesquite St.
---
The Gaff Bar & Pizza serves up the best grog & grub in the Coastal Bend! Home of the belt sander races! 323 Beach St., Port Aransas
Pizza = True Love.
Have a wonderful time getting your pizza on!