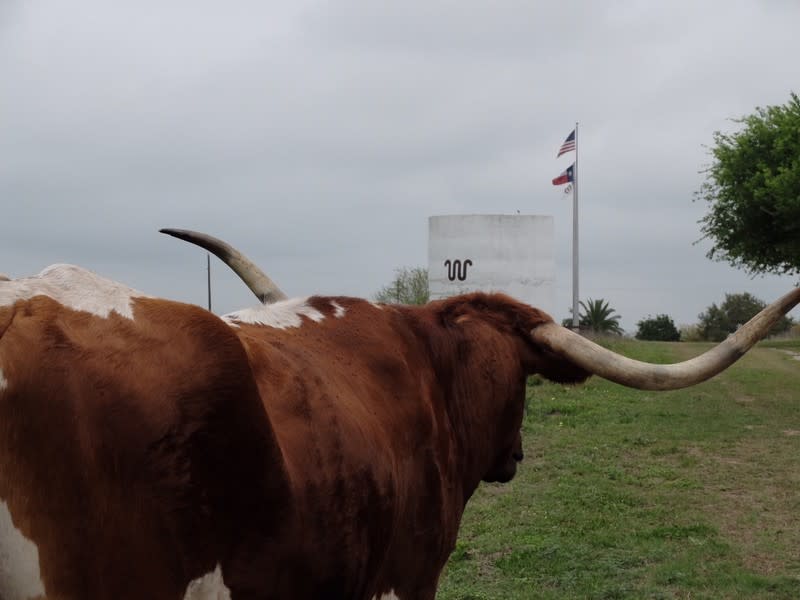 Longhorn at King Ranch
Corpus Christi may be known for its beaches, but that doesn't mean this coastal community doesn't embrace all things country and western. Here's how you can experience the western fun year-round!
---
Do a little Texas Two-Step while you're in town!
Check out these dance halls and honky-tonks for some of the best country and western dancing in South Texas.
The best live music south of Gruene Hall! Two-step the night away to the best in Texas Country Music every Thursday night with Texas Throwdown Thursdays.
Never two-stepped before? No worries! This Dance Hall offers dance lessons every Friday night from 6:30 p.m. to 8:00 p.m.
Whiskey River Night Club
Whiskey River offers plenty of room to boot, scoot and boogie on a Texas-sized floating oak dance floor. Dance the night away every Saturday at Whiskey River. Enjoy $1.00 drink specials until 10:00 p.m.
---
Nothing is more western than a juicy steak in an authentic Texas steakhouse.
Corpus Christi has several to choose from, but here's a samplin' of steakhouses in the area.
If you're looking for a top of the line steak and dining experience, make a reservation at the Republic of Texas Bar and Grill before you head to Corpus Christi. Enjoy panoramic views of the Corpus Christi Bay while experiencing the finest in prime beef and wild game.
Before you even walk in the door, you'll smell the mesquite wood that brings out the flavor in Niko's steaks. Offering happy hour from 4 p.m. to 7 p.m. daily. You won't regret this steak.
Family owned and operated, Texas Flame Steakhouse has been filling bellies in Corpus Christi for years! Try the Cattelman's 10 ounce steak if you dare!
---
The way to a cowboy's heart is through his stomach...with barbecue.
The debate remains undeclared as to which state has the better barbecue, but rest assured folks in these parts think Texas has a good thing going.
Influenced by the Central Texas region, Salty Oak smokes its meats with minimal rubs in a fire fed with post oak. You can expect to see the labor of love they put into everything from their low and slow smoked BBQ, fresh signature side dishes made daily and their house BBQ sauce made from scratch.
At this downtown favorite, you can enjoy all you can eat barbecue, order by the plate or by the pound. At Howard's, there are no bad choices on the menu. Make sure to try Gigi's homemade carrot cake before you leave.
Pronounced Hay-guh-my-er. Not only does this barbecue joint serve up delicious, smoky goodness, but the building has some history too. Stop in for lunch (only) and enjoy some of Corpus Christi's early history through Doc McGregor's aerial photos.
Tiny spot, big selection! Locally owned and operated, you'll feel like part of the family at Texas Mesquite BBQ and Grill. Meat may be king of the barbecue world, but at this local hot spot, the sides get just as much attention.
---
Got a hankerin' for more cowboy culture in your life?
Discover the Corpus Christi cowboy culture with these totally Texas stops!
Make a day trip to the King Ranch in nearby Kingsville, Texas, to learn about the history and modern day workings of the ranch. View King Ranch Quarter Horses, Santa Gertrudis cattle and an impressive herd of Longhorns.
Bonus: King Ranch sprawls across 825,000 acres of South Texas land, an area larger than the state of Rhode Island.
Ride like a cowboy on the coast! Horses on the Beach on North Padre Island offers visitors a unique way to view the seashore while experiencing cowboy culture at it's finest. Make a reservation and saddle up at Horses on the Beach!
To get a real taste of the mythic past of cowboys in South Texas, visit the Corpus Christi Museum of Science and History. If you've never saddled up before, hop on a real saddle to get a feel for the ride! If you have some time, take a gander at the Legend of the Cowboy video series.
---
Garth Brooks sang it best, "it's boots and chaps, it's cowboy hats" and what you wear to the rodeo.
Stop by one of these local mercantiles and get gussied up before heading down to two-step the night away!
Lone Star Country Store
Haven't shopped in a western wear boutique before? It's not all spurs and chaps, there's some really awesome fashion inside the Lone Star Country Store! Boots, jewelry, blingy jeans and so much more!
While you're traveling, swing by Boots 'N Britches to pick up a new travel accessory. It counts as a souvenir, right?  Vera Bradley, Brighton and all of the traditional western wear brands!
This is your go-to stop for all the boots! From high end to affordably priced, adults to children, there's a pair of boots for everyone at Cavender's Boot City. Don't stop at the footwear, peruse the home decor, fashion accessories and cowboy hats while you're there!
---
Y'all come back now, ya hear?