Fly fishing is a fantastic way to spend a day on the waters of the Coastal Bend! Whether you're new to the sport or a seasoned professional, get out there and cast your line to reel in Speckled Trout, Black Drums, Flounders, SkipJacks and other fascinating Corpus Christi fish species.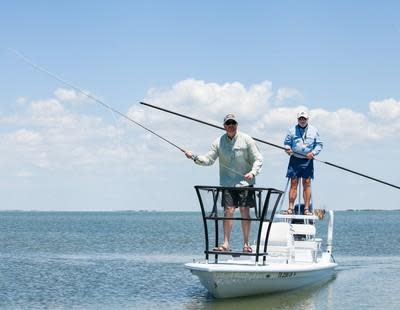 Planning a fly fishing adventure during your visit to the Coastal Bend? Use this guide for everything you need to know!
Wind & Wave Watersports has a variety of rentable kayaks and SUPs (stand-up paddleboards) to get you out on the waters for a fun-filled day of fly fishing. In addition to its wide selection of the latest and greatest sport kayaks, Wind & Wave also offers rentable paddles, rod holders, lifejackets, maps, anchors, leashes and more.
Wind & Wave's friendly and knowledgable staff is available to provide lessons and navigation advice to keep you safe on the water. Their rates include $60/day for a single-seat kayak or SUP and $75/day for a double-seater.
For more information, visit the W&W website.
Find Your Guide with JT Van Zandt
Fly fishing is highly popular throughout Corpus Christi, but there may not be anyone around who knows the sport better than JT Van Zandt. After renting your kayak, it's time to link up with JT – a local expert fly fisher who provides day-long guided saltwater trips. On an excursion with JT, you'll spend approximately six to eight hours on the water sight casting for Redfish, Flounder, Black Drum, Sea Trout and Sheepshead. His expertise at the sport will help you return home with plenty of fish for frying!
JT will supply the flies, but make sure to bring your own fly tackle gear (extra equipment can be supplied) along with polarized sunglasses, a fishing license, a dark-brimmed hat, tropical clothing, sunblock and boat shoes. Also, pack some ice cold drinks for refreshments!
Mustang Island Park, Port Aransas and the Padre Island National Seashore are all great fly fishing spots along the Coastal Bend's local waters. But don't forget about the Laguna Madre! The 6-mile lagoon sits just south of the Corpus Christi Bay and – in addition to its beautiful sights and scenes – has the highest population of finfish in all of South Texas. As a hypersaline lagoon, the waters are even saltier than the ocean, which makes it easier to float in a kayak or SUP as you fly fish the day away.
---
With this guide, it's now time to get out there and fly fish Corpus Christi style! How many fish can you catch?