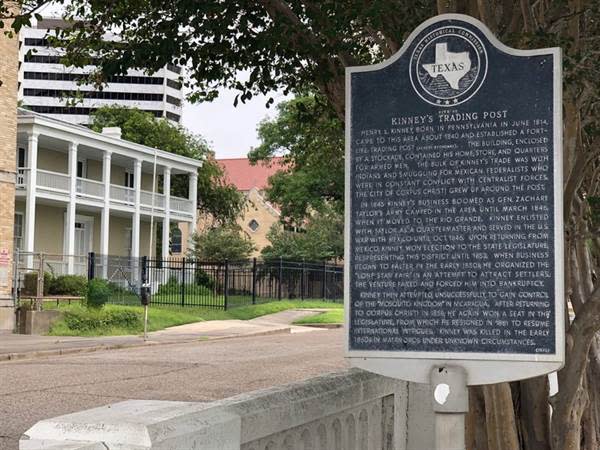 Historical Marker with view from Bluff or Centennial House
The Story
In 1839, in a yet unsettled area on the bluff overlooking Corpus Christi Bay, Col. Henry L. Kinney built a fortified trading post for his home, shop, and boarding quarters for armed men. The store became a landmark on the frontier, leading to the names Kinney's Ranch and Kinney's Trading Post. Business was good for Kinney, as he traded with both Americans and Mexicans and established his outpost as THE place to trade in the area. Today, you can see a historical marker standing where the post once did, on N. Upper Broadway, near the Centennial House. It's not hard to imagine the promise Kinney saw in the area, standing at this site and looking out at the beautiful Corpus Christi Bay.
Even when business boomed, frontier living was tough. The land Kinney built on was claimed by both Mexico and the U.S. Kinney's post was attacked multiple times, but his business got a lifeline after he lobbied Gen. Zachary Taylor to set up his command nearby in late 1845. Half of the U.S. Army was in the area awaiting orders before the Mexican-American War.
The Army moved on and settlers traveled through on their way to California during the gold rush, encouraged to use it as a staging point by Col. Kinney. The city grew, and Corpus Christi was incorporated on September 9, 1852 with Benjamin F. Neal serving as its first mayor.
---
Thanks to Colonel Kinney and others who toughed out the frontier life. When you are ready to visit Corpus Christi, the history of this city will be waiting for you.