With Corpus Christi located on the beautiful Gulf of Mexico, you have to get out on the water at least once during your visit! The beautiful beaches and landscapes offer the perfect backdrop for kayaking on a sunny and relaxing afternoon. Grab your paddle and get ready to head out on the water! Here are some of our favorite places for kayaking in Corpus Christi
The beautiful scenery of this county park is simply an added bonus to the ideal kayaking conditions for people of all skill levels. Packery Channel Park separates Mustang Island to the North and Padre Island to the South and is home to several freshwater wetlands and saltmarsh.
The calm and relaxing waters that fill Corpus Christi Bay are perfect for an afternoon in the kayaks. Cast off from the boat ramp and be sure to keep your eyes open for the abundant wildlife both below and above you. It is also the perfect location to enjoy sunbathing, a picnic or other land and water sports after your kayaking adventure.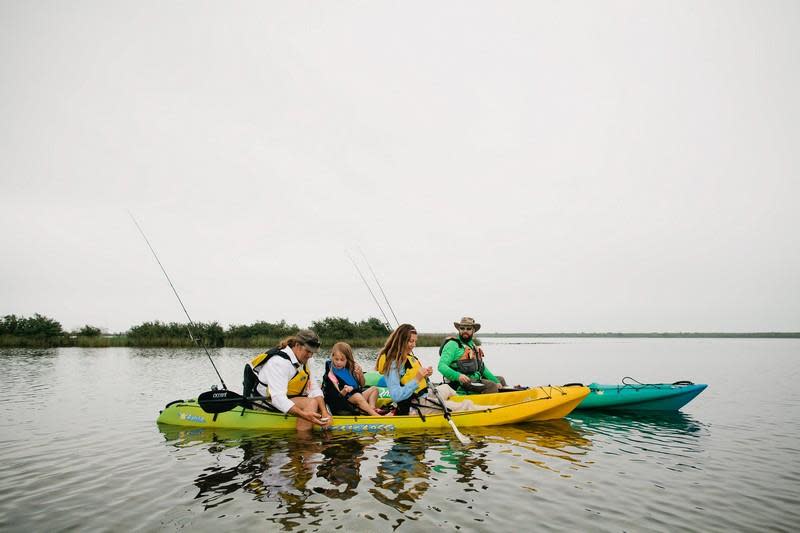 Whether you are a beginner or professional kayaker, Coastal Bend Kayaking is the perfect fit for everyone. Hector Rios, the professional kayaking tour guide and instructor will lead you around Redfish Bay for a serene afternoon out on the water.
Explore Lighthouse Lakes and the Mustang Island State Park Paddling Trail or engage in some bird watching by stopping to enjoy the Aransas National Wildlife Refuge. Feel free to cast a line and catch a few fish right from your kayak as well!
If Water Sports is your middle name, you're in the right place for a good time at Bird Island Basin! Best known for its steady wind and warm, shallow water, it's a great spot for beginners to learn the basics of kayaking. Located on Padre Island, it boasts a boat ramp to launch your kayaks into the Laguna Madre. Swimming is permitted on all beaches, so don't be afraid to go for a dip while visiting the National Seashore. For those looking to be a little more daring, it's also a great spot to try some windsurfing as well.
If you are hoping to achieve total relaxation while out on your kayak, Mustang Island is the place to go. The 18-mile stretch of land sits in the middle of Packery Channel and the easternmost point of Corpus Christi's gulf shore border. Popular among locals and visitors to the area, it offers picturesque beaches and ideal waters for kayaking. After you have worked up an appetite paddling out in the water, take a quick trip to the restaurants and bars in nearby Port Aransas, the charming beach town just off Texas Highway 361. Leave your watch at home and don't bother to check the clock on your phone because when you're here, you're on island time.
---
Wherever your travels take you in and around Corpus Christi, you will never be far away from beautiful beaches and picturesque waterways, perfect for kayaking and other water sports. Whether you are jumping in a kayak for the first time or a seasoned pro, these areas are perfect for a relaxing day out on the water! Stop thinking about it and start planning for it by booking your trip to Corpus Christi!