Several hundred fishing guides offer bay charters in and around Corpus Christi. And while most are proficient professionals, not all may fit your family's needs and desires. For example, did you know some charter captains strictly use artificial lures, while others insist on natural baits? Still others are more flexible, employing a variety of methods to catch fish, depending on bay conditions, available species and the skill level of their clients. Again, most are experienced professionals.
But, ultimately, a client's satisfaction begins with asking the right questions and expressing clearly what they expect from a trip. Here are some guidelines for navigating the process of finding a charter captain who's right for you and your party. These suggestions apply mostly to fishing guides who operate in coastal bay waters, rather than freshwater or offshore destinations.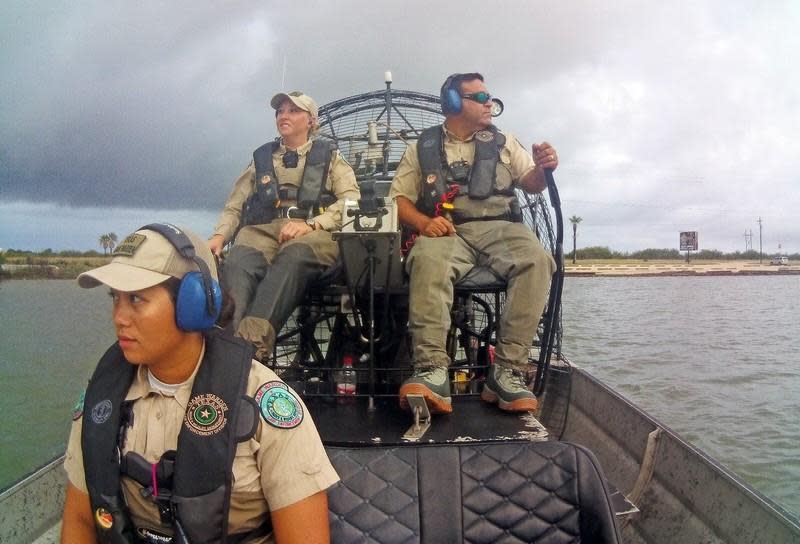 THE LEGAL REQUIREMENTS
Upon request, a guide should produce a valid federal license issued by the U.S. Coast Guard. This required permit, informally referred to as a six-pack license, means the captain may carry up to six paying passengers on their boat. This Merchant Mariners credential means the captain is subject to random drug testing, and should carry a card to prove this. They also must be trained in first aid and CPR. Texas Parks & Wildlife also requires an all-water fishing guide permit, which will not be issued without proof of a federal six-pack license. The guide's vessel must also be registered through the Texas Parks & Wildlife Department.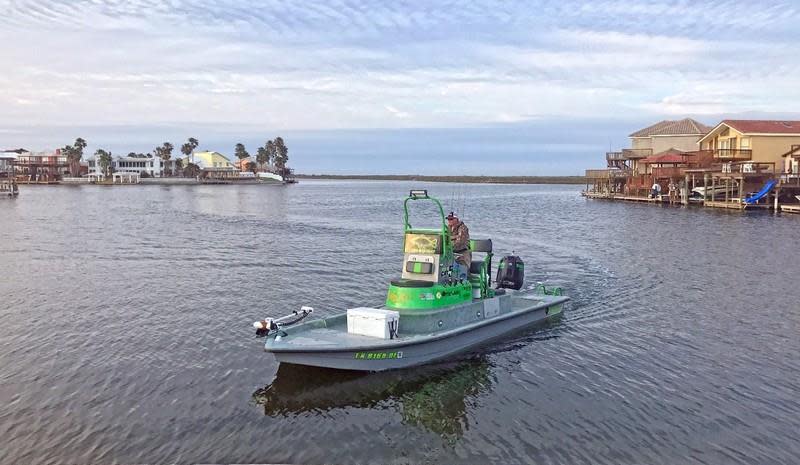 SPEAKING OF BOATS
It's not impolite to ask a prospective guide about the vessel he uses for charters. Most Texas saltwater guides own a center-console bay boat that is at least 20 feet long. Some guides take the extra measure to have their vessel safety checked by a local Coast Guard Auxiliary outfit, which issues a sticker for display on the boat. Guide boats must carry a fire extinguisher and a Type 1 life jacket for each passenger. Many guides hold a liability insurance policy that covers passengers on their boat, but this is not required.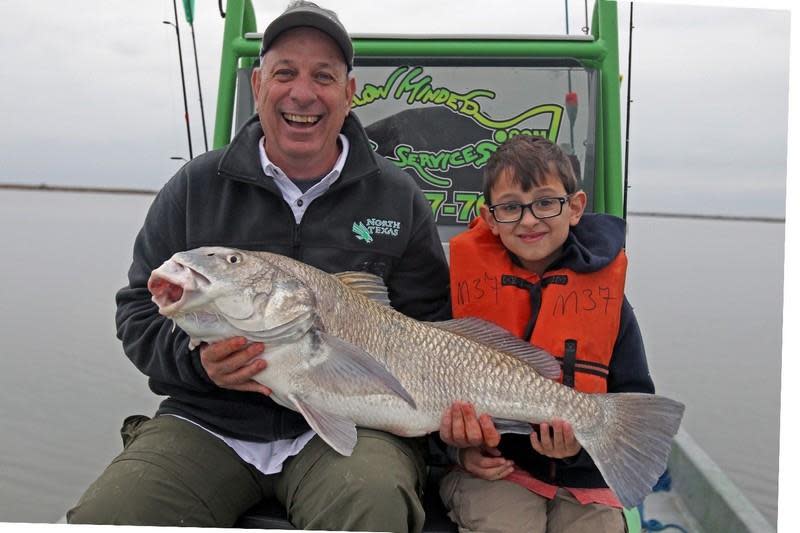 WHAT DO YOU (not) KNOW?
Are you a novice or experienced angler? Some guides are better suited than others at teaching. Be honest about the experience level of your party. And for gosh sakes, admit when you're unfamiliar with fishing. You'll have more fun and catch more fish if you follow the guide's instructions.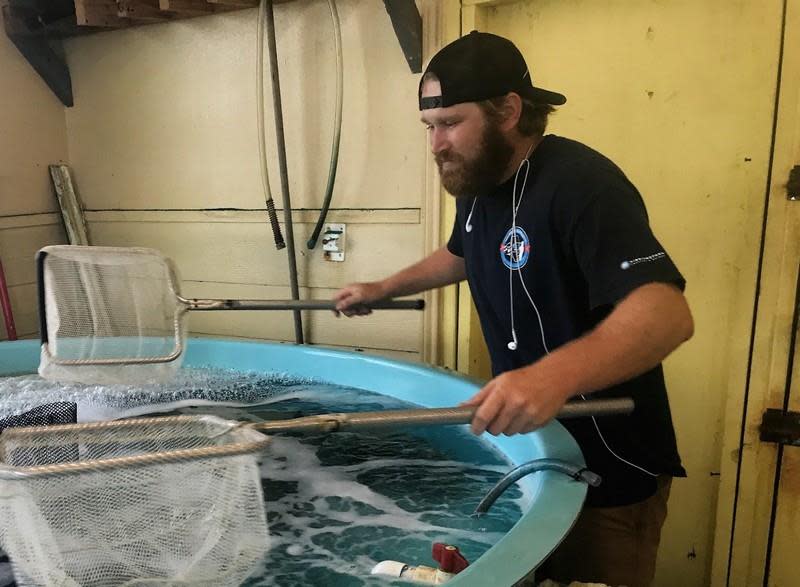 BAIT DEBATE
Be aware that from May through September, the primary natural bait used in many stretches of the Texas coast is juvenile croaker, which can run from $9 to $12 per dozen. And the most popular target species for many guides during this period is speckled trout. The daily trout limit is five fish in Texas. And as part of this daily bag, we can keep only one trout 25 inches or better. Ask the guide before booking whether they plan to end the trip after everyone reaches their trout limit. Some might agree to target another species, or to continue catching, but not keeping, fish. Or maybe during the remainder of the day you'd like to try artificial lures or a different bait and method.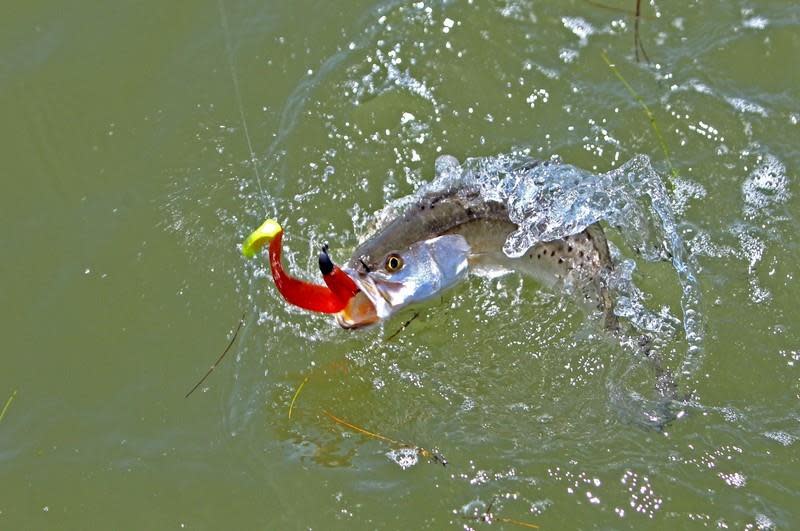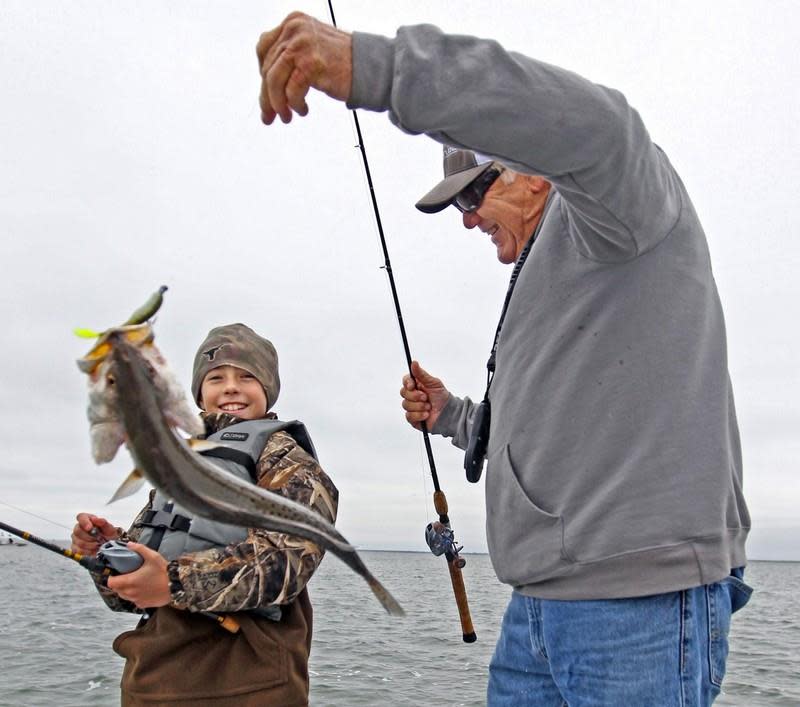 WHAT ABOUT KIDS?
There is no standard age for when children should be allowed on charter trips. There is, however, a minimum maturity level each child should meet. Clients should not expect their guide to be a baby-sitter while the adults are fishing. Kids, 13 and younger, must wear a life jacket while the boat is underway. Some guides cater to families with young children, while others might not be as comfortable with kids below a certain age. Include this topic in your conversation.
CAN I BRING MY OWN EQUIPMENT?
Yes, you may bring your own rod, reel and tackle if you are sure it's in good working order. Have you changed the line in your reel lately? Tell your guide what you plan to bring, so you can discuss whether it's appropriate for the occasion. Often, it's best to use the guide's equipment, which is included in the charter fee. Most professionals provide quality, well-maintained tackle.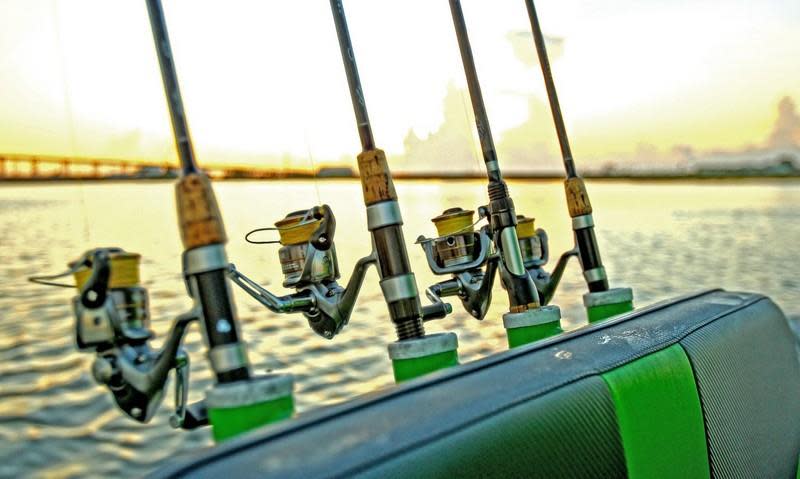 SHOULD WE BRING AN ICE CHEST?
Many charter captains have at least two ice chests on board, one for fish and one large enough to carry food and drinks for your party. Remember, space is limited on the deck, so if you must keep personal drinks/food separate, consider bringing a small cooler. Be sure to fill one with ice for fillets, if you plan to take home fish. It can remain in your vehicle.
CAN WE DRINK AND SMOKE?
Maybe. Some guides prefer clients do not smoke for safety reasons. Most allow beer. But keep in mind that they may not tolerate drunkenness, again, for safety reasons. You also should be aware the captain is the authority on the vessel, so it's their call.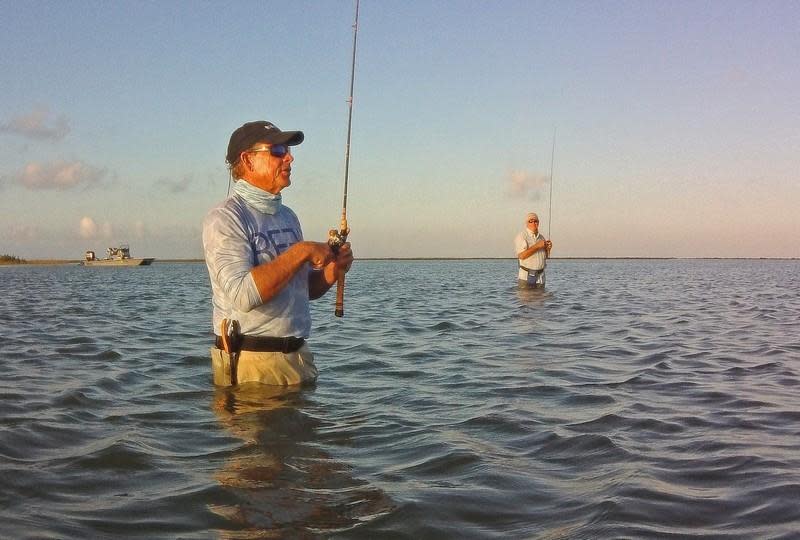 CAN WE WADE?
Wade-fishing is popular in many area bays, but not feasible in other areas that are too deep or sport soft-mud bottoms. If you're not familiar with wade fishing, talk to the guide about possible options, constraints and equipment needs. Some guides specialize in wade fishing, while others simply will not do it.
HOW MANY PEOPLE CAN I BRING?
Most bay boats have a legal carrying capacity that exceeds the number of anglers that can reasonably fish from the vessel. Most standard guide fees are set for three anglers, but this may depend on whether the party intends to cast lures while drifting or toss natural baits while anchored. Four anglers simultaneously slinging lures with treble hooks on a 22-foot boat could be painful for one or more of the people aboard. But four anglers using cut bait or croaker could be fine. So, the number of people to bring depends on the style of fishing. Also, some guides charge a flat fee for 2-3 anglers, plus $75 for each additional angler.
STICKER SHOCK
Most Texas guides charge one fee for a day of fishing, while others (mostly novices) offer a discounted fee for half-day charters. The standard day fee is more or less $600 for 1-3 anglers, which includes equipment, bait, fuel, fish cleaning and bottled water. Half-day fees vary, but generally run about $300 to $450. Consider what you want from the trip, then decide what's best. If you simply want to try catching speckled trout, using live croaker for bait, then maybe a half day is appropriate. If you change your mind while on the water, most guides will accommodate a client by adjusting his fee to stay a few additional hours. But be aware, the guide may have plans for the afternoon.
NO FISH-NO PAY
Be wary of this promise. Notice, they never make this promise: "No legal-sized game fish; no pay." A hardhead catfish clearly is a fish, and so are any number of other inedible species in our bays. Ask specific questions about this policy. If fish don't bite, most guides offer a discounted fee to encourage you to give them a second chance. Even the best guides have an off day. More often, when no fish are caught the fault lies with the person holding the rod.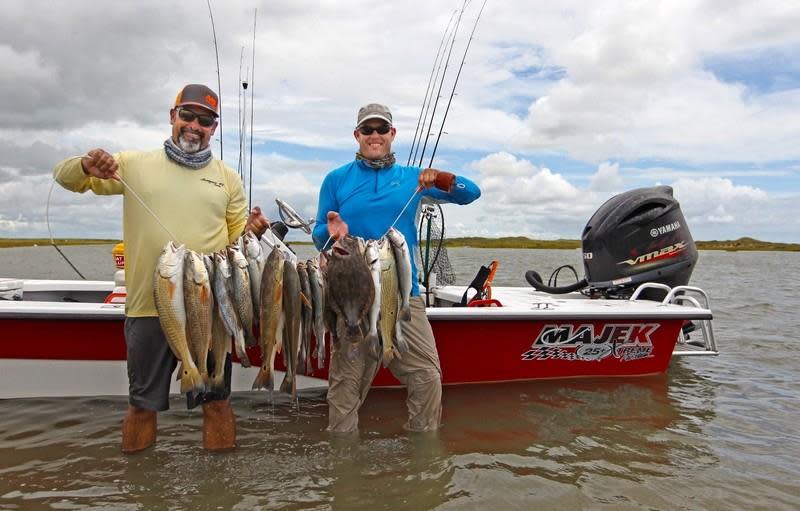 WHAT WILL WE CATCH?
This is a common and fair question. And generally, a guide will either tell you what they've been catching, and which methods have been successful. But they might simply ask what species you'd like to catch. The basic species for Texas bays are speckled trout, redfish, black drum, flounder, and sheepshead. These are all fun to catch and good to eat, but not consistently available in all seasons and conditions. If you really want to target a particular species, tell the prospective guide before you book the trip. If you want to catch trout during a chilly windy day, the guide may steer you toward another species or another season. If you want to catch a 30-inch trout, then book 10 trips and be prepared to book another 10 later. It took me 50 years to catch one. Best to allow the season and conditions to dictate the species.
FISH CLEANING
Many guides clean and fillet their clients' catch as part of the charter fee. Some do not, but they may launch from a marina that offers a fish-cleaning service. Generally, the fee is 40-50 cents a pound.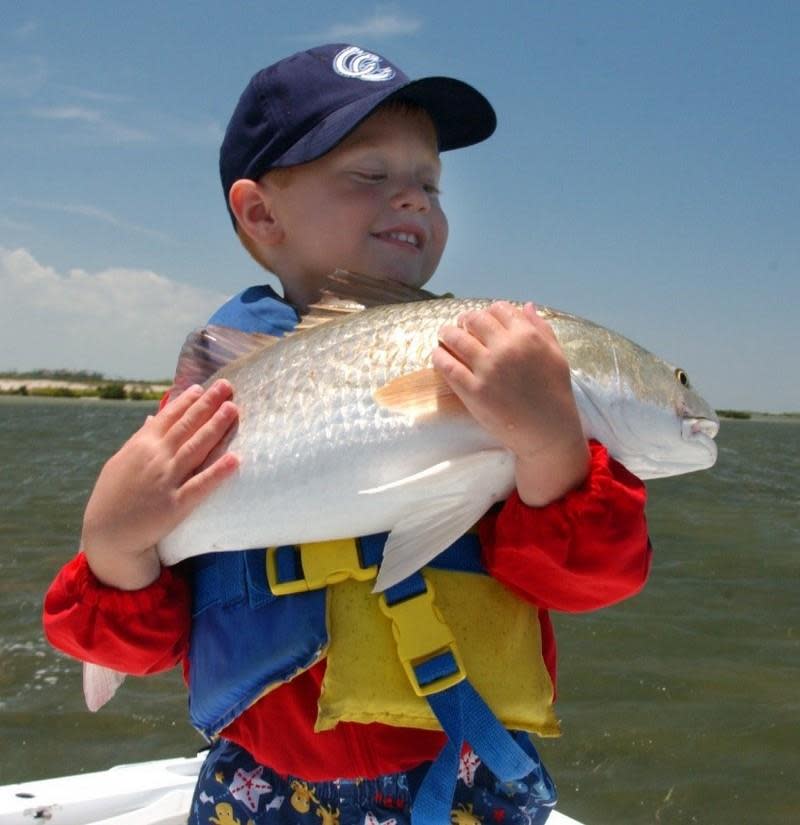 IS TIPPING CUSTOMARY?
Yes. But the custom does not suggest a particular percentage of the charter fee. Tips generally are based on professionalism, entertainment value, or the sheer effort put forth by your guide, though some clients will base gratuity on the take-home weight of fillets.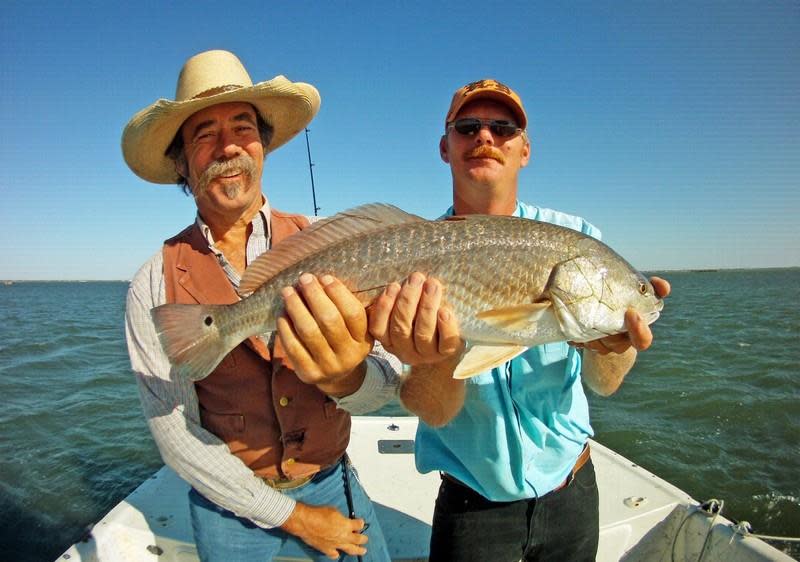 GUIDE SHOPPING
Most charter services advertise online in one form or another. Some guides working within certain regions of Texas, have organized nonprofit associations. About 80 professional charter captains belong to the Coastal Bend Guides Association, which was founded in 1989. Members are listed by categories, such as bay-fishing, flounder gigging, birding guides, fly-fishing, kayak-fishing, wade-fishing, offshore, surf, and so on. Online services such as FishingBooker provide another one-stop shopping source for guides. The site lists thousands of charter services that have been vetted for proper credentials, allowing you to comparison shop with confidence, read reviews and book online. They'll also help you reschedule or receive a refund if the weather turns sour. Most charter services offer this courtesy on their own. Also, FishingBooker holds the security deposit, which essentially is their commission if the trip goes through.
If you would like to chat more about booking a guide, contact me at davidjosephsikes@gmail.com. I'm happy to help.
---
Go Wild with David Sikes is an ongoing nature and outdoors series for Visit Corpus Christi. David Sikes has over 20 years of outdoor columnist experience and is an incredible resource for all things nature in the Coastal Bend. Follow along with Visit Corpus Christi as David gives us everything we need to know about fishing, hunting, birding and so much more!