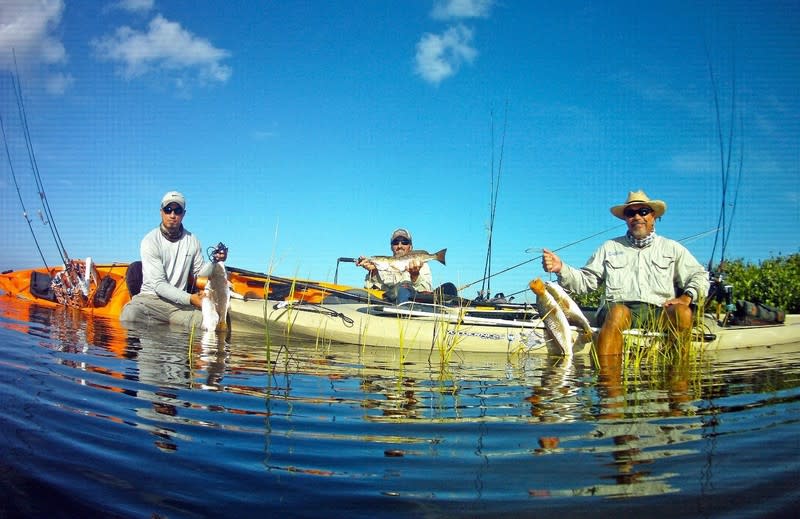 Corpus Christi is arguably the center of kayak fishing in Texas, mainly because of acres of shallow flats and miles of shoreline with public access.
Virtually any bay shore near a public road offers a free fishing or paddling opportunity. This does not mean every shoreline provide firm footing stellar fishing waters always. So, try them all.
I can help narrow your choices, by offering some of my favorites, along with spots shared by the Coastal Bend's best-known kayak outfitters and guides.
I'll begin with one of the most obvious.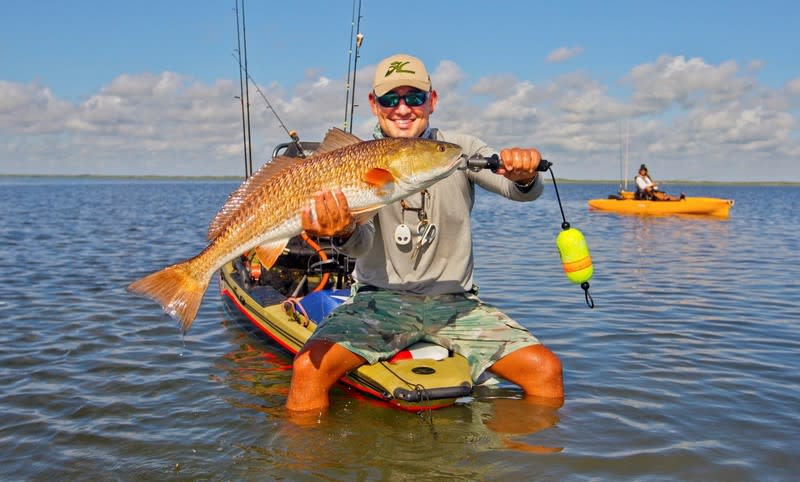 LIGHTHOUSE LAKES PADDLING TRAILS
Where: Texas Highway 361 near the north-side ferry landing in Port Aransas.
Tips: Just north of the ferry landing on Highway 361, you'll see a wooden boardwalk and paddling trails sign beside a parking lot on the east side of the road. This is a popular kayak launch sport, but also provides bank fishing along a channel that parallels the highway.
Fish species:  Redfish, trout, flounder, drum, sand trout, and sheepshead.
Cost: No fee.
Amenities: none.
AIRPORT ROAD
Where: North of Rockport off Texas Highway 35 in Aransas County.
Tips: This Aransas Pathways kayak launch site is a good early morning fishing spot, with oyster reefs to the north and good trout structure to the south. It's an easy wading spot, with at least 100 yards of firm bay bottoms. They bay is wind-protected except during a hard-northern breeze.
Directions: Take Texas Highway 35 north of Rockport, and turn left or west on Airport Road, which runs along the south side of the Aransas County Airport. This road will dead end. The park is well marked, with available parking.
Amenities: Shade and a picnic table.
Cost: No fee.
LAGUNA SHORES
This is an obvious and easy Flour Bluff wading spot or a good kayak launch location that provides access to the Upper Laguna Madre, just south of the JFK Causeway. You'll find mostly firm bottoms for wading, with contours, seagrass, sand and a few scattered rocks. There is adequate water depth during high or low tide. And baitfish tend to concentrate along the sand and seagrass edges, as well as the distinct drop-offs in the area. The down side is that parking can be difficult, and space is very limited.
Directions: From SPID, exit Waldron Road from either direction. If you're coming from town, then stay on the feeder and turn at Wind and Wave Watersports (10721 SPID). From the Island, make a U-turn at Waldron Road to get to Wind and Wave. There are several options along Laguna Shores Road. But the easiest might be to park at the first oil field peninsula, being careful not to block vehicle access to the rig or gate.
Amenities: None.
Cost: No fee.
BIRD ISLAND BASIN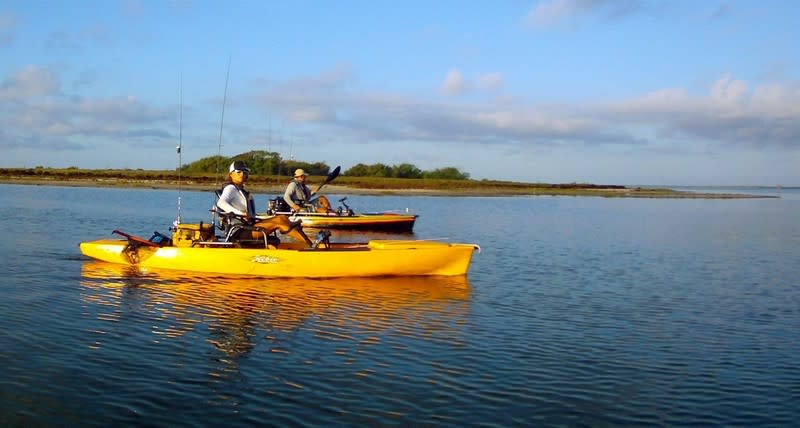 Acres of shallow seagrass flats on the backside of Padre Island National Seashore are easily accessible from this spot with or without a kayak. But if you go, it's important to understand the parking rules within Padre Island National Seashore. The Bird Island Basin boat ramp parking lot has only four non-handicap spaces available for vehicles without trailers. And the consequences of parking illegally can be expensive. Additional parking is available at the far north end of the campgrounds. You may launch a kayak or easily park and wade just south of the ramp from the day-use parking lot north of the windsurfing/kayak rental shop, except from January through April when campers take over that area. Kayakers usually head to the nearest spoil islands. Or they paddle a big loop either north or south. The water here is usually clear because of a thick layer of seagrass. Anglers without a kayak who launch here can wade the island shoreline or the seagrass drop-offs, either north or south of the basin. The bottom is mostly firm.
Directions: From SPID, cross the JFK Causeway onto the island and follow Park Road 22 for about 10 miles until it enters Padre Island National Seashore. Not far beyond the gate a road on the right leads to Bird Island Basin boat ramp and parking lot.
Amenities: Restrooms.
Cost: Park entry is $10 for a day pass, $20 for a week pass, or $40 for an annual pass. A Bird Island parking permit is $5 daily or $10 annual.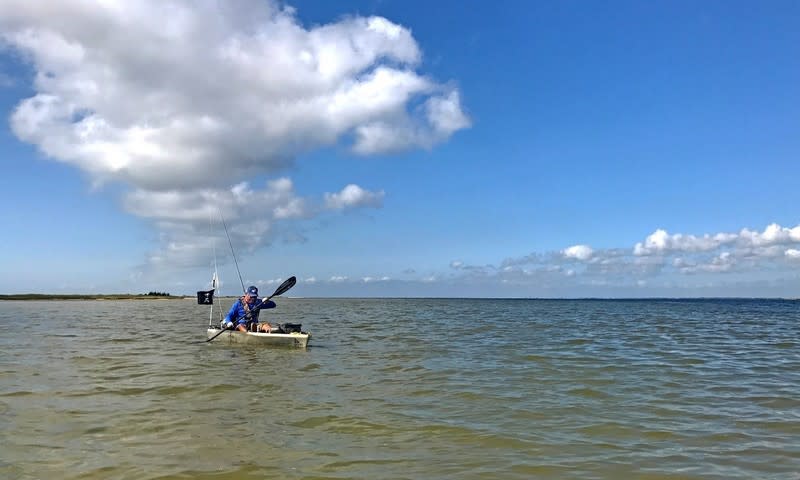 PACKERY CHANNEL NATURE PARK & KAYAK LAUNCH
This is an easy-access spot on north Padre Island, with a paved road and parking area right near the water. It provides about 200 yards of shoreline for bank fishing or wading. Kayakers have a very short paddle to access Packery Channel's depths or nearby seagrass flats. These waters are fairly well protected from prevailing southeast winds. No admission. Within Corpus Christi city limits.
COST: No fee.
AMENITIES: There is a restroom near the entrance to a boardwalk as you enter the park on your left.
Directions: Head east on South Padre Island Drive and cross the JFK Causeway onto north Padre. The park entrance is within a mile of bridge on the left. Look for the brown park sign that reads Packery Channel County Park. This road leads to the water's edge.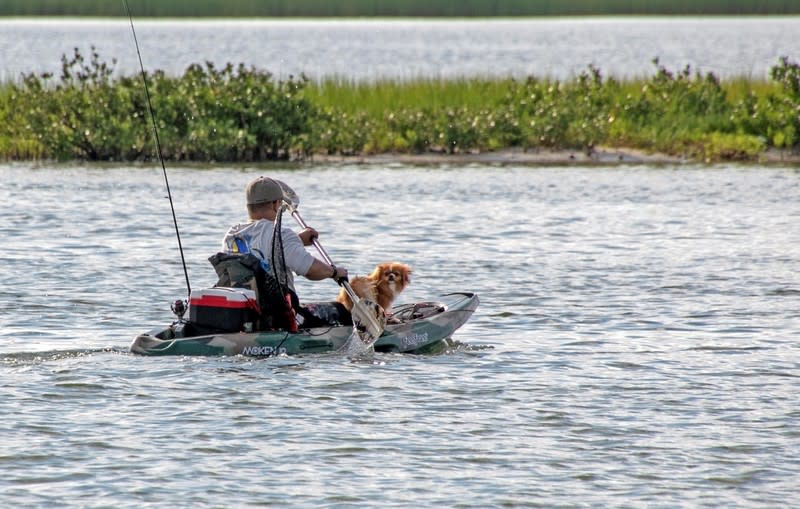 SHAMROCK COVE & WILSON'S CUT
Where: Backside of Mustang Island, north of Padre Isles off Texas Highway 361.
Tips: The east end of Wilson's Cut provides a good kayak launch, but the road that parallels the cut will reduce your paddling time and distance. On the flats you'll find a maze of spoil islands, channels and shell reefs, most of which are protected from a southeast or northeast wind. Some access roads require four-wheel traction after a rain. Towing services are expensive in this area. There is a mud ramp into Wilson's Cut, which is used by anglers in small skiffs and kayaks.
Cost: No fee.
Amenities: None.
Directions: From north Padre Island, take Highway 361 toward Port Aransas and look for the dirt road entrance (double gate) directly across from the Sea Gull and Sandpiper Condominiums. Either park and launch at the end of the cut or take the road to the left of the cut where you can park to bank-fish or launch a kayak.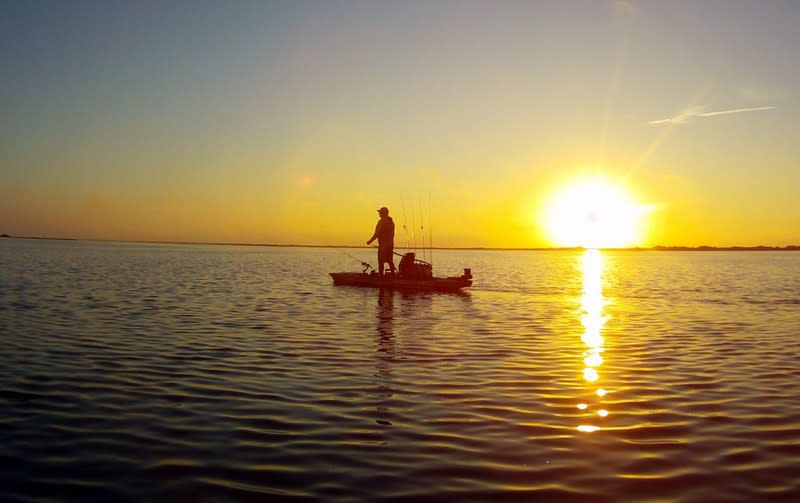 NUECES BAY MARSH RESTORATION AREA
Where: Nueces Bay in Portland, north of the Harbor Bridge
Tips: This spot along Texas Highway 181 in Portland across the highway from Sunset Lake. The Coastal Bend Bays & Estuaries Program has created a launch site with adequate parking at the 160-acre project area. You'll notice a series of grassy berms on the surface. The depth between these berms can reach 5-6 feet, providing dramatic bottom contours that attract fish. Outside the perimeter, is a rock barrier and a 6-foot-deep trench. Beyond there, into the bay are platforms and shell reefs that can hold fish.
Species: Trout, redfish, drum, sheepshead and flounder.
Amenities: None.
Cost: No fee.
Directions: From Corpus Christi, cross the Harbor Bridge and causeway. Take the first Portland exit (Moore Avenue) off Highway 181. Make a U-turn and exit at the Indian Point exit and look for the observation deck near the parking lot and turn in there.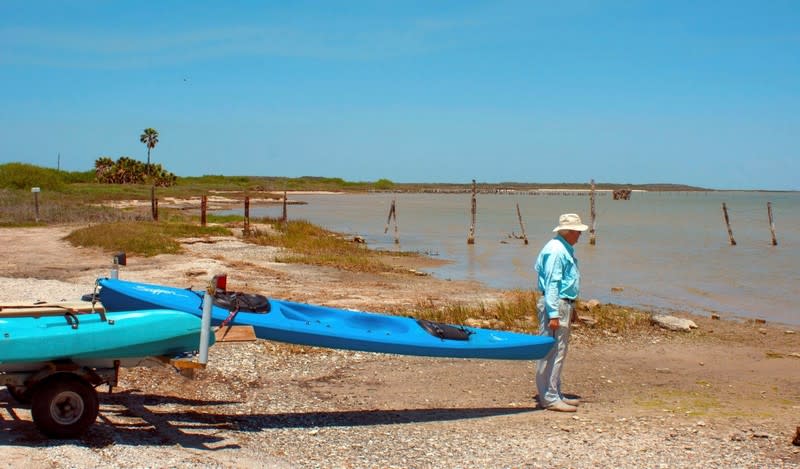 BIG TREE AT ST. CHARLES BAY
Where: Just north of Rockport on the Lamar Peninsula
Tips: Easy access spot for wading or kayak fishing in St. Charles Bay. This is a good year-round spot that peaks in spring and fall. Waders will find the shoreline has mostly seagrass and sandy potholes and some areas with softer bottoms near shore. The bottom is firmer in spots. This area is not protected during a strong southeast wind. A short paddle northward from Big Tree provides access to coves and small sloughs. Watch for alligators.
Species: Trout, redfish, drum and flounder.
Cost: No fee.
Amenities: None.
Directions: Take Highway 35 north past the Rockport exits until the road ends at a T. Turn right and drive east for a mile or two. At the traffic signal (convenience store) turn left onto Business Highway 35 and continue northward through Rockport. Cross Copano Bay on the causeway and turn right at the first traffic light at Lamar Beach Road. Continue on this winding wooded road past Goose Island State Park until you reach St. Charles Bay. Turn left and follow the shoreline until you see a cleared gravel or caliche area on the right. Park there. It's just before 12th Street.
KAYAK RENTALS AND OUTFITTERS/GUIDES
---
Go Wild with David Sikes is an ongoing nature and outdoors series for Visit Corpus Christi. David Sikes has over 20 years of outdoor columnist experience and is an incredible resource for all things nature in the Coastal Bend. Follow along with Visit Corpus Christi as David gives us everything we need to know about fishing, hunting, birding and so much more!