Offshore of Corpus Christi, the Gulf of Mexico offers big water, bigger fish, and high adventure. But it's important to know before you go what to expect, what to bring, as well as what you'll pay for a blue-water expedition. Here is how to fish offshore at a Corpus Christi beach.
Trip Length & Trip Fees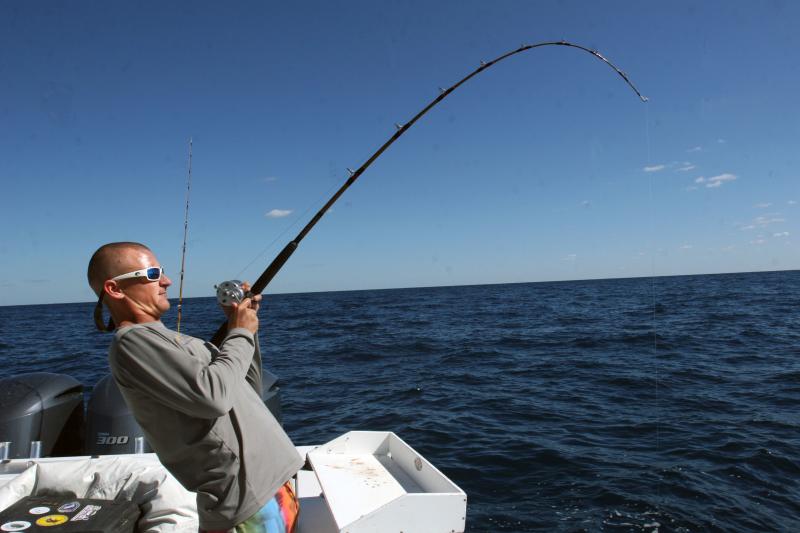 Generally, offshore charter outfits offer eight-, 10-, and 12-hour excursions, plus longer trips for targeting billfish. These charters run roughly $2,200, $2,400, $2,600, and $2,800 for a billfish run. Fish cleaning is extra.
In part, these fees are based on fuel costs, boat size, and onboard accommodations. Most offshore charters will accommodate up to six anglers, plus the captain, a first mate or deckhand.
It is important to note, charter boats out of Port Aransas, which is where most Coastal Bend offshore charter outfits are based, do not impose a fuel surcharge, which is customary in many other locations.
What about tipping?
Tipping is customary on offshore adventures. The total tip, generally, is split equally between captain and crew. The amount of the tip often is based on customer satisfaction, which is subjective and arbitrary. So, $200 is the customary minimum, but 10-20 percent is common.
Does boat size/style matter?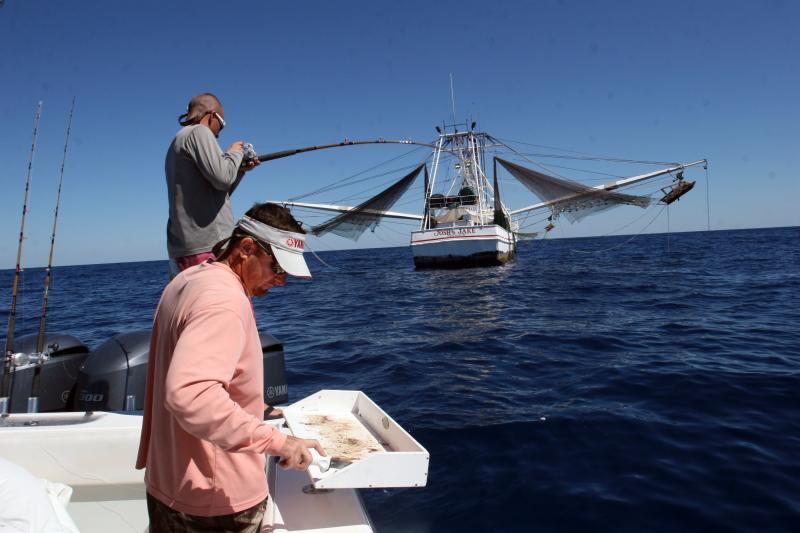 This can be a matter of taste. But you also should consider the fish species you plan to target when determining the number of anglers. A 40-foot sport fisher with a cabin below deck can comfortably accommodate three to four anglers. This allows passengers to recline while avoiding the elements on deck during lengthy runs. I recommend this for families with children.
What about Kids?
When targeting many summer species, the number and experience level of anglers is not important. For example, if you want to catch red snapper, all six anglers can easily catch two fish each during the federal season. But those same six anglers should not expect the same result if they're targeting billfish.
If you charter a 38-foot center-console boat powered by outboard engines, there is no escape from the elements, because there is no cabin below deck. Usually, the long boat ride is spent nestled in a beanbag chair on the stern deck. If seas are somewhat rough, this might result in a wet ride.
How young is too young?
This is the parent's call. But generally, toddlers are too young to go offshore. Keep in mind, the floor beneath your feet is in constant motion. Good balance and secure footing are imperative, regardless of age. Plus, the atmosphere can quickly become hectic when someone hooks a large fish, while the crew is focused on helping the angler land it. Keep in mind, fishing for certain species, such as billfish, has been described as hours of boredom interrupted by moments of chaotic excitement. Does your child have the patience? Red snapper, Spanish mackerel, and kingfish are easy species for children to catch. Most captains will not take kids younger than 5. As rule, with kids, plan a trip with equal parts boat ride and fishing time.
How far and how long before we can fish?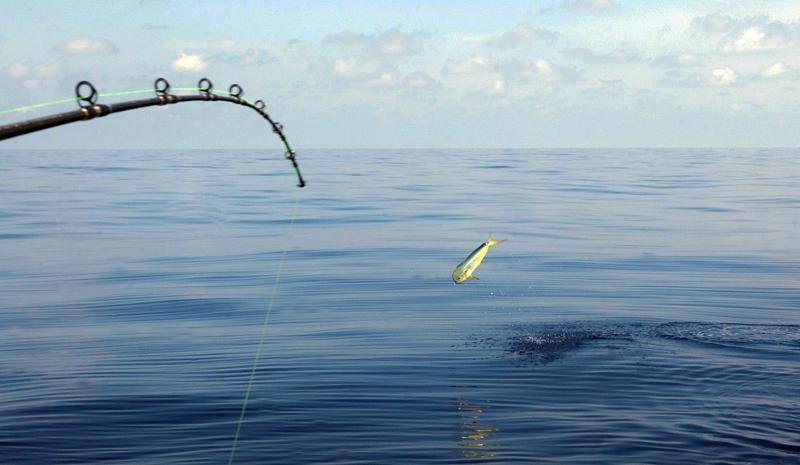 Again, this depends on the species being targeted. During summer, most experienced captains can find red snapper and kingfish (king mackerel) within an hour's boat ride.
But it's not uncommon to travel 60 miles before dropping a line at depths of 350 feet to 2,000 feet, when targeting certain blue-water species. Reaching these depths may take up to three hours or longer.
What should we Bring, or Not?
Generally, charter boats will have plenty of bottled water, and maybe some Gatorade. So, bring your own drinks, food, and snacks. Most captains allow beer and liquor, but no glass containers. I recommend easy food, such as sandwiches, tacos, and fried chicken. And bananas are forbidden. Ask the captain or crew about this long-standing taboo.
How rough is too rough?
For most anglers, seas from flat to two-foot provide ideal offshore-fishing conditions. These conditions generally occur in late summer or fall, but not necessarily every day. Larger boats can be comfortable in rougher seas. Generally, seas up to four foot are considered fishable, depending on boat size.
Talk to the captain. Tell him the ages of anglers in your party. Four- to five-foot seas may not be safe for adolescent children and elderly anglers. But be aware, if you book the trip, the captain has the final word on whether to leave the harbor, based on whether conditions are safe. Generally speaking, once you clear the jetties, the meter is running.
What about seasickness?
If you've never been offshore, then you could not possibly know whether you get seasick. Trust me, trapped on a boat 30 miles offshore is not a good time to find out.
Certain folk remedies for motion sickness might help you avoid this unattractive maritime malady. And, possibly, Bonine and Dramamine might work for you, especially if you take a pill the night before your trip, and another one in the morning. Drowsiness is a common side effect of both, which are available over the counter.
If you prefer going drug-free, try consuming anything containing ginger or peppermint. I know someone who claimed a copper bracelet or magnetic wrist band worked for her. Good luck with that. By the way, deckhands have a strict rule about barfing. Overboard is your only option. Barf in a restroom or on deck, and you better be a big tipper.    
If you're not willing to risk being that guy on the boat, do what I do. Scopolamine is the only preventative cure I trust. It's a patch I stick behind my ear before going to bed the night before an offshore voyage. It requires a prescription from a doctor, but may not require a visit.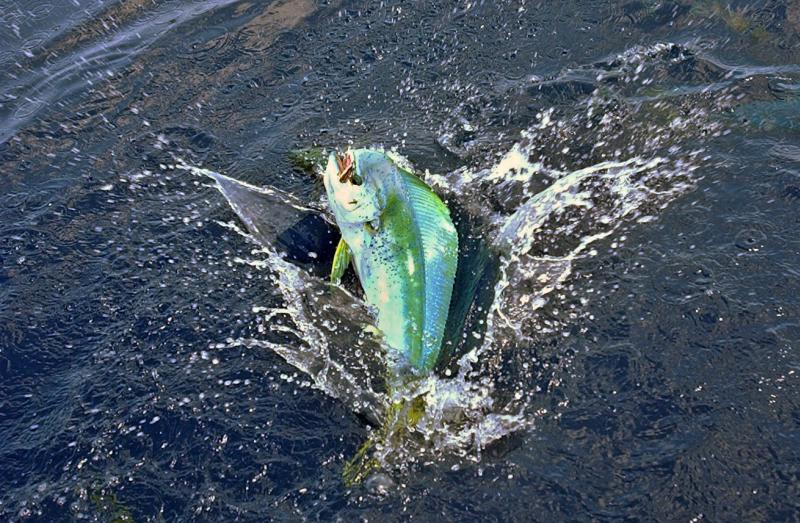 ---
Best Times to Fish for Each Species 
Amberjack — The federal government determines seasons for amberjack, so the times may vary from year to year. Generally, we can target them in May for a time, then from Aug. 1 through Oct. 31.
Barracuda — January through October.
Blackfin Tuna — July through October is best, but June can be good, and November and December can be fair.
Dolphin (Dorado) — June through October, but April and May could be good, also.
Grouper — Best times are January through April, then again in December. May through November can be good.
Jack Crevalle — March through September is best, while the remainder of the year can be fair.
Kingfish (King Mackerel) — Kingfish are good year-round.
Ling (Cobia) — Best April through October, while fair the remainder of the year.
Marlin — May through September is best. Fair during the other months.
Red Snapper  — Federal snapper seasons opens June 1, but the season length is based upon the state's annual allotment and how quickly this quota is reached. Expect the annual season to run at least two months. Red snapper are available in state waters year-round, but most offshore charters do not target them in state waters.
Sailfish — Best May through September, but possibly catchable during the other months.
Shark (certain species only) — Year-round fishery.
Spanish Mackerel — March through September is best. Fair during the other months.
Wahoo — January through June is best. But July through December can be good, when conditions allow.