Located in downtown Corpus Christi, on a large lot under wide mesquite trees is Old Bayview Cemetery. This hidden historical gem is FULL of history! Walking through Old Bayview Cemetery is like walking right through an American history lesson.
---
---
-The founder of Corpus Christi, Col. H.L Kinney donated this land in 1845. At the time, it was up on a hill with awesome views of Corpus Christi Bay and Nueces Bay.
-OId Bayview Cemetery is the oldest federal military cemetery in Texas! It was laid out by US. Army Engineers while Brig. Gen. Zachary Taylor was encamped in Corpus Christi on the eve of the Mexican War.
-On September 13, 1845, a boiler exploded on a steamship "Dayton" used to transfer men from St. Joseph's Island to Corpus Christi, near McGloin's Bluff (now known as Ingleside-on-the-Bay Texas), killing seven soldiers. That's when Taylor obtained a burial site from Col. Kinney, which is now what we know as the historical Old Bayview Cemetery.
-The very first burial at Old Bayview Cemetery was on September 14, 1845 before the city was even incorporated as a city.
-There are veterans of more than five different wars buried at Old Bayview Cemetery – War of 1812, Texas War for Independence, Indian Campaigns, Civil War and other conflicts, and a buffalo soldier. It later became a community cemetery with no separation of race or religion which is super rare for the time period.
-In 1906, a monument erected marking Old Bayview Cemetery as a resting place for six Confederate soldiers that fought in the Civil War and returned to Corpus Christi as residents. Today, there are headstones for those soldiers—the interesting thing about this is that isn't the actual location of the burials. As years have passed, the site of the actual burial sites has been lost and markers have gone missing.
-Dr. Eli T. Merriman was a prominent Corpus Christi business leader. He was one of only three doctors in the city. During the yellow fever epidemic of 1867, Dr. Merriman turned his family home into a hospital to treat yellow fever victims and wounded war victims. He later died from yellow fever too. Dr. Merriman is buried at Old Bayview Cemetery.
BONUS: Dr. Merriman's home and makeshift hospital is located in Heritage Park and is also the home to the Corpus Christi Visitor Information Center. Grab some visitor information and take a peek into Corpus Christi's second oldest home.
---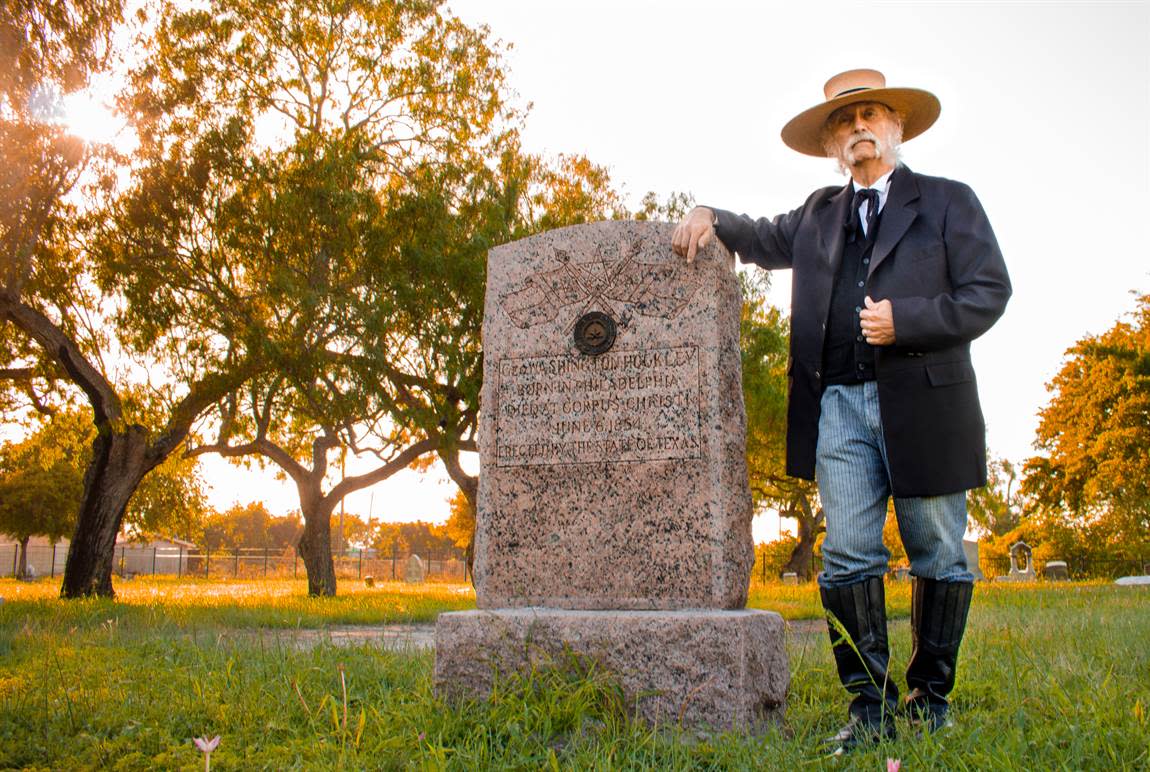 ---
In Old Bayview Cemetery, you are walking so close to all kinds of history. Many grave markers have gone missing but the stories still exist…there are still so MANY more stories. See living history re-enactments at Voices of South Texas in Old Bayview Cemetery during Frontera on Saturday, November 3, 2018.