Vacation should be relaxing, and nothing's better than yoga for hitting "restart" on your energy level! Corpus Christi offers unique and exciting yoga sessions anyone can join, regardless of your experience. So even if you're as rigid as a martini glass, you'll love these fun (and sometimes alcohol-infused) classes!
It's the perfect balance between mindful asanas and adult beverages. These 75-minute yoga classes include complimentary water and beer to help you relax as you work your way into tree pose. Beer yoga concentrates on slowing down to incorporate your balanced beer into each asana, so be careful not to spill it! Beer Yoga is held on select Fridays—keep an eye out!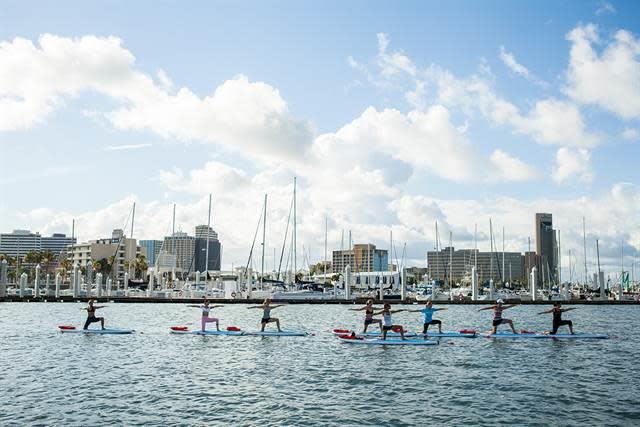 That's right—it's yoga on water! Soak up the sun as the Corpus Christi Bay laps gently at your board. Using a stand up paddle (SUP) board, you'll practice your salutations while the golden, morning sun reflects off the water spread before you. And don't worry about falling into the bay! Floating yoga is beginner-friendly, so there's little chance of tipping! Call or visit the Water Dog website to book a session!
Often hosted by Island Yoga Time and Seaside Yoga CC, these popular heart-opening classes get you under black lights for a surreal experience. With glowga, you'll work through the warrior series in a sea of neon clothes glowing around you. And thanks to complimentary glow bracelets and wine, you'll have no problem fitting in and getting loose. Check Island Yoga Time and Seaside Yoga CC's Facebook pages for scheduling.
You might not find an instructor-led class when you're one with nature, but Corpus Christi offers numerous locations perfect for relaxing. With beautiful beaches overlooking the Gulf of Mexico and plenty of inland parks, the perfect outdoor yoga spot is only a short walk, drive or Uber away! You're bound to find a spot that's warm, inviting, and peaceful.
---
Looking for even more fun, energetic activities in Corpus Christi? Try one of the popular water or wind sports, explore a great trail for biking or visit a park for some family-friendly games. With Corpus Christi's great weather, you'll always have an opportunity for outdoor fun!