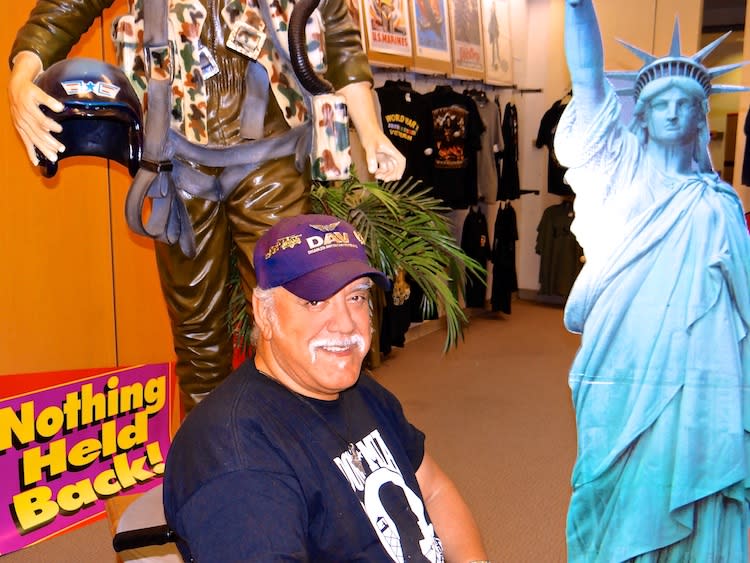 all photos by Visit Corpus Christi unless otherwise indicated
Ten-hut, soldier! War & Peace, Ltd. and the Corpus Christi Military Museum invite you to salute the brave men and women who heed the call-up to join America's armed forces. Vietnam veteran Noe Bocanegra and his wife Rory opened both in the Sunrise Mall in 1994, around the same time they launched Rock-N-Roll Plus, a novelty skate and gift shop, or as they've called it, "a non-music rock-n-roll store."
Service isn't just duty, it's a way of life – American as apple pie – and the Bocanegras offer a great way to celebrate it.
Not Surplus: Military Memorabilia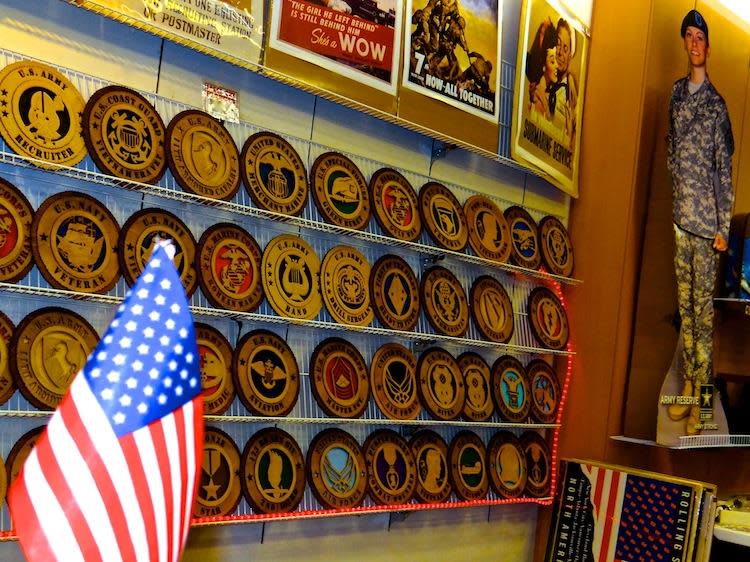 This is not your average military surplus outlet, so don't come looking for uniforms, boots or decommissioned gear. Shop for mementos to memorialize a loved-one who served or to surprise your vet or active-duty personnel. Surprises might include commemorating a tour of duty with an official insignia on a handsome, carved-wood wall emblem, perfect for a rec room… or a set of embroidered patches from each mission served to complete a scrapbook.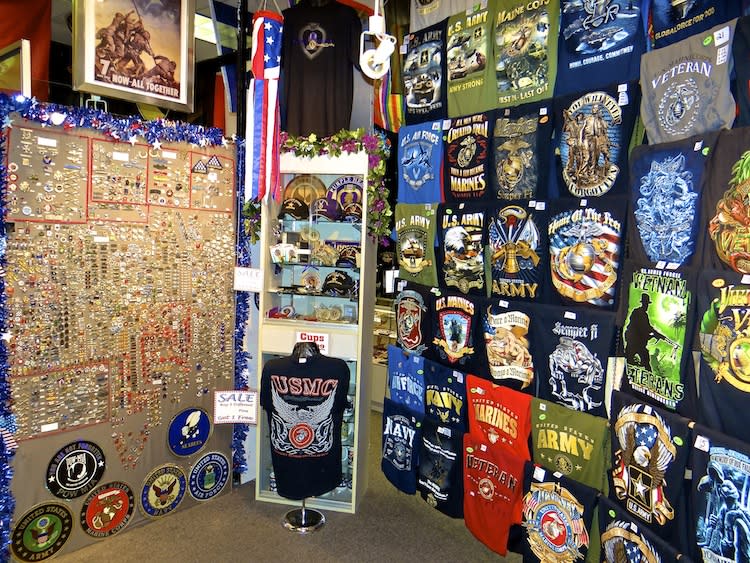 Every last branch – Army! Navy! Air Force! Marines! Coast Guard! Merchant Marines! – even down to specific missions, squadrons and regiments, is honored with plaques, posters, badges, patches, flags, T-shirts, pin-backs, air-socks, banners, models, stickers, lighters and so much more. Other public service heroes (police, firefighters, medical personnel) are honored as well.
A Shrine to Memories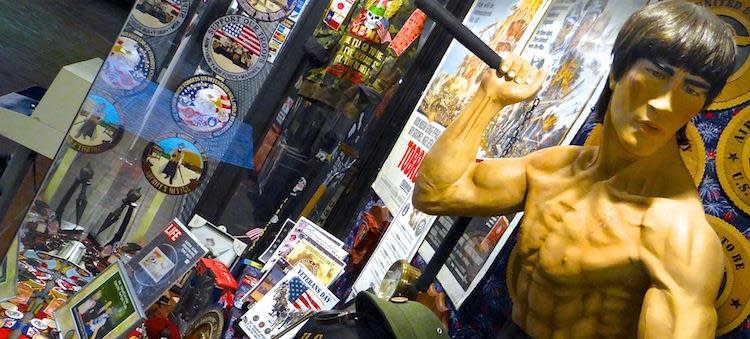 The shop's outer windows showcase the Corpus Christi Military Museum. They are packed to the hilt with items that paint a picture of loyal service. Take a moment to read up. You'll see that Noe has been a hero on- and off-duty as he continues to be active in the local Disabled Veterans of American group and even once helped thwart a bank robbery in progress!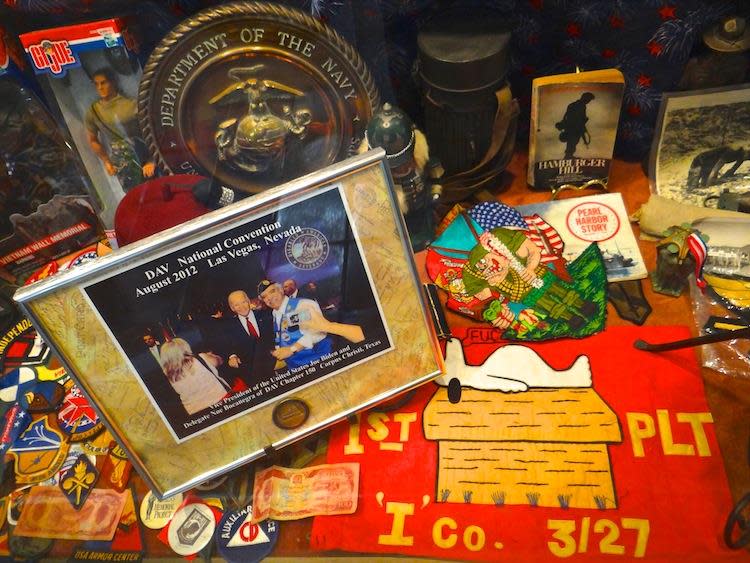 The space is reserved for not-for-sale memorabilia. The general public is encouraged to loan or donate items to see this collection of reflection grow.
Everybody Rock & Roll the Place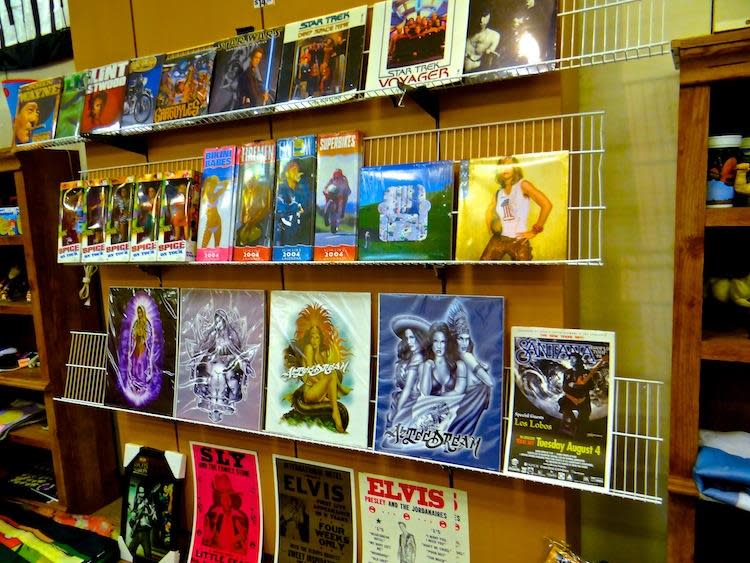 Rock-N-Roll Plus is located right next door to War & Peace Ltd. and takes the "at ease" part of the equation and ramps it up with all sorts of irreverent TV, movie and rock relics. OK, 90s ladies: Hurry while they still have the entire set of Barbie-sized Spice Girls dolls in mint condition!
The popular pop culture shop had been closed for a number of years, but has recently reopened with posters, action figures, curios, collectibles, a whole section devoted to Al Pacino in Scarface, and even a window full of finely carved, large wooden tiki totems for your backyard or home lounge.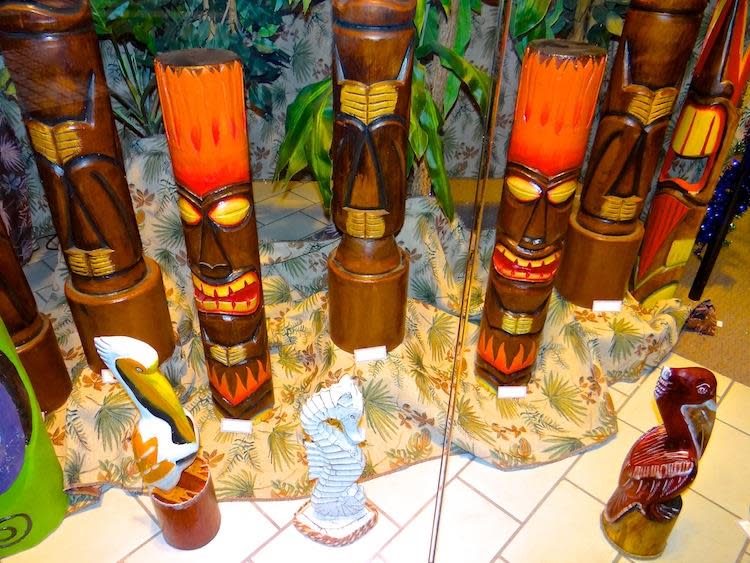 The Bocanegra's shops are the perfect complement to a Corpus Christi trip that includes a tour of the U.S.S. Lexington CV-16 Aircraft Carrier Museum (just a 15-minute drive from the mall zone). It's also a must-see for family or friends visiting service-members stationed at N.A.S. or the U.S. Coast Guard. Come on down to hail our valorous vets and those currently serving… in war and peace.