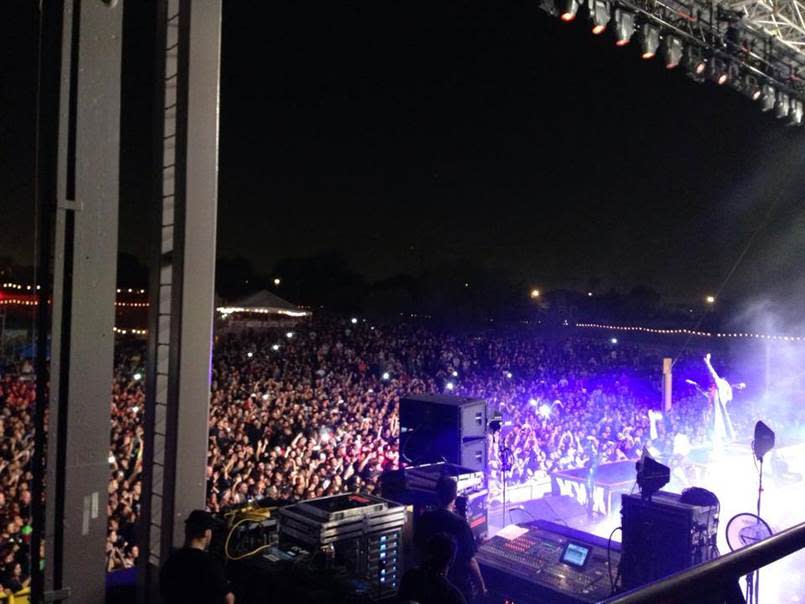 Since opening in 2001, Concrete Street Amphitheater has served as Corpus Christi's biggest, baddest outdoor music venue. The venue is a must-see for any music lover who visits the Coastal Bend, no matter what sound you love. The lineups at Concrete Street are extremely varied. The venue has hosted acts such as Billy Idol, Joan Jett, Bone Thugs 'N' Harmony, Godsmack, Fall Out Boy and many others.
All of this musical diversity requires an equally diverse list of bars and restaurants to round out your evening of fun and music. Located in Bayfront, Concrete Street Amphitheater is surrounded by plenty of great bars and restaurants that will complement any style of concert you're seeing—from hip hop to country and everything in between. Keep reading for perfect pairings for music, food and drinks the next time you visit Corpus Christi!
Go back in time to the good old days of classic rock n' roll. Only a 12-minute walk from Concrete Street, it's the ultimate dive bar, and the perfect spot to grab a bite to eat and a cold beer or a glass of wine while enjoying some live music. Make sure you have some extra change in your pockets for the classic jukebox that Bruce Springsteen would be proud of. The menu is fairly small and it is cash only, but your party will be ready to rock and roll all night!
Get swanky before taking in a Hip Hop concert at the Concrete Street Amphitheater. This high-end and luxurious bar is located on the second floor of the Omni Hotel, only a few blocks east of the concert venue. You will feel like the ultimate music mogul as you sip on high end cocktails, libations or wine from their extensive wine list. Perfect for date night, this fun and fancy spot offers open space seating with views of the hotel pool and Corpus Christi Bay.
There's nothing like a warm Texas night at a country concert, and Brewster Street Ice House will help make your evening an experience you will never forget. Just a seven-minute walk from Concrete Street, these venues basically share a parking lot, rediscover your twang with a home-cooked meal. Popular menu items include chicken fried steak, specialty burgers and an awesome variety of appetizers. Grab a seat on the giant deck or under the huge fan for a cold drink and great meal before the concert.
Your group will feel like the main event after enjoying a meal and some drinks at this posh restaurant and wine bar. Only a half mile away from the Concrete Street Amphitheater, Bleu Bistro offers small plates and other options perfect for sharing as well as fresh seafood. Open for brunch, lunch and dinner with outdoor seating, stop by anytime before you indulge in a night full of music, make new memories and profess your love for your favorite guilty pleasure band!
Spend a night in the Downtown/Bayfront area to round out the Indie/Punk show at the Amphitheater by chatting with the friendly bartenders and grabbing a drink at The Gold Fish. It's only a 10-minute walk from Concrete Street and offers unique and daring cocktails as well as the most obscure craft brews to match your refined taste in music. With outdoor seating, it's the perfect mix of hanging out in your backyard with friends and taking in all the sights and sounds of Corpus Christi.
The right pre-concert bar or restaurant is sure to help you set the scene for a fantastic night of music. These are just a few suggestions for you to try. Of course, any place you visit with friends or family is sure to be amazing! Explore more bars and restaurants around Concrete Street Amphitheater for the perfect pre-concert experience.