Visit Corpus Christi Tourism Academy
Customer Service for Tourism
Want to help promote a better visitor experience in Corpus Christi? The Customer Service for Tourism training program is a free, introductory course that focuses on principles of superior customer service specifically for the local hospitality and customer service industry.
#CCME
Participants in this program will develop a greater understanding of the Coastal Bend region, the economic impact of tourism and build upon the most important skill in the industry, customer service. After attending the Customer Service for Tourism program, participants will leave with a better understanding of the Visit Corpus Christi organization and an endorsement from Visit Corpus Christi as a #CCMe Certified Associate.
The CCME certification represents those individuals who embody Corpus Christi community pride, understand the power of travel to our local economy and take ownership of making ordinary moments, extraordinary.
Upon completion of the Customer Service for Tourism training program, participants will receive an emailed certificate of completion and a lapel pin that they can wear on their name tag or lapel, proudly representing that they provide excellence in service.
CCME Certified Partners  
Visit Corpus Christi's hospitality and tourism partners can become CCME Certified Partners as well by committing to training at least 1/3 of all employees.  
As a benefit to these partners who are committed to providing excellent guest experiences, CCME Certified Partners will receive elevated promotion via Visit Corpus Christi's marketing efforts. Businesses interested in applying to become a CCMe Certified Partner should email meredith@visitcorpuschristi.com for more information.  
FAQ
Who can attend?
This program is open to everyone, no prior tourism or hospitality experience is necessary, but advance registration is required.
When do trainings happen?
Virtual trainings are scheduled every Tuesday at 10 AM and Thursday at 2 PM.
How much does it cost?
Virtual trainings are free. On-site trainings are available for a fee.
What if my employees can't attend virtually?
No worries! We'll be happy to schedule an on-site training for your team for a fee.
What's in it for the employee?
The #CCMe Certification is an individual certification that employees can take with them wherever they go. In addition to the emailed certificate of completion, lapel pin, and new skills, individual participants are also eligible for exclusive access to the Attendee Savings discount pass valid for one year from the date of certification.  
How do I sign up?
Email Meredith Darden, Vice President of Experience to register.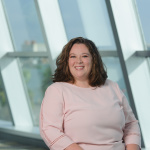 Meredith Darden, CTE

Vice President of Experience