Resource Guide: Destination Training
Helpful links at your fingertips
Gabi De la Rosa for the Houston Chronicle
Beach Safety Information
Get all the information you need to make visitors beach trip unforgettable in the Gulf Coast Capital.
Fun in the sun" and "staying safe" are best buds, especially when it comes to spending time on a gorgeous Corpus Christi beach. While the Gulf Beaches have lifeguards on mobile…
Corpus Christi is home to some of the most beautiful beaches the Coastal Bend has to offer. From North Padre and Mustang Islands to Port Aransas and the National Seashore, there are plenty of options…
There's a very good chance you are going to spend at least one day at the beach during your Corpus Christi vacation. When you do, we want you to have the most fun possible… responsibly…
Destination training Video Modules
Short and sweet, shareable social media videos that keep you in the know with Corpus Christi fun facts and things to do so you can share the knowledge with visitors coming into the city! Keep these videos in your back pocket for an easy way to share experiences and things to do.
Need more? Let us help!
For all Visitor Services resources, please contact Stev Guerra, Director of visitor Services by calling 361-881-1810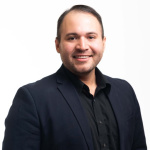 Stev Guerra Director of Visitor Services