Mentor Young Talent in Corpus Christi
Nurture the Next Generation with a Valuable Mentorship
Looking to make a meaningful impact in the tourism and hospitality industry? Consider signing up as a mentor!
As a mentor, you'll have the opportunity to help guide and support individuals who are interested in growing in their roles, new to the workforce, or considering a transition into this exciting field.

By sharing your knowledge, experience, and insights, you can help these individuals reach their full potential and make a positive impact on the industry as a whole. Plus, as a mentor, you'll have the chance to develop meaningful connections and give back to the community in a meaningful way.

So if you have a passion for mentorship and a desire to make a difference, join us in our mission to build a robust and sustainable tourism and hospitality industry in Corpus Christi. Sign up to be a mentor today!
If you're interested in becoming a mentor, sign up here: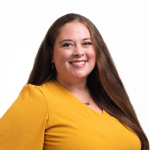 Meredith Darden, CTE

Chief of Staff