What is the Value of Corpus Christi Tourism (and Why Does It Matter?)
"What's there to do in Corpus Christi?"  
When visitors come to our city of Corpus Christi, replies to this question can make or break their impression of our community. If you want visitors to come back again — and say fantastic things about Corpus Christi to others who might come, too — knowing what there is to do and see make all the difference.
That means offering experiences to see and do in the Gulf Coast Capital that are either unique, local, or just plain amazing. Having effective, community-driven pride through #CCME aims to give visitors an authentic, high-quality experience in Corpus Christi that they will remember for years to come.
---
Economic Impact of Tourism in Corpus Christi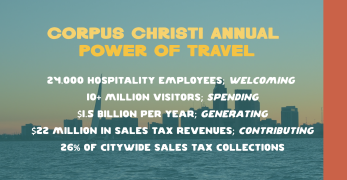 Tourism is the second largest industry sector in Corpus Christi and is critical to our local economy. Visitors support businesses, jobs and enhance the quality of life for residents and visitors alike. Visit Corpus Christi is committed to driving the region's economic recovery through tourism.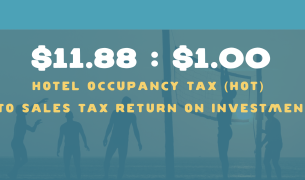 Corpus Christi is the most visited regional destination with over 10.61 million visitors  annually. Not only do visitors come to explore, they come to spend money in our local businesses, hotels and restaurants. Corpus Christi tourism contributes more than $1.5 billion  into our local economy, generating funds that help build a better place for us to live, work and play. Tourism employs more than 24,000 people in Corpus Christi, with the hospitality industry being one of the largest sectors in the city. Corpus Christi tourism is  identified  as the 2nd  largest industry for community economic development, and generates 26% of sales tax collections for the city of Corpus  Christi.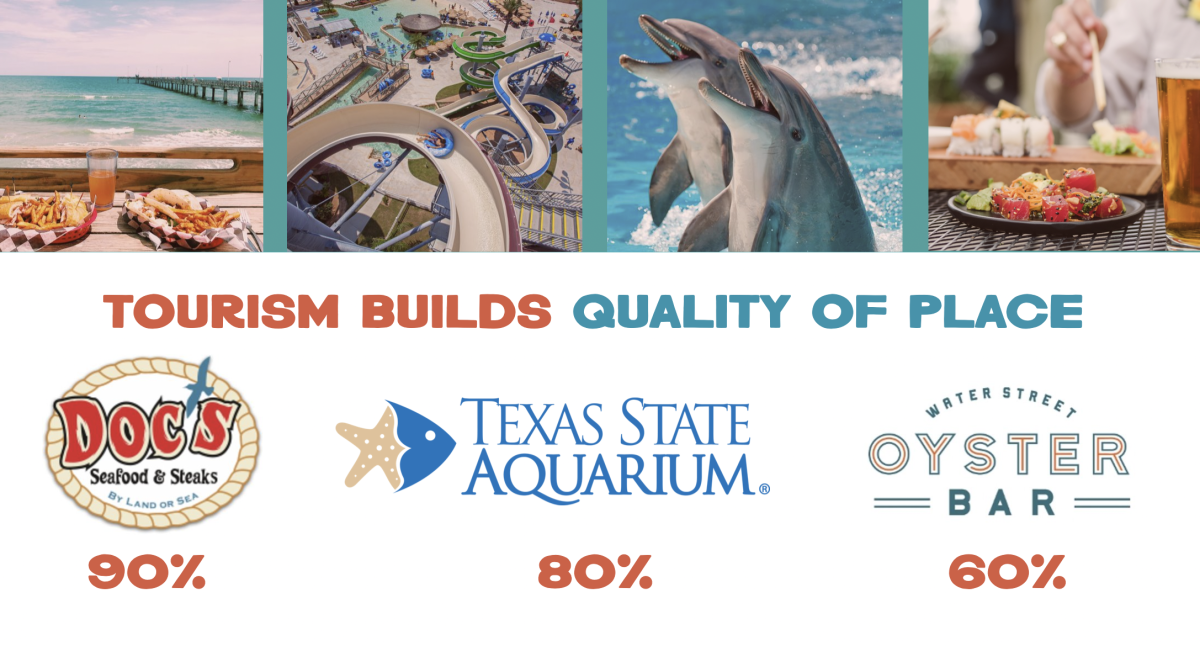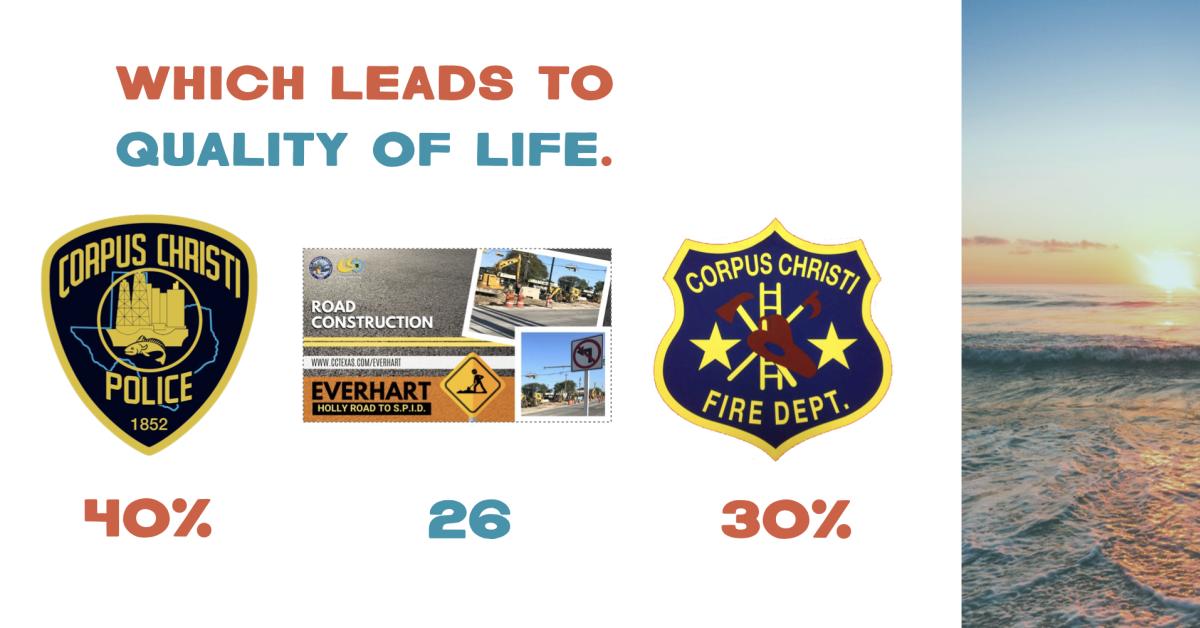 Corpus Christi visitors who come to explore our Gulf Coast Capital look to find our unique offerings, such as dining at Doc's Seafood and Steaks while watching the Laguna Madre sunset, taking their families to experience the Texas State Aquarium, or order oysters on the half shell at Water Street Oyster Bar.
The percents of revenue come from visitors. The amount of sales tax revenues paid annually by visitors is enough to cover 40% of the police and 30% of the fire departments budget, or, to even completely build 26 miles of Corpus Christi roads every year. This in turn, means our Corpus Christi community would not have these amazing attractions and restaurants if there were no tourism in Corpus Christi.
---
Visit Corpus Christi Cares: COVID-19 Community Efforts
In 2020, the COVID-19 pandemic severely hurt our local businesses and employees who needed income, where Visit Corpus Christi developed the Visit Corpus Christi Cares Foundation to help employees and businesses in the hospitality and tourism industry who had experienced financial hardship due to unforeseen circumstances.
The question arose, what would happen if there was no more tourism? 
You can view the full series, here.
​
---
Redefining our Gulf Coast Capital community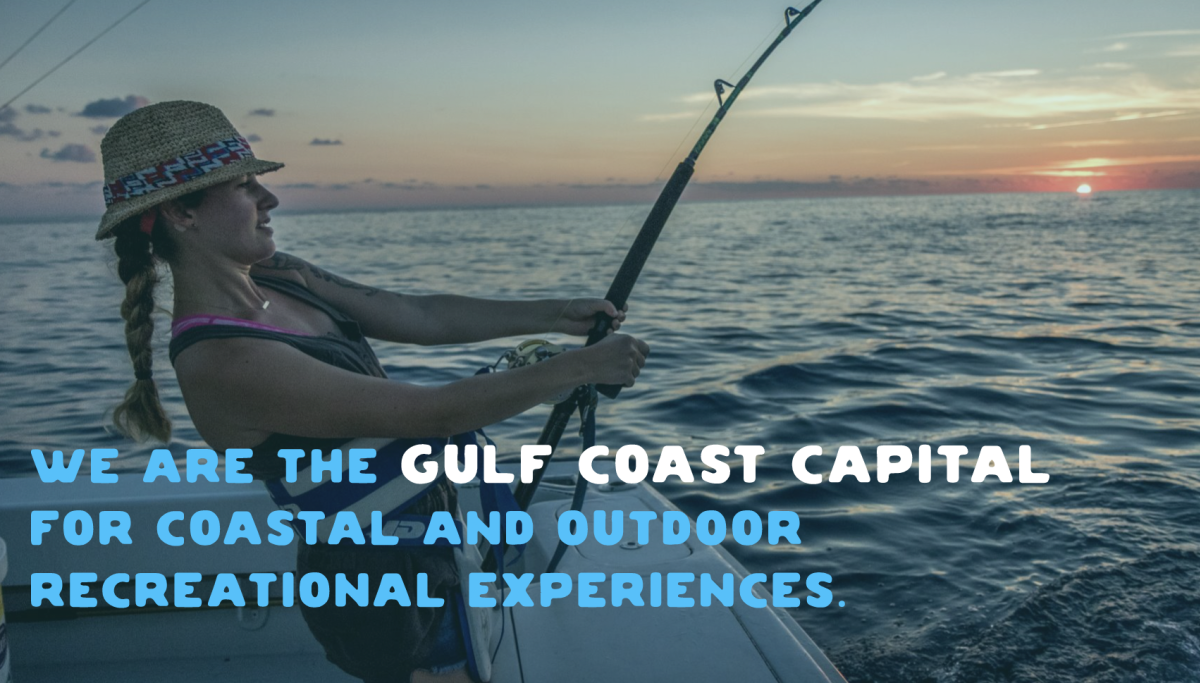 With a broad perspective of our community, look to everything that will appeal to visitors, including: 
Coastal and outdoor recreational experiences, including our gulf coast beaches, world-renowned windsurfing, top-class fishing, and culinary 
Fun ways to experience the bay and gulf beaches; 

Places to get to know about our local history and culture; 

Chances to see and interact with local art and artists; 

Festivals and events that celebrate Corpus Christi culture, food, music, or local musicians and artists; 

Attractions to see and explore, such as our beaches, museums, aquarium; and unique places 
Local businesses and retail stores where visitors can shop or be pampered.
Some amenities function as the primary reason visitors come to an area. For example, hotels and condos are often an attraction, as well as a lodging choice. Even transportation modes can attract visitors. Fishing excursions, sailing, as well as tours from Horses on the Beach or Enjoy Corpus Christi tours.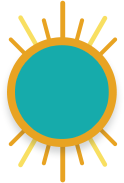 "You really need to put yourself in your visitors' shoes," "Why would they want to come to your community? What would be appealing or interesting enough to get them to travel your way? And what would make them stay a while longer?"
Involve Your Friends and Family 
As you begin to look through all Corpus Christi has to offer, don't forget that the people who live here in our Gulf Coast Capital can help! Involving them in getting to know the city can increase the level of support that tourism development gets from the community. Everyone in Corpus Christi can help with brainstorming. Reach out to local residents from a variety of incomes, all walks of life and ages to take time to help identify our attractions. You can even pick up our 2021 Corpus Christi Inspiration Guide to see everything to know about Corpus Christi's top offerings.
Residents have inside information about things to see and do that might appeal to visitors — even the local experience, such as the hidden gems most visitors wouldn't know about.  From the Corpus Christi Beer Trail to unique, packaged attractions passes visitors can purchase, there are so many ways the community can help in providing our guests the best way to coast with us.
---
Our #CCME Anthem 
Here in Corpus Christi, we coast our own way. We remember our past, work for our dinner, and aren't afraid to get our hands dirty. Because our way of life is bigger than our beaches, and we wouldn't have it any other way.
We welcome all to the Gulf Coast Capital. Located on the South Texas Gulf Coast, Corpus Christi offers popular attractions, outdoor, experiences, a variety of hotels, cultural venues, shopping, fresh, local seafood, and best of all - South Texas Hospitality.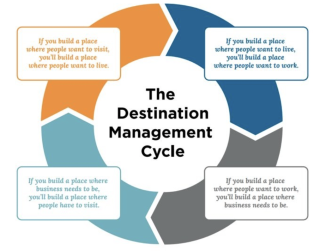 Promoting tourism to Corpus Christi visitors is essential to our quality of life here. We encourage you, as a member of the Gulf Coast Capital, to help in elevating our #CCME community by learning about all there is to see and do in our city. And remember — as you develop and promote YOUR hometown attractions, always consider things from the visitor's viewpoint when you hear, "What is there to do in Corpus Christi?" 
---
Corpus Christi Tourism Resources
Visit Corpus Christi uses a multitude of sources and independent reports to compile a broad view of the impact of tourism across Corpus Christi. For more insight, check out these resources: 
Learn more on how to be a #CCME ambassador for tourism 
There are so many ways to show how to love where you live here in Corpus Christi, from positive messages on social media, using #SeeCC and #CCME, and joining our Coastal Capital Community Facebook group. Check out more to how to be a #CCME ambassador.