Join the Speakers Bureau
Share Your Story and Engage the Future of Tourism
Hey there! Are you passionate about sharing your love for the tourism and hospitality industry? Join our PATH speakers bureau and inspire the next generation of professionals! Our turn-key presentation makes it easy for you to speak to middle school, high school, and college students about the exciting opportunities available in this industry.

As a member of the PATH Speakers Bureau, you'll have the chance to share your expertise and insights with aspiring young professionals who are eager to learn more about the industry. By showcasing the cool jobs and career paths available, you'll help inspire the next generation to pursue their dreams in tourism and hospitality.

So why wait? Sign up today and join us in our mission to build a strong and sustainable industry in Corpus Christi. Let's work together to inspire the next generation and ensure a bright future for the tourism and hospitality industry!
Sign Up Today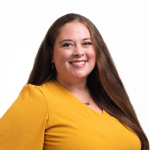 Meredith Darden, CTE

Chief of Staff