Post an Internship
It is essential for industry employers in the tourism and hospitality industry in Corpus Christi cultivate a pool of skilled and knowledgeable workers who are ready to contribute to the growth of this industry. 

By posting your internship opportunities on the PATH internship board you'll be able to get your opportunities in front of individuals looking to grow in professions across tourism and hospitality.  By providing internship opportunities to our future workforce, employers can connect directly with these young professionals and offer them a firsthand experience of the industry's operations. 
Learn more about how to post your internship!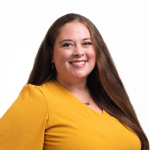 Meredith Darden, CDME, CTE

Chief of Staff