Venues
There is no shortage of unique, offsite venues ready to work with groups to create exceptional events. Find one to help elevate your next meeting, convention, or trade show using the tool below.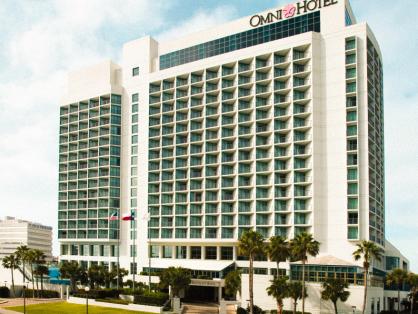 OMNI CORPUS CHRISTI HOTEL
900 N SHORELINE BLVD, CORPUS CHRISTI, TX 78401
The Omni Corpus Christi Hotel features 475 luxurious guest rooms with spectacular views of the Corpus Christi Bay and a total of 24,000 square feet of function space, including the 10,050-square-foot Corpus Christi Ballroom. This four-diamond hotel is situated along 131 miles of Texas coast and not only offers great views, but some of the freshest cuisine. The award-winning culinary team will customize creative menus with the freshest ingredients to present culinary delights that are sure to complement your meeting agenda. With nearby local attractions and activities, this property will add an extra dimension to your program and exceed your expectations.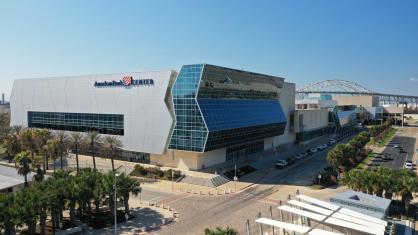 AMERICAN BANK CENTER
1901 N Shoreline Blvd, Corpus Christi, TX 78401
The American Bank Center is Corpus Christi's premier venue for conventions, sports, concerts, and the performing arts. Located within the 400,000 square-foot American Bank Center complex are a state-of-the-art convention center, the 10,500-seat American Bank Center Arena and the 2,526-seat American Bank Center Selena Auditorium.
The American Bank Center Convention Center features 76,500 square feet of easily accessible exhibit hall space. Twenty-two (22) separate breakout rooms, a 25,000 square foot banquet hall and 20,000 square foot Henry Garrett Ballroom are all conveniently contained within the convention center complex. All rooms in the American Bank Center are wi-fi ready.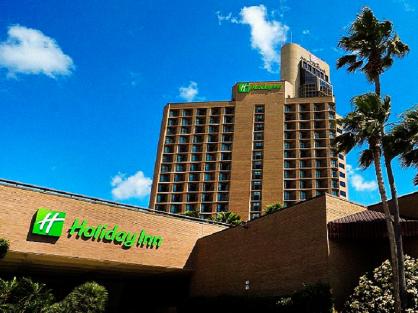 HOLIDAY INN DOWNTOWN MARINA
707 N SHORELINE BLVD CORPUS CHRISTI, TX 78401
The Holiday Inn Corpus Christi Downtown Marina is conveniently located on the beautiful Corpus Christi Bay where guests will experience a picturesque view overlooking the water in one of the 345 bayfront guestrooms. The Holiday Inn features over 12,000 square feet of meeting space and is within walking distance to local nightlife, restaurants, fishing, and attractions. Relax by the beautiful indoor and outdoor pool offering panoramic views of the Corpus Christi Bay and Marina or enjoy a cocktail and the coastal breeze on the outdoor patio.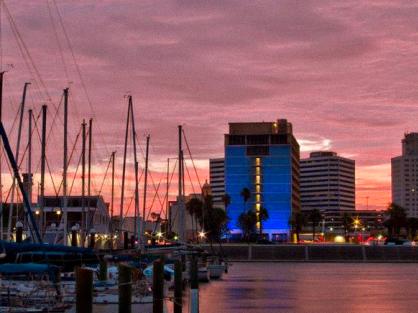 BEST WESTERN CORPUS CHRISTI
300 N SHORELINE BLVD CORPUS CHRISTI, TX 78401
The Best Western Corpus Christi is conveniently located in the heart of downtown where guests are within walking distance to shopping, restaurants, and nightlife. With free parking, Wi-Fi, and a hot breakfast, the Best Western Corpus Christi provides guests with an excellent value where all 173 rooms have a beautiful view of the bay and marina. Guests can also enjoy the Grandview Lounge located on the 11th floor with breathtaking views and an extensive beer, cocktail, and wine list.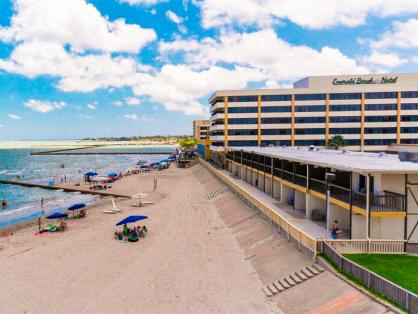 EMERALD BEACH HOTEL
1102 S SHORELINE BLVD CORPUS CHRISTI, TX 78401
With a premium bay view, the Emerald Beach Hotel is located in downtown Corpus Christi and right on the water. The property features 368 rooms fitted to every need with balcony rooms, cabana rooms, or even poolside rooms. The hotel's conference venues and banquet facilities include 8 rooms encompassing over 10,000 square feet of flexible space. Guests can enjoy the restaurant and two lounges, inviting indoor pool, family-friendly atmosphere and much more. 

EMBASSY SUITES CORPUS CHRISTI
4337 S PADRE ISLAND DR. CORPUS CHRISTI, TX 78411
Embassy Suites Corpus Christi hotel is located near the central shopping district and restaurant corridor. This property consists of 150 all-suite rooms and four meeting rooms and features a restaurant, indoor pool, and kitchenettes in every suite. Guests can enjoy complimentary wireless internet access, complimentary breakfast, and complimentary evening reception. Just 15 minutes from Downtown Corpus Christi, the Embassy Suites Corpus Christi is close to the airport, beaches, and other local attractions.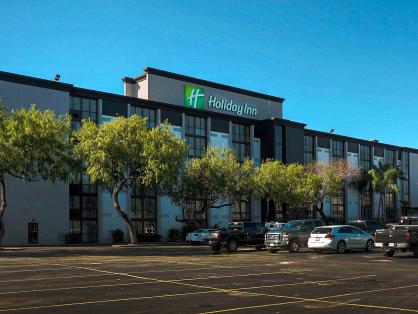 HOLIDAY INN CORPUS CHRISTI AIRPORT HOTEL
5549 LEOPARD ST. CORPUS CHRISTI, TX 78408
The Holiday Inn Corpus Christi Airport Hotel features a beautiful atrium and is in close proximity to the Corpus Christi International Airport. The property offers a versatile conference center with a total of 11,000 sq ft of space, on-site audio/visual services, superior catering and a detail-oriented staff to make sure your event is a success. Guests can also enjoy perks such as an indoor pool and fitness center. Tickle your taste buds with a delicious meal at the Atrium Cafe followed by a refreshing cocktail in the Dolphin Lounge.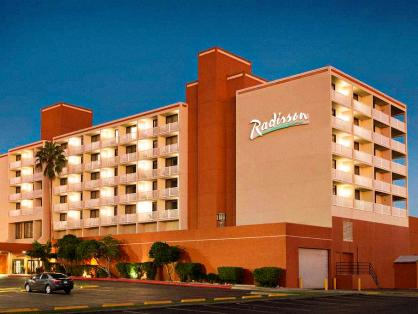 RADISSON HOTEL CORPUS CHRISTI BEACH
3200 SURFSIDE BLVD CORPUS CHRISTI, TX 78402
The Radisson Hotel Corpus Christi Beach is located right on North Beach. Beautiful beach views are steps away with balcony rooms with a view so you can wake up and breathe in the fresh ocean air. Each of the 139 rooms also includes free Wi-Fi so you can easily upload vacation photos to social media. With prime waterfront location on North Beach near the USS Lexington and Texas State Aquarium, the Radisson Corpus Christi is a popular venue for corporate functions and social receptions alike. With over 4,000 square feet of meeting space accommodating up to 300 attendees, this hotel is able to host a variety of events.