VISIT CORPUS CHRISTI MAKES A SPLASH AT IPW 2023 WITH A "COOLER" ACTIVATION
Corpus Christi just got a lot cooler this summer. In May 2023, Visit Corpus Christi presented a "walk-in cooler" interactive activation that was unveiled at the IPW 2023 closing party, an international leisure travel and trade show with over 80,000 attendees. This activation, designed to captivate and immerse attendees in the South Texas coast, demonstrates the vibrancy and allure of Corpus Christi in a truly unique and unforgettable manner as the Gulf Coast Capital.
The activation was thoughtfully designed to transport guests to the coastal beaches of Corpus Christi, with captivating visuals creating an immersive coastal ambiance. Attendees were treated to the "Corpus Christi Cooler" signature cocktail. This meticulously crafted beverage, skillfully blending rum and curaçao, evoked the essence of a sun-drenched summer beach getaway. It's refreshing taste and artful presentation provided a momentary escape, inviting guests to indulge in the essence of Corpus Christi.
The synchronized light show and curated playlist of Cumbia, Tejano and Surf Rock further enhanced the experience, transporting attendees into the captivating charm that defines Corpus Christi.
Visit Corpus Christi successfully captured the attention and admiration of a diverse international audience. This meticulously planned and executed experience offered attendees a profound appreciation for the vibrant and bold allure of Corpus Christi as the distinguished Gulf Coast Capital, leaving an unforgettable impression.
---

CORPUS CHRISTI ANNOUNCED AS A VOYAGER CITY 
Corpus Christi has been officially recognized as a Voyager City by DestinationNext assessments. Over the last couple of months, the DestinationNEXT assessment has gathered data from stakeholders, residents, and city officials to determine where the destination stands in comparison to the last study conducted in 2020. Corpus Christi was announced above the previous credentials and is now under the Voyager city category through the DNEXT program, marking a significant milestone for the destination. This achievement comes as a result of a partnership between Visit Corpus Christi and DestinationNEXT, a data-driven platform that aids Destination Management Organizations (DMOs) in evaluating opportunities and addressing gaps in their visitor economy. Through this collaboration, Corpus Christi will benefit from a robust assessment tool and practical strategies, enabling sustainable success in the tourism sector. The DNEXT program comprises two crucial components: the Futures Study, which identifies global travel trends, and the Destination Assessment, providing a framework for measuring destination strength and community engagement. Ultimately, this initiative aims to develop a comprehensive 10-year Tourism Master Plan for Corpus Christi and beyond, enhancing its overall value and impact on the community.
---

NEW VISITOR INSPIRATION GUIDE LIVE NOW! 
The eagerly anticipated 2023 Spring/Summer Visitor Inspiration Guide has arrived, gracing the shelves and digital platforms of Visit Corpus Christi. This comprehensive guide serves as a beacon, illuminating the wealth of outdoor experiences, the vibrant coastal culinary scene, and the array of incredible attractions awaiting visitors. As the guide becomes available, Visit Corpus Christi recognizes the vital role that partners and stakeholders play in its distribution. By collaborating and actively assisting in distributing the Visitor Guides to their business guests, these valued allies contribute to enhancing the visitor experience and showcasing the allure of Corpus Christi. Together, we ensure that visitors have access to this invaluable resource, inspiring them to embark on unforgettable adventures and create lasting memories in the Gulf Coast Capital. Request a package of guides and access the digital form here.
---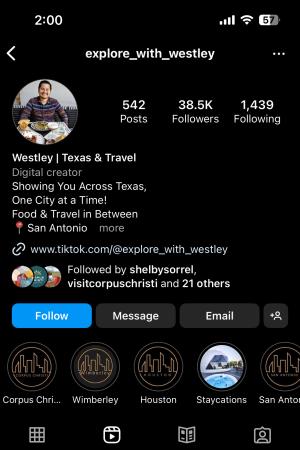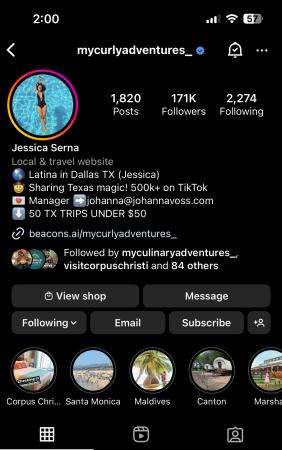 MAKING WAVES IN CORPUS CHRISTI THROUGH INCREASED INFLUENCER HOSTING 
Visit Corpus Christi is taking its tourism campaigns to new heights by embracing the power of social media influencers. With a fresh wave of influencer strategies, we have teamed up with Instagram sensations @explorewithwestly and @mycurlyadventures to showcase the wonders of Corpus Christi. Through media hosting opportunities and collaborative social media campaigns, these influencers are capturing the essence of the city like never before. By leveraging the reach and influence of these popular personalities, Visit Corpus Christi is effectively reaching a wider audience and attracting potential visitors from our target markets. Influencers offer a unique perspective and an authentic voice that resonates with their followers. Their engaging content, stunning visuals, and genuine experiences inspire others to explore Corpus Christi's vibrant culture, breathtaking landscapes, and thrilling attractions. Influencer campaigns play a pivotal role in promoting destinations by showcasing their hidden gems and fostering a sense of wanderlust. Visit Corpus Christi recognizes the significance of these collaborations, harnessing the power of influencers to ignite curiosity and create a buzz among travel enthusiasts. Through this strategic partnership, Corpus Christi is set to become the next must-visit destination for adventure seekers and culture enthusiasts alike.
---

CORPUS CHRISTI'S NATIONAL INTRODUCTION TO THE SPORTS INDUSTRY
The Corpus Christi Sports Commission has made an impressive entrance onto the national stage with a captivating after-hours event at the Sports ETA Symposium in Kansas City. In a remarkable activation, the Commission provided professional sports meeting planners with an immersive Gulf Coast Capital experience. The event showcased the vibrant music stylings of local Grammy-Nominated DJ El Dusty, refreshing coastal drinks and brews, a Coastal Giphy booth, and much more. On May 10th, approximately 200 sports tourism industry professionals attended the reception, marking the Commission's first direct introduction to national planners in a truly memorable way. The event's overwhelming success generated buzz and conversations that continued for days afterward. As a result, the sports tourism industry has taken notice of Corpus Christi, leading to an influx of promising leads.
---

CORPUS CHRISTI SPORTS COMMISSION HIRES A NEW SPORTS SERVICES MANAGER
The Sports Commission has recently welcomed Emily Rees as their Sports Services Manager. Originally from Granbury, TX, Emily has recently completed her Sports Management degree at Texas Tech University while simultaneously working on her Masters. With several years of experience in sports event management, programming, and Parks and Recreation, Emily brings a wealth of expertise to her new role. Her passion and knowledge in the field will undoubtedly contribute to the continued success of the Sports Commission in promoting and organizing sports events in Corpus Christi.
---

CORPUS CHRISTI WELCOMES INTERNATIONAL BUSINESS THROUGH A POST-IPW FAMILIARIZATION TOUR 
Visit Corpus Christi and Port Aransas joined forces to unveil their first-ever international familiarization tour, an exciting group travel experience designed to educate participants and highlight the attractions and experiences of both cities. Taking place from May 26th to May 28th, 2023, the Corpus Christi familiarization tour provided exclusive access for tour operators and media representatives to discover the captivating allure and natural wonders of Corpus Christi. Attendees were immersed in renowned attractions, treated to delectable culinary delights, and engaged in thrilling adventures, truly capturing the essence of the Texas Gulf Coast. This initiative showcased the best of Corpus Christi, leaving participants with unforgettable memories and a deep appreciation for the destination.
---

GULF-TASTIC TAKEOVER AT BUC DAYS 2023
The collaborative efforts of Visit Corpus Christi and Buc Days Rodeo led to an exciting launch of Buc Days 2023 on May 4th. The Gulf Coaster teams joined forces to create a memorable eleven-day festival experience with an active on-site presence at this year's Rodeo Corpus Christi. The Visitor Information Center team played a pivotal role by hosting two vibrant tents, serving as a central hub for festival-goers. Visitors flocked to the tents to access valuable information, maps, and indulge in the mobile pop-up shop of the Gulf Coast Capital Store. With this exceptional support and engagement, Buc Days became an unforgettable celebration, showcasing the vibrant spirit and offerings of the Gulf Coast Capital.
---

CREATING A LASTING VISITOR IMPRESSION: PIRATES AND PRINCESS PROGRAMMING INSIDE THE VISITOR INFORMATION CENTER
The programming inside the Visitor Information Center proved to be a vital component of Downtown Corpus Christi's monthly Art Walk, as demonstrated by the electrifying Pirate and Princess party on May 5th. Organized by the Experience team, this event served as a grand kickoff for Buc Days 2023. Attendees enthusiastically embraced the theme, showcasing their best pirate or royal attire. The festivities offered a variety of engaging activities, including photo sessions, enchanting tiaras, and exclusive discounts. As a delightful surprise, attendees were gifted bags filled with precious jewels and treasure to take home. This immersive experience exemplified the importance of innovative programming in the Visitor Information Center, fostering excitement, and leaving a lasting impression on visitors.
---

COMMUNITY INVOLVEMENT AND FOSTERING THE FUTURE OF HOSPITALITY
Visit Corpus Christi recognizes the importance of recruiting Gulf Coasters and educating students about the hospitality and tourism industry. Stev Guerra, the Director of Visitor Services, seized the opportunity to make a special appearance at Ray High School's Senior Career Fair on May 5th. This event served as an excellent platform to engage with students, providing them with valuable information and enthusiastic encouragement about the Gulf Coaster program and the Gulf Coaster Volunteer program. With an impressive turnout of over 800 students in attendance, the fair created a vibrant atmosphere for exploring future career opportunities. By actively involving and educating students about the hospitality and tourism industry, Visit Corpus Christi aims to cultivate a pipeline of talented individuals who can contribute to the growth and success of the Gulf Coast as a premier destination.
---

TRAVIS ATTENDS HELMSBRISCOE ANNUAL BUSINESS CONFERENCE 
Travis Milum represented Visit Corpus Christi at the highly anticipated 2023 HelmsBriscoe Annual Business Conference & Partner Fair held in Denver. This esteemed event serves as a platform for fostering connections and building business within the industry, allowing suppliers to establish and strengthen relationships with HelmsBriscoe Associates and industry leaders. During the conference, Visit Corpus Christi had the opportunity to engage with over twenty meeting planners, showcasing the city as a premier meetings and convention destination. The fruitful collaboration with HelmsBriscoe in 2022 resulted in Visit Corpus Christi receiving 27 meetings and conventions leads from their associates, with an estimated economic impact of $15.9 million. Several planners have expressed strong interest in sourcing Corpus Christi for future events, and numerous programs are currently pending. This productive partnership demonstrates the growing appeal and potential of Corpus Christi as a thriving destination for meetings and conventions.
---

CONVENTION SALES AND SPORTS COMMISSION HOSTS GROUPS AT THE CORPUS CHRISTI HOOKS
Visit Corpus Christi's Sales and Sports teams orchestrated a successful gathering in the Gulf Coast Capital Suite at Whataburger Field, welcoming local planners, industry partners, and Directors of Sales stakeholders. The event served as a platform for networking, collaboration, and information sharing, emphasizing the importance of ongoing partnerships and support within the tourism industry. The planners in attendance collectively represented over 5,000 group room nights and an estimated economic impact of $2.1 million for Corpus Christi. By fostering strong relationships and nurturing existing connections, Visit Corpus Christi aims to build and expand its client base, ensuring continued growth and success for the destination. This event exemplified the dedication and commitment of the Sales and Sports teams in promoting Corpus Christi as a premier choice for meetings, events, and sports tourism.
---

LEVERAGING INTERNATIONAL MEDIA OPPORTUNITIES AT IPW 2023
Corpus Christi's PR Manager, America Segura, proved her prowess in the field of public relations by harnessing the power of international media networking and securing remarkable feature opportunities at the highly anticipated 2023 IPW Media Marketplace in San Antonio, Texas. By honing in on a strategic vision and exceptional communication skills, the Visit Corpus Christi team masterfully navigated the bustling event, connecting with influential journalists, travel bloggers, and content creators from around the world.
Segura adeptly showcased Corpus Christi's unique charm in a series of on-site interviews for international outlets in English and Spanish, captivating the various audience with vivid descriptions of pristine beaches, thriving marine life, and vibrant cultural heritage. Through persuasive storytelling, the team enticed media professionals to explore the coastal city's hidden treasures and experience the unforgettable blend of natural beauty and recreational offerings it provides.
---
SAVE THE DATES
Convention Calendar Summary
05/30/2023 - 06/02/2023
Total Bookings this Month 
Bookings: 8
Attendance: 3,618
Room Nights: 8,220
Economic Impact: $3,582,704.98
Westat 2023 - May 30th - June 2nd
OSTI-CON
Room Nights: 1,150
Attendance: 543
Economic Impact: $410,896.90
ShowMakers of America 2023 - June 4th-7th
OFFICER CAMP
Room Nights: 150
Attendance: 300
Economic Impact: $192,404.68
Rio Texas Conference of The United Methodist Church - June 5th - 11th
2023 RIO TEXAS ANNUAL CONFERENCE 
Room Nights: 1,500
Attendance: 550
Economic Impact: $490,048.42
Texas Chapter of the Solid Waste Association of North America - June 11th - 14th
2023 TxSWANA CONFERENCE 
Room Nights: 450
Attendance: 250
Economic Impact: $250,324.33
Heritage Tours 2023 Group Visit - June 12th - 15th
Room Nights: 75
Attendance: 25
Economic Impact: $21,428.56
Association of Water Board Directors - Texas - June 19th - 24th
2023 ANNUAL SUMMER CONFERENCE 
Room Nights: 4,420
Attendance: 1,650
Economic Impact: $1,918,114.53
Texas Trucking Association - June 25th - 29th
2023 DPS TEXAS TRUCKING CHALLENGE
Room Nights: 475
Attendance: 300
Economic Impact: $299,487.56