CORPUS CHRISTI, TX – September 07, 2022 – Visit Corpus Christi, the Destination Marketing Organization for the City of Corpus Christi, has brought home not one but two wins at the 50th annual Texas Association of Convention and Visitors Bureau's (TACVB) annual conference.  The awards for "Leisure Tourism Marketing" and "Destination Management Organization of the Year" highlight the organization's strategic marketing and organizational efforts of the past year.  
The "Leisure Tourism Marketing" award highlights a single marketing campaign focused on a unifying theme while the "DMO of the Year" award highlights a Destination Marketing Organization who has innovatively changed the game and created a lasting impact and influence not only in their city but in the industry as a whole.  
"These two awards are a true testament to how passionate this team is about making Corpus Christi great," said Brett Oetting, President and CEO of Visit Corpus Christi. "To be recognized by our peers as the top organization in the state of Texas is something the community should be proud of, knowing Corpus Christi is in good hands when it comes to destination promotion." 
Both awards highlight the organization's efforts in creating a bold, vibrant, and unique coastal brand that is easily recognizable for both locals and visitors alike. The Visit Corpus Christi team has continued to bring home various awards on the regional and national level making Visit Corpus Christi an organization that others around the country are trying to learn from. 
The TACVB annual conference features presentations by the best thought leaders in the tourism industry, break-out educational sessions, shirt sleeves discussions, and plenty of opportunities to reconnect and collaborate with industry colleagues, as well as an opportunity to highlight the best of the best in Texas tourism through the TACVB award ceremony.  
"The TACVB Destination Excellence Awards truly showcase the best in tourism marketing and management in Texas" said Kathleen Frankford, President and CEO of the Texas Association of Convention and Visitor Bureaus (TACVB.) "So, it is no surprise that Visit Corpus Christi won two top awards - Best Leisure Marketing and DMO of the Year."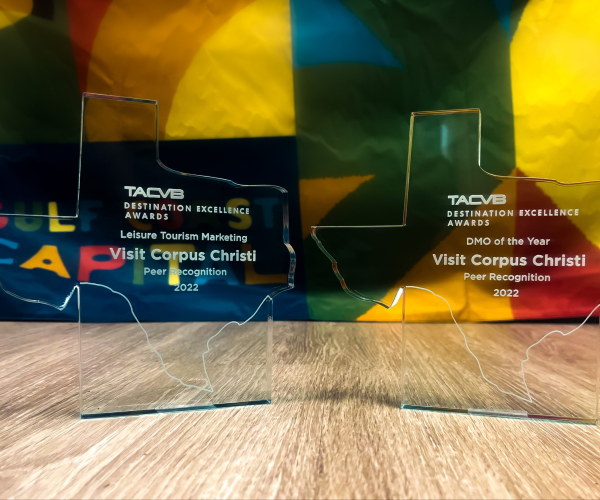 ABOUT VISIT CORPUS CHRISTI   
Visit Corpus Christi is a state and national award winning 501c6 Destination Management Organization contracted by the city of Corpus Christi with a mission to create a better community by sharing Corpus Christi with the world. The organization is primarily funded through Hotel Occupancy Tax (HOT) paid by visitors while staying overnight in hotels and short-term rentals. Visit Corpus Christi also has a non-profit foundation that supports the hospitality and tourism industry via education programs, raising and providing funding to individuals and businesses during times of need through the Visit CC Cares program. 
 
For more information go to visitcorpuschristi.com