CORPUS CHRISTI, TX – May 4, 2022 – A recent economic impact study found that the impact of the Corpus Christi travel and tourism industry leads Texas beach destinations across the state. 
Data from Dean Runyan Associates, San Antonio based Source Strategies and STR Inc., a national hotel data company pieced together a study led by the Visit Corpus Christi research team to quantify the impact travel and tourism has on Corpus Christi. 
The primary highlight of the report shows overnight hotel stays and lodging revenue in Corpus Christi continue to lead all Texas coastal destinations which include Galveston, South Padre Island, Port Aransas and Rockport. 
"This study proves that Corpus Christi truly is the Gulf Coast Capital." Said Brett Oetting, President & CEO of Visit Corpus Christi. "More people are choosing to travel to, and spend money in Corpus Christi for fun than any other Texas coastal city and that should make the community very proud." 
Dean Runyan Associates, who consults on the annual state of Texas economic impact report, highlighted annual impact numbers showing visitors are spending more money and contributing more tax revenues to the local economy than ever before. 
The study shows Corpus Christi visitors generated $98.6 million in tax revenues in 2021, with $30.3 million going directly to local use. This is reflected in citywide sales tax revenues which reached a record high in 2021, showing the visitors impact on the local economy. 
According to the report, 70% of visitor spending in the Corpus Christi metro area was generated within the city limits of Corpus Christi accounting for $1.35 billion spent in 2021. The metro area is comprised of Nueces, Aransas and San Patricio counties. 
"When visitors come to Corpus Christi to enjoy everything we have to offer, we as a community benefit in return." Said Dr. Mike Imburgio, Director of Data Science at Visit Corpus Christi. "The tax revenues generated by visitors are used by city government to improve our quality of life with things like additional first responders, road maintenance and parks and recreation enhancements." 
Source Strategies, who provides statewide hotel data using verified Texas State Comptroller audited tax files, reported that Corpus Christi sold more hotel rooms than any other Texas Gulf destination in 2021 – 66% more than Galveston, 265% more than South Padre Island. The study also shows this isn't a new trend. Corpus Christi was the leading Gulf Coast destination in hotel rooms sold and room revenue every year in the report going back to 2012. 
Despite COVID-19 causing a global economic hardship in 2020 - U.S. travel spending declined an estimated 50% in 2020 - travel began its road to recovery in mid-2020 with some destinations seeing returns to normal in 2021. Corpus Christi also continues to recover when it comes to travel employment. The report indicates that 1 out of every 20 jobs in the metro area are in the travel sector with over 12,250 of those in travel and hospitality businesses within the city limits of Corpus Christi.

To access the report, visit: https://www.visitcorpuschristi.com/about-us/economic-impact/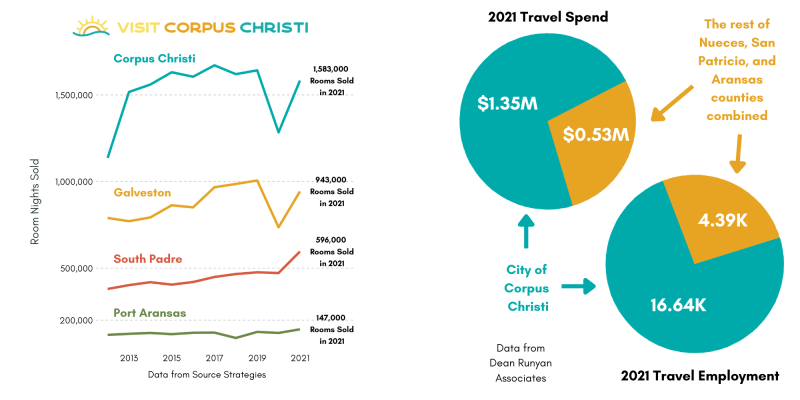 ABOUT VISIT CORPUS CHRISTI  
Visit Corpus Christi is a 501c6 Destination Management Organization contracted by the city of Corpus Christi with a mission to create a better community by sharing Corpus Christi with the world. The organization is primarily funded through Hotel Occupancy Tax (HOT) paid by visitors while staying overnight in hotels and short-term rentals. Visit Corpus Christi also has a non-profit foundation that supports the hospitality and tourism industry via education programs, raising and providing funding to individuals and businesses during times of need through the Visit CC Cares program.

For more information go to visitcorpuschristi.com.
# # #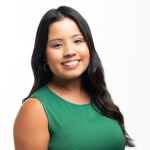 America Segura

PR & Brand Manager