As Kahlil Gibran once said, "In one drop of water are found all the secrets of all the oceans." Well, after one drop of any of these adult libations, you might be ready to spill all your secrets to the first willing listener. Don't say we didn't warn you. Here are 4 Great Beach Bars with great drinks and great views:
Welcome to Corpus Christi's only full-service hotel at water's edge and so close to downtown: The Emerald Beach Hotel. Located on Shoreline Boulevard, at the curve where it becomes Ocean Drive, this hotel is home to the Sandpiper Restaurant, the hotel lounge SandBar as well as the popular beachfront Kokomo's Bar.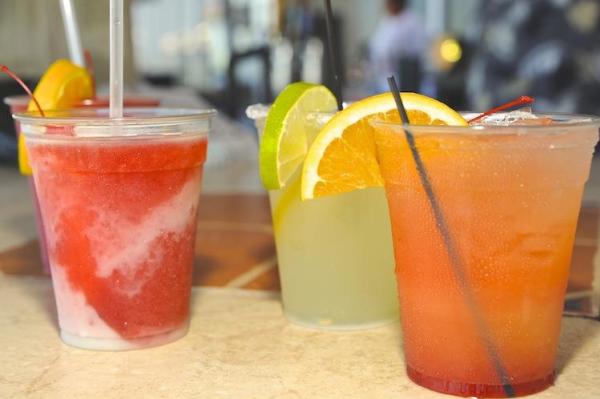 Open seasonally (March-October), Kokomo's is one of the bayfront's best-kept secrets. Despite this, it manages to stay packed, so someone's been spilling the beans, for sure! You don't need to be a guest of the hotel to enjoy Kokomo's live music and/or karaoke or to order bar-side service from the restaurant, but one sip of their hospitality might have you checking out availability for your next visit.
What You May Order:
The Piña-Colada-Strawberry Daquiri Swirl (AKA the "Las Vegas")
Kokomo's Coconut Punch
A bevy of frozen concoctions and beer, beer, beer
What You May See:
Corpus Christi Bay
Folks playing sand volleyball
Ships on the way through the bay

Come relax and soak in the Coastal views at the glorious dock-side view of Snoopy's Pier located right along the Packery Channel as you make way towards Padre Island beaches. Snoopy's Pier features a walkup and order restaurant and bar as well as beautiful views of the sparkling water. This spot is perfect for families or large groups and seeing a Corpus Christi sunset right on the water!
What You May Order:
Classic seafood favorites
The signature ice cream next door at Scoopy's
What You May See:
Gorgeous sunsets along the Packery Channel
Unforgettable views of the water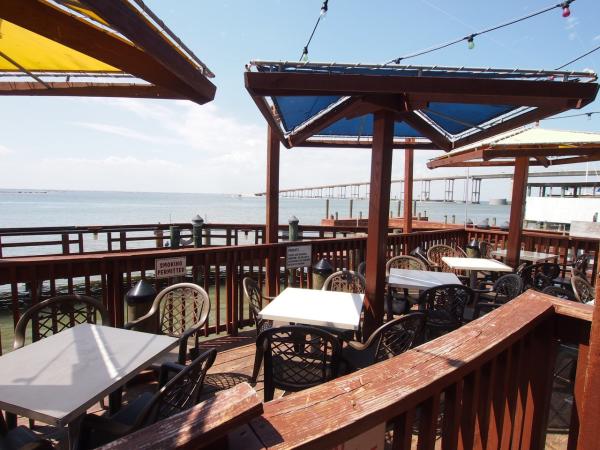 From Doc's picturesque location right on the waterfront, diners enjoy great indoor and outdoor views, fresh Gulf seafood, Angus Beef hand-cut steaks, and tropical mixed drinks. Seated right under the JFK Bridge from Corpus Christi to Padre Island, Doc's is the perfect place to enjoy fresh Gulf Seafood and cool drinks from the bar accented by live music -- nightly from Memorial Day through Labor Day, and weekends in between.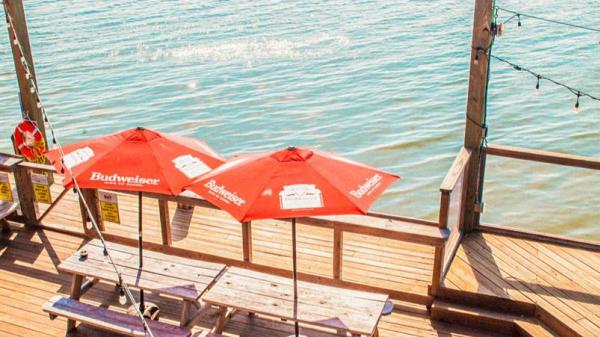 Whether you arrive by land or sea, we hope you'll stop by Doc's Seafood & Steaks to experience the best waterfront restaurant Corpus Christi has to offer.
What You May Order:
Coastal Cooler
Mermaid Water
South Texas Sunset
What You May See:
The Corpus Christi Bay
Sailboats and yachts, plus live music (We hope they play "Yacht Rock.")
Seagulls
Every culture, every nation agrees: the magnificent sight of a horizon line where water meets the sky is a universal calming agent. So is alcohol – especially when crafted in delightful adult concoctions. So come to Corpus Christi, pull up your favorite barstool and get ready to order up some fun!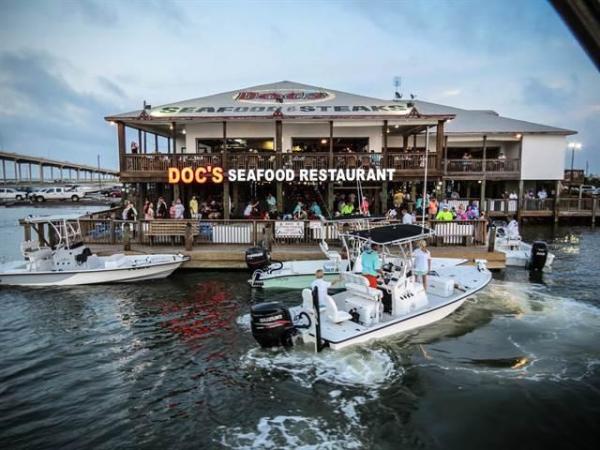 This resort provides a full weekend of fun! Bluff's Landing is home to a hotel, full-service marina, watersports, fishing, and a unique dining experience. The Lookout at Bluff's Landing sits on the shores of the Laguna Madre and has an extensive menu full of local ingredients and handcrafted cocktails. Sit back, relax, and coast without a care here.
Enjoy scenery overlooking the Laguna Madre with a cold drink, live music, and good vibes! This bar is one of the newest on the Island and has a great patio, swings, and even Chicken Poop Bingo.