When you're headed to one of the best beach destinations in the South (that's us!), a gorgeous waterfront stay isn't a hard sell. Whether you're here for the castle building, the horseback riding, kiteboarding, saltwater fishing or just being a bum in the sun (which we have great respect for), you have a host of great lodging options at your fingertips.
Let us give you a boost! For a comfy stay with incredible views just steps away from your favorite seaside activities, here's our list of 5 Corpus Christi beachside hotels.
Welcome to the only waterfront hotel in downtown Corpus Christi! Emerald Beach Hotel delivers a travel experience unlike any other on the Texas Gulf Coast to unwind or work in beachfront comfort. The hotel features an indoor pool, the Sandpiper restaurant and Sandbar and the swimsuit-friendly Kokomo's Bar, a breezy sundeck featuring tropical libations and plenty of virgin concoctions for the kids, all overlooking Corpus Christi Bay. For unforgettable (and pet-friendly) Corpus Christi family vacations, romantic weekend escapes or relaxing executive stays, Emerald Beach Hotel offers a vibrant gateway to the Gulf Coast.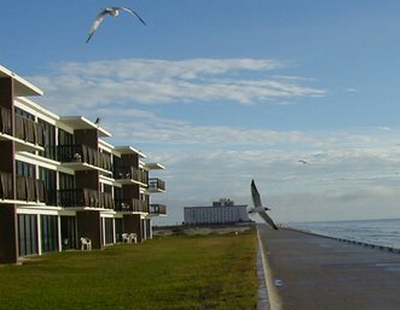 Offering spacious 1, 2 and 3 bedroom beachfront condominiums with fully equipped kitchens, each Island House condo has its own private balcony or patio. Island House now has the only pedestrian beach on North Padre Island! Condos rent daily, weekly and monthly (during the winter months). Amenities include a swimming pool, free internet, gas bbq grills and much, much more. Walking distance to the beach? Zero feet!
Want an unbeatable view of Corpus Christi Bay all while steps away from attractions like Texas State Aquarium, Whataburger Field and the USS Lexington? The Radisson Corpus Christi Beach offers exceptional guest rooms equipped with everything you need for an extraordinary stay. Hop in the pool and swim up to the cabana bar or soak up the local after-hours scene in the newly relocated lobby bar with fantastic ocean views. Private balconies, high speed internet, and more!
Pet-friendly, right next to the beach, and just a few steps away from the USS Lexington and the Texas State Aquarium, Capri Beach Hotel isn't your typical hotel. Each room has a different setup and decor, which means you can tailor your Capri Beach experience to your favorite colors and styles. Choose from the Nautical room, Tropical room, Midcentury, Woodland and more! You'll even meet the hotel's head pup, Pooh Bear (an adorable Newfoundland). Enjoy free continental breakfast, and (of course) direct access to the beach. Laundry facilities are available, too.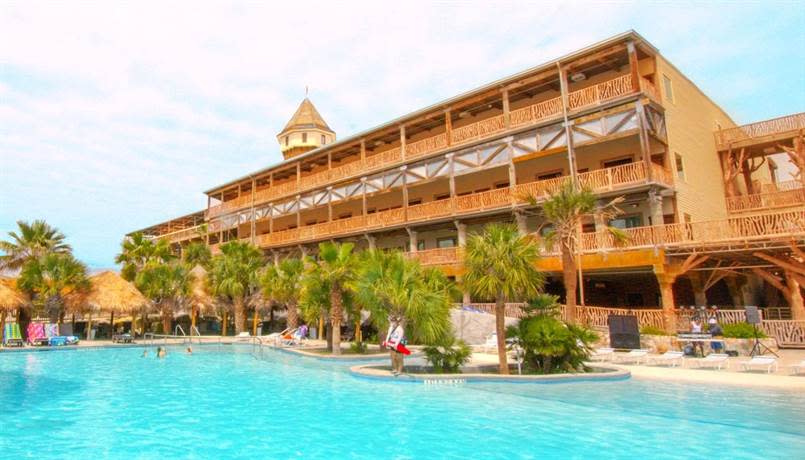 Waves Resort featuring Schlitterbahn Waterpark is just the place if you're looking for a complete family entertainment destination. Features include a golf club, full-service restaurant and bar, resort hotel and a Waves Resort featuring Schlitterbahn Waterpark experience. Yep, a refreshing float on an interconnected river system that takes you throughout the entire park! You'll enjoy more than a mile of rapids, currents and tidal waves! Experience the up-and-down thrills of the Padre Plunge and ride the wave on the Boogie Bahn surf ride. Little ones can splash and play on the resort's mini-slides. And, of course, the beach, private cabanas, and a heated pool with a swim-up refreshment bar are all at your fingertips!
---
Ready to build your dream beach vacation on the waterfront? If these Corpus Christi beachside hotels have gotten you excited to start planning, check out all the beautiful coast has to offer (including, may we say, the unbeatable eats) at our Trip Ideas page!