The Marina Arts District isn't named that for nothin'! This downtown Corpus Christi area is full of art that you can't find in a gallery. Keep an eye out for these pieces of must-see street art.
Endless Sunset: The Colors of Our City - Corpus Christi Caller-Times mural
The newest and largest (no, really...it's the size of the building) piece of street art is full of color and everything Corpus Christi. Designed by an artist, painted by the community and put up in panels, this mural is truly a labor of love to and from Corpus Christi. See it at the Corpus Christi Caller-Times on Taylor Street.
Axis Tattoo
Axis Tattoo is covered in colorful art, inside and out, but you can't miss the wall-sized tiger and larger-than-life Our Lady of Guadalupe on Starr Street at North Chaparral Street. Take a closer look around the shop to find more detailed pieces of street art.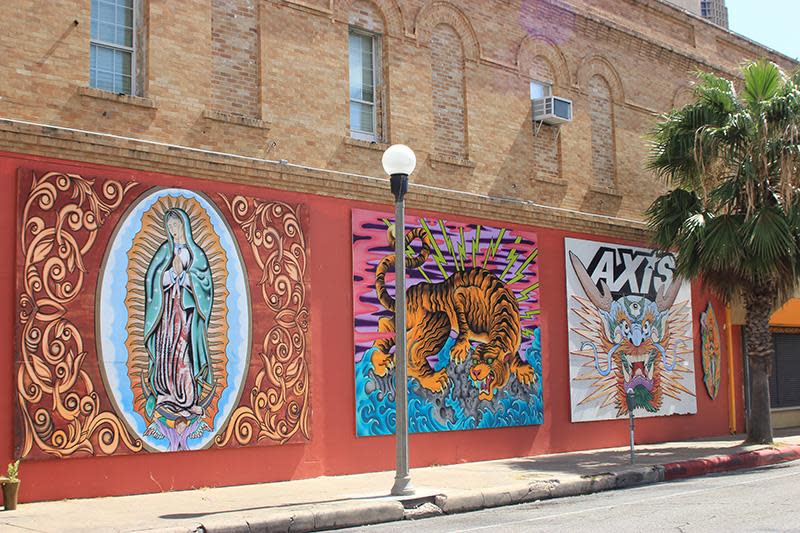 Loteria Corpus Christi - K-Space Contemporary
Loteria, spanish for Lottery, is a favorite-game for most South Texas natives...so much so that Corpus Christi dedicated a mural to it. See it on the back of K-Space Contemporary on North Chaparral Street between Antelope and Starr Streets.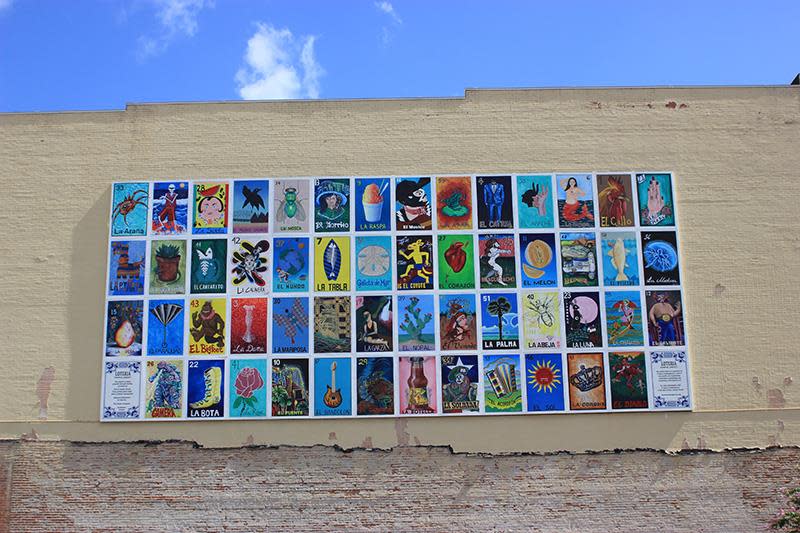 Downtown Utility Boxes
Art is literally on every corner in the Marina Arts District! Utility Boxes in the downtown area have been painted in all kinds of colors and themes and are ever-evolving. See how many you can spot on your downtown journey.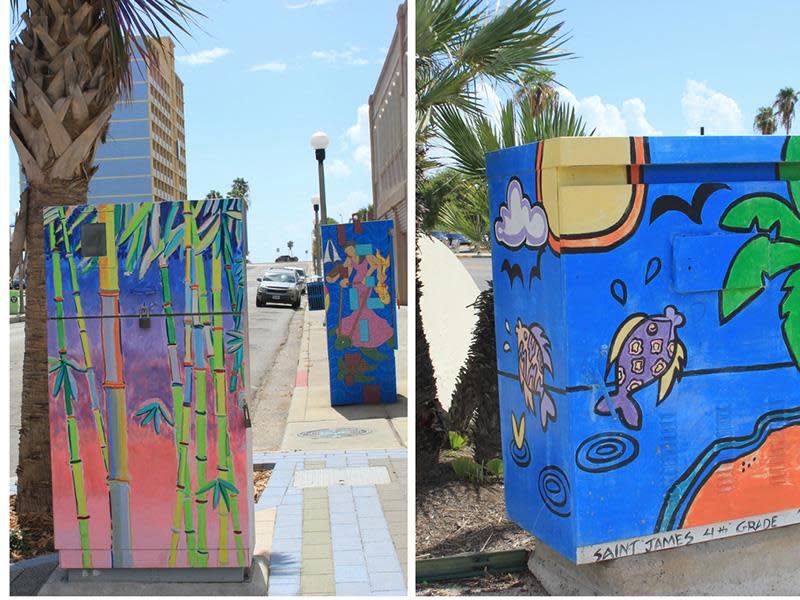 La Retama Park - Uptown Tunnel
The entrance to the tunnel in La Retama Park is swimming with images! On the first Friday of every month, Artwalk opens the gates to the tunnel. The tunnel is lined with art on the short walk from downtown to uptown. Enjoy the mural in La Retama Park on North Mesquite Street at Schatzell Street.
Bonus: Look a little further toward Lower Broadway Street to see the Queen of the Sea, Corpus Christi's first public work of art!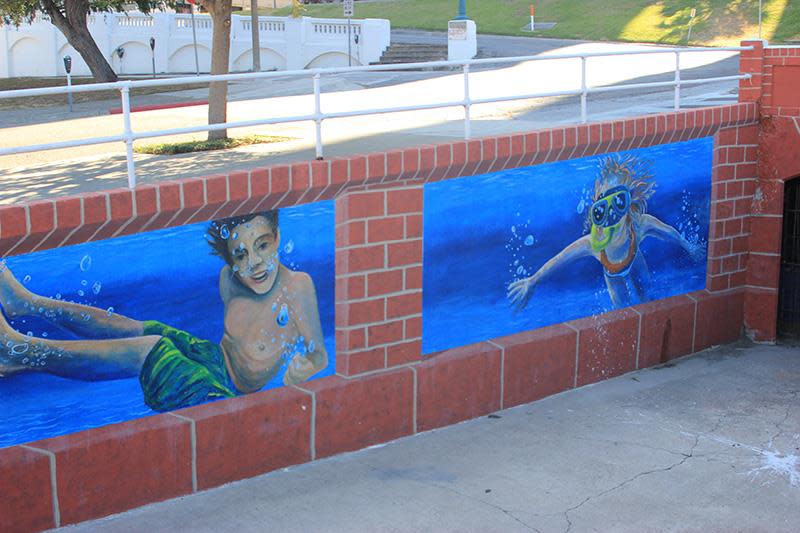 Greetings from Corpus Christi Mural
Painted just like a picturesque postcard, the Greetings from Corpus Christi mural showcases all the things that make Corpus Christi unique – the Harbor Bridge, USS Lexington, Bob Hall Pier, Selena and lots more. It's located on the north facing wall of Richline Technical Service headquarters building at 114 N Mesquite St.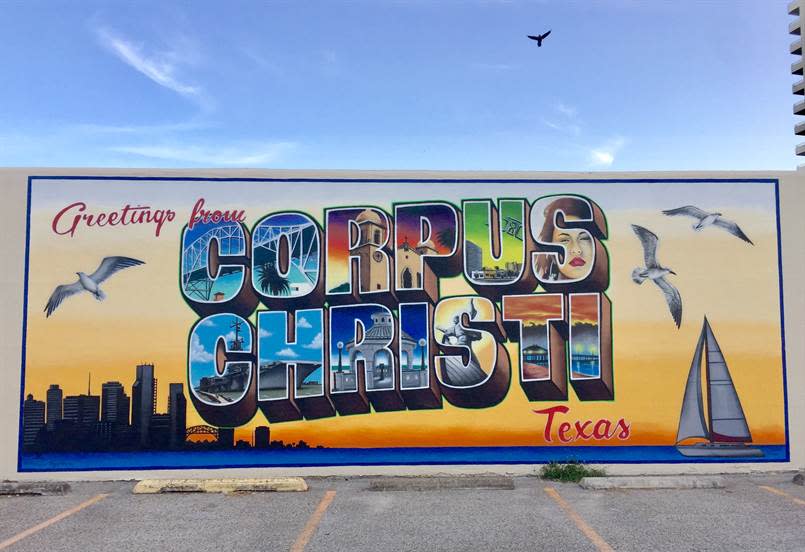 A Breath of Fresh Air Mural
This bright blue mural features one Corpus Christi's favorite animals, sea turtle. See this not-so-little creature swimming across the wall of the Braswell Office Systems building and across the street from The Exhange on William Street.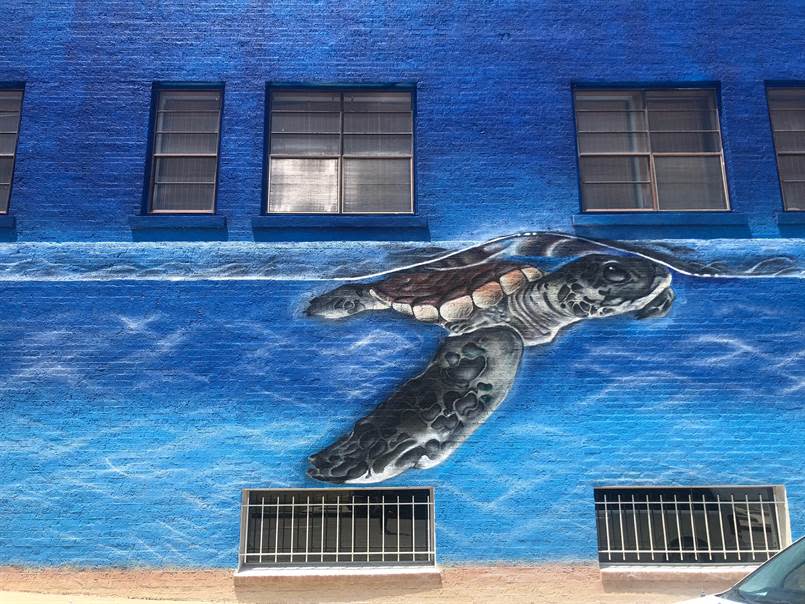 Head to Corpus Christi anytime of the year to check out these awesome works of street art!