'Sup! If you didn't already know, SUP stands for 'standing up paddle boarding or surfing.' What better place to be out in the water than the beautiful Coastal Bend? There are so many activities you can do on a SUP, like exercising, yoga, fishing or exploring the calm waters of South Texas. Experience this one-of-a-kind activity for yourself!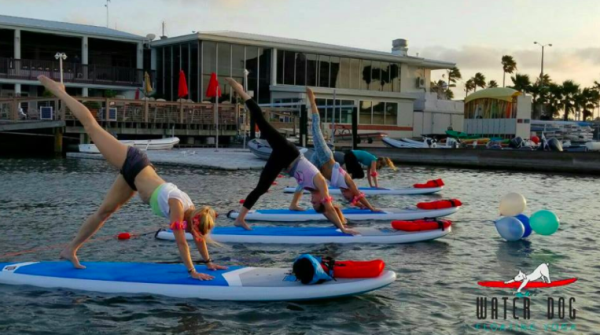 Calling all Yogis! At Water Dog Floating Yoga, your SUPs are your "floating mats." If you're already a fan of yoga and want more of a challenge, give SUP a try – it adds a unique twist that will surely bring out your peace and tranquility. Water Dog also offers indoor SUP workshops during the winter.
If you want to rent a board and paddle casually, Wind and Wave is the place to go. Rentals and test demos are available for everyone, and they even sell laminated maps of the local waterways so you can explore! Wind and Wave's boards can be used for exercise, leisure, fishing or even surfing. Interested? Check their current inventory here.
If you're unfamiliar with SUP, Port Aransas Water Time offers lessons for beginners! You can take advantage of flat water paddling locations for an easy-to-learn environment with on-site instructions! Each session begins with a brief discussion of technique, safety and theory in order to show you SUP basics – such as proper paddle stroke and turning. Port Aransas Water Time takes the stress out of learning SUP for anyone who isn't completely comfortable. The instructors will even accompany you on the water to offer instruction and guidance!
BoardHouse Surf & Skate allows you to rent SUPs for up to 24 hours! They offer private lessons and live forecasts on their website. Call and ask about their Rentals at 361-749-3100.
Padre Island Surf Camp – located at Seawall on North Padre Island – offers private group lessons at the location of your choice, and even provide the equipment just as long as you provide the fun! There are single or five-day camps available, which are all filled with learning about SUP and experiencing it with your family/friends!
---
Whether you're a SUP expert or simply trying it for the first time, these places will welcome you to get your paddleboard fix. Surf's SUP!