If you're looking to spend the majority of your time outside while on vacation, then you've come to the right place! Corpus Christi has a diverse range of outdoor spaces that each provide different amenities appealing to your interests. Whether you enjoy nature, hiking, sports or sunsets, the Coastal Bend has it all and more for you to explore! Start with these four outdoor spaces, located right in Central City.
At the Hans & Pat Suter Wildlife Refuge, you can spend a day observing the outdoors in Corpus Christi – perfect for nature lovers who enjoy birdwatching! The nature trail extends for one mile and ends with an 800-foot boardwalk alongside the Oso Bay. You'll walk alongside amazing views of Corpus Christi marshes, woodlands and mudflats.      
Location: Ennis Joslin at Nile, Corpus Christi TX 78412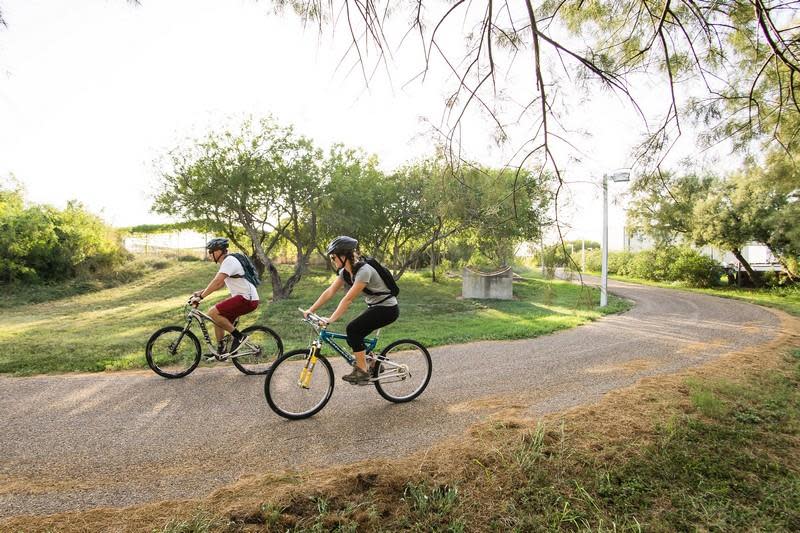 Texas A&M University-Corpus Christi's nature and hiking trail wraps around Ward Island and is designed to be enjoyed by both fitness and nature enthusiasts! As you hike, take in the scenic ocean views around Ward Island. The 7.3-mile trail is lighted from dusk until dawn every day and is a great place to walk, bike or jog. The best part? You can bring your pet along with you!
Location: 6300 Ocean Drive, Corpus Christi TX 78412
 
Lamar Park Frisbee Golf
Lamar Park is the ideal place in Central City for you and your friends to spend a sunny afternoon playing frisbee golf on a beautiful nine-hole par-27 course. Just don't forget your sunscreen! Lamar Park is authorized by the Professional Disc Golf Association as an official course, and you can submit your scores to them online. After your round, head over to nearby Hester's Cafe for a refreshing meal.
Location: 4321 Santa Fe Street, Corpus Christi TX 78411
 
Swantner Park
You can call Swantner Park a hidden gem for catching sunsets! Running along the Corpus Christi seawall, it's one of the best places for breathtaking sights on the Coastal Bend. Take in a beautiful sunset over the distant Corpus Christi skyline and Harbor Bridge, and if you turn around in the opposite direction, you'll catch a panoramic view of the Corpus Christi Bay – the best of both worlds! The park is pet-friendly as long as your furry friend is on a leash.
Location: 5426 Ocean Drive, Corpus Christi TX 78412
---
There's no better way to spend your time on vacation than having fun under the sun! We hope you enjoy these four spots. For more hot spots in Central Corpus Christi, visit our website.