There's a reason why people flock to the Gulf Coast every summer for vacation. South Texas offers many land and sea activities, but nothing beats relaxing on a sailboat and enjoying a day on the peaceful and serene waters of the Gulf of Mexico. Let the pros take the helm while you take it all in with this helpful guide on where and how to hire a sailboat when in Corpus Christi.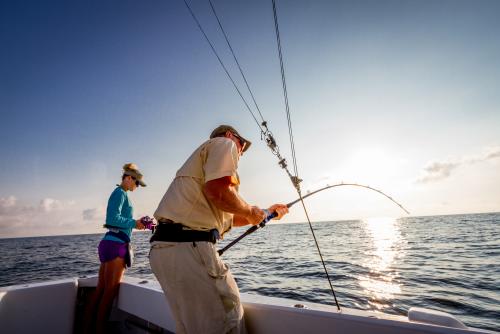 Who hasn't dreamt of sailing the open waters with a handsome man at the helm?! That dream could easily become reality when you sail with Handsome Sailor Yacht Charters in the North Bay area! Owner, Captain Tom Doran launched the company in 1981 and moved his business to Aransas Pass in 1991 upon receiving his U.S.C.G. Captain's License. He and his crew do the sailing for you while you relax and enjoy dolphin-watching, birding, island-hopping, beachcombing or snorkeling.
Captain Tom and his dapper sailors offer a variety of packages that can accommodate groups of any size. The charters include the 2-Hour Sailing Charter, Offshore Rig Gig, Texas Coastal Zone ECO-CHARTER, Caribbean Sunset Cruise and the Concita Beach Bash along with other specialty charters. The Standard Half-Day Charter leaves at 10:00 a.m. and returns at 1:00 p.m., the Special Charters depart at 5:00 p.m. and return to port just after sundown and the Deluxe Charters are available for nine hours at a time and set sail at 9:00 a.m.
Handsome Sailor Yacht Charters are located at 2353 Murphy Road Aransas Pass, TX 78336. To book a charter cruise, contact Captain Tom's wife, Linda, who runs all their special programs. You can call or send an email, but if you choose the latter, be sure to include your phone number in your message.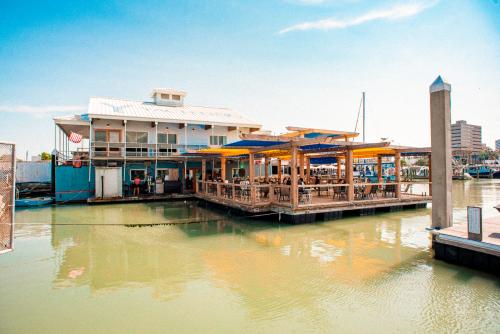 The Downtown/Bayfront area is the center of it all and the perfect spot to begin and end your cruise. The Yachting Center at Harrison's Landing offers several different options for sailing but all will give you the best views of Corpus Christi and all it has to offer. All cruises out of Harrison's Landing are BYOB, so feel free to grab a bottle of wine, a charcuterie board and set sail! Take a water tour aboard the Japonica or opt for a dolphin-watching cruise, the Full Moon cruise, the Lunch Break cruise or the Sunset/Harbor Bridge Cruise for the perfect evening on the water.  
Hop on the Nell Betty II, a 38-foot Catalina for a 2-Hour Bay Cruise or slow it down with the Cruise & Dinner package. You can also learn to sail as part of a fun, hands-on experience or get the whole gang involved with a little Team Building on The Water, the ultimate team-building excursion. No prior sailing experience is necessary and you can customize your team's program however you like. 
To book one of these incredible cruises or charters, you must make a reservation and provide some form of prepayment. The Yachting Center at Harrison's Landing is located at 108 Peoples St. Corpus Christi, TX 78401.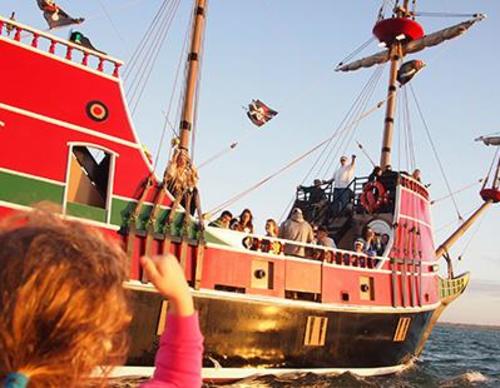 It's a pirate's life for everyone whether you're sailing the seven seas or the Gulf of Mexico aboard the Red Dragon Pirate Cruise. This family-friendly cruise offers a unique take on the sailing experience because it's actually a pirate ship! The crew will entertain you and your family all evening long with sword fights, water pistol battles, music, dancing and even a treasure hunt.
Enjoy pre-boarding photos with all of the buccaneers that are available for purchase after you return home. There are a variety of cruises to choose from including the Be A Pirate Adventure Cruise, Bet Yer Booty Cruise and special packages for birthdays, weddings, field trips and private charters. They sail seven days a week and even offer a full bar onboard for all pirates over the age of 21.
The Red Dragon Pirate Cruise line is located in Port Aransas at 440 W. Cotter Ave. Port Aransas, TX 78373. To book your pirate cruise you can purchase tickets online or call to reserve your spot. You may also call or go online to reserve a ship for your special event charter cruise.
Whether you are vacationing with a group or just a few people, you can't go wrong by spending an afternoon, evening or entire day onboard a boat when on the Gulf of Mexico. Relax on a sailboat or go for an adventure aboard a pirate ship and create memories that will last a lifetime. Start planning your peaceful and serene getaway to Corpus Christi at visitcorpuschristi.com!