When planning a vacation to Corpus Christi one of the first items on the list to tackle is where you'll stay. There are many lodging options throughout Corpus Christi, but if you're traveling with a large group of friends or family, a condo or rental is the way to go. Give everyone plenty of space to relax and enjoy each other's company at any of these fantastic condominiums or beach rentals for the best experience along the Coastal Bend!
Waking up in paradise is just one of the many highlights of staying at El Constante when vacationing in Corpus Christi. These beachfront condominiums are located on Padre Island and are just 100 feet from the beach! The units come fully furnished with two bedrooms and two bathrooms and can house up to six people. Don't forget your fur babies, these condos are also pet-friendly!
These condos are a swimmer's paradise. There are many options for swimming including the Gulf of Mexico, the resort's heated pool or at the Waves Resort featuring Schlitterbahn Waterpark, located just minutes down the road. Other nearby attractions include Packery Channel Park (perfect for water sports) and the Bob Hall Pier.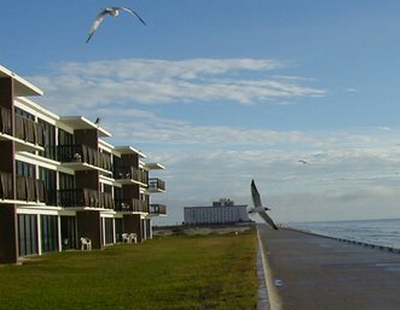 Nobody looks forward to going home after a beach vacation. However, if you choose to stay at Island House Condominiums, also located on Padre Island, you have the ability to stay much longer! One, two and three bedroom units can be reserved daily, weekly and monthly during the winter, giving you plenty of options to find your perfect dose of paradise.
Each condo has its own private balcony or patio and the property is just steps away from the only pedestrian beach on Padre Island. The Island House Condominiums also offer an outdoor pool, gas BBQ grills and beach chair rentals during the summer months. You won't have to wander far to find new activities or tasty restaurants to try. There are many local attractions nearby, allowing you and your group to have the ultimate Coastal Bend experience.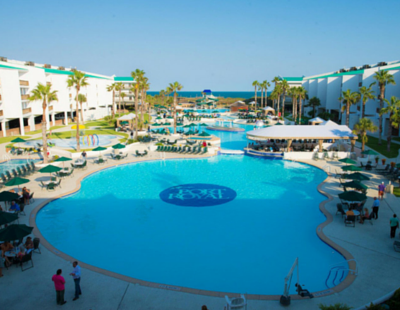 Just a short walk down the 100 yard boardwalk through the dunes lays miles and miles of beach waiting for you at Port Royal! The condos are 1, 2 and 3 bedrooms with large patio balconies that feature partial Gulf views or views of the giant pool area. It's the largest lagoon pool in Texas – with 4 water-slides and an olympic size heated lap pool!
There are three different types of restaurants on property and Port Royal Ocean Resort features both a sand and water volleyball courts! Enjoy a friendly game of beach volleyball or tennis near the front of the resort or cool off with the water volleyball court in the awesome pool area.
Take some time to relax in one of the beautifully decorated condos at the Multi-Resorts at Puente Vista. All 22 units consist of two bedrooms, living room, dining area and even come with a balcony or patio overlooking the Laguna Madre. When you need to cool off, venture just four miles down to the white sandy beaches of Padre Island. Bring your boat or kayak and enjoy the serene waters of the Gulf of Mexico off one of their docks.
There are also many nearby attractions to check out, such as the South Texas Botanical Gardens, the U.S.S. Lexington, the Padre Island National Seashore and Schlitterbahn Water Park. There's no need to overpack for your vacation. The Multi-Resorts at Puente Vista offer free laundry on site as well as many other amenities such as BBQ pits and an outdoor pool.
When the word "beachfront" is included in the name, you know you're going to be taking in some incredible views! The Gulfstream Condominiums Beachfront Condos are also located on Padre Island right along the beach and only steps away from sunbathing, swimming and fishing. Units are individually owned and most have 2 bedrooms but a few do offer three or four bedrooms. Units are available for a night, a week or months at a time, if you're planning an extended stay.
Take a stroll around the tropical courtyard, and take a dip in the heated pool or jacuzzi on the property to close out a perfect Corpus Christi day. The Gulfstream Condominiums are close to many different attractions such as the National Seashore, Packery Channel and Schlitterbahn Water Park.
The pet-friendly Surfside Condos are located right along the beach on Mustang Island. The large courtyard gives way to an outdoor freshwater pool, cookout facilities and cabanas for when you need a quick afternoon siesta. This peaceful resort is close to many local attractions with Packery Channel to the north and Bob Hall Pier to the south.
It's the perfect place for the whole family to stay, as each unit is individually owned and they are all non-smoking. Units come with 2 bedrooms and a full kitchen to serve as your home away from home while you're visiting the Coastal Bend. Take advantage of the local surroundings by going windsurfing, kiteboarding or horseback riding along the beach. You can also take a 20 minute road trip to nearby Port Aransas or Downtown Corpus Christi for a bite to eat at one of the many great restaurants.
---
Provide your friends and family with a space to enjoy each other's company but still share memories and experiences. These roomy condos and rentals are perfect for your next getaway whether you're staying for a couple of nights, a week or even all season long. Start planning your trip today at visitcorpuschristitx.org!