Any Coastal Bend character with a deep sense of appreciation for local history will tell you that if you find yourself in Corpus Christi, you should make time to visit Heritage Park. This site houses twelve of Corpus Christi's oldest and most historic homes, with many of them registered as Texas Historical Landmarks. As a tribute to the ethnic diversity and culture of the area, these homes have been restored as close to their original conditions as possible.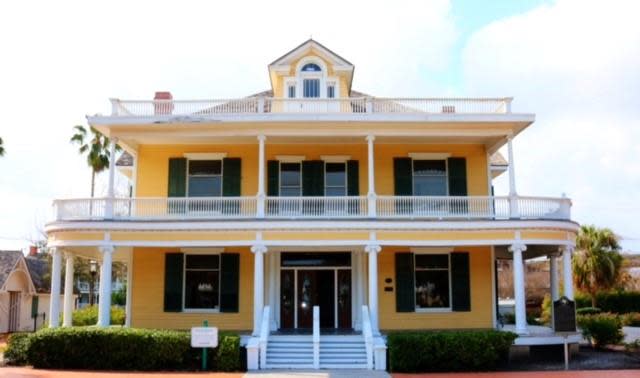 Built in 1907-08 for surveyor and civil engineer Asa Milton French and his wife, Frances Garrett French, the French-Galvan House moved in 1983 from the corner of Waco and Comanche Streets to its current location between the 1600 and 1700 blocks of North Chaparral in Heritage Park. This two-story, wood frame house can be categorized as a colonial revival home.
The gorgeous home, restored to its original color palette of yellow with white trim and green shutters, had been painted white after Mrs. French sold the property to Rafael Galvan, the first Mexican-American police officer in Corpus Christi and founder of the League of United Latin American Citizens (LULAC). The structure is raised about three feet off the ground with brick piers. Each floor features a wraparound gallery supported by iconic Ionic columns, and the second floor gallery contains a dormer with a classic Palladian window.
Once you step inside the structure, you're immediately transported to the early twentieth century. On the first floor, you'll see a large reception hall connected to four rooms, a large room that was once a parlor and dining room separated by a wall, sitting room, library and a kitchen wing with a storage pantry and butler's pantry.
Ascending the stairs to the second floor, you'll come across a large room that contained five separate bedrooms prior to the renovation for the Multicultural Center. You'll also find a large bathroom that surprisingly was the only bathroom in the home. A narrow staircase leading to the attic provides access to the second gallery roof through the dormer door.
Historians concur that French's inspiration for the home's floor plan came from both the location itself and the lifestyle he and his family intended to lead. The floor plan allowed every room in the home to be exposed to the southeast breeze. Large windows opened onto a veranda that provided a space for entertaining guests both young and old.
As lumber arrived on barges in the Corpus Christi Wharf, French selected one-by-one the cypress and pine boards he wanted to use in his home. He rejected anything that had a knothole or wasn't flat or perfect. French put his heart into the home's design and function. If you close your eyes, you can quickly envision what it must have been like when the French family lived in the home as they hosted extravagant parties with community members gathered around a 24-seat dining room table, displayed flowers and books covering any empty surface and welcomed friends stopping by to pay a visit.
The French-Galvan House was purchased by the city in 1982 and was transformed into the Multicultural Center at Heritage Park, receiving its Texas Historical Marker in 1986. It's currently home to the Corpus Christi Parks and Recreation Department and hosts weddings, parties and events that showcase the artistic and cultural diversity of the city and Texas throughout the year.
This home makes perfect sense in Heritage Park, paying homage to the people who made this city what it is today. Visit our website to learn more about Heritage Park and plan your tour today.