Your family came to Padre Island in Corpus Christi for the sand, sun, surfing, and sightseeing. All those waves and wind really work up an appetite, so you also have to eat, right? Here is your insider's guide to eating out on Padre Island in Corpus Christi, Texas. These locally owned and locally loved restaurants will surely make you want to come back and visit the Island again and again and again.
Mikel May's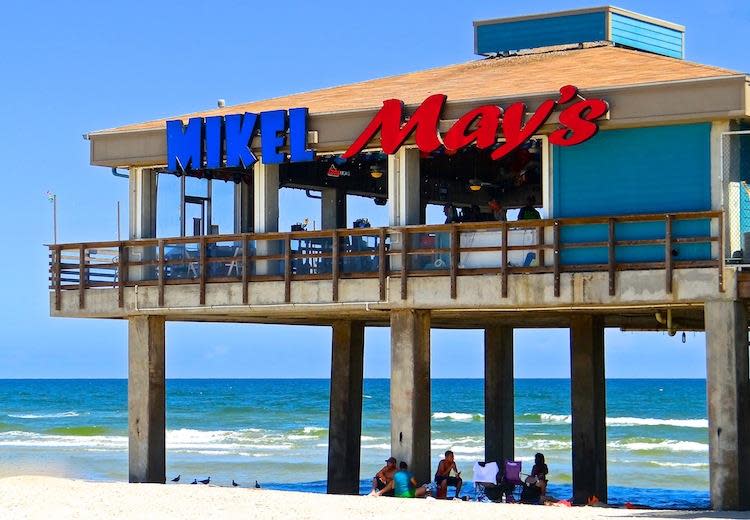 Don't want to leave the beach? Find a fun crowd, an ocean breeze (a real one, AND the cocktail), delicious food, the roar of the surf, and live music all at Mikel May's on the beach. Try treats from loaded fries (that fried egg on top is like a cherry on a sundae) to a refreshing tuna poke bowl, from sirloin steak with all the fixings to grilled chicken and vegetables, from sassy ahi tuna tacos to warm peach cobbler with melty ice cream. Before or after you enjoy this casually epic feast on the beach, walk out on the pier and fish, watch the surfers, or look for swimming turtles. Check out the gift shop for anything you might need or want to take home as a memory. The classic photo-op here is under the pier, but also your food, drink, or friend with the vast ocean backdrop – bonus points for catching the sunset, moon, or bird in flight!
Costa Sur Wok & Ceviche Bar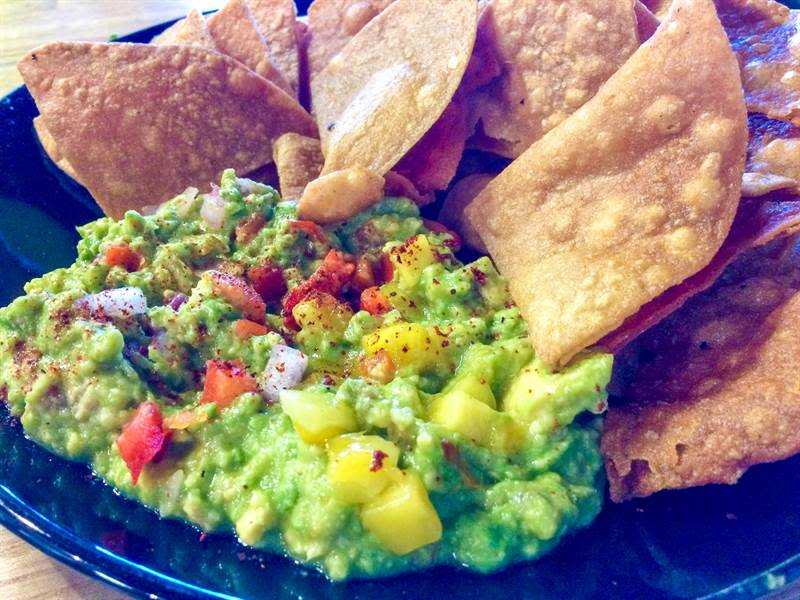 Costa Sur Wok & Ceviche Bar is a hidden gem of a restaurant with Peruvian style food! Some people love the Lomo Soltado (a steak and vegetable stir fry over french fries which can and should come with an egg on top), but you will dream of swimming in the Ceviche Fusion. If you like avocado, mango, or fresh fish, this is certainly the place for you. And don't skimp on the fun desserts and cocktails. Pisco Sour anyone? Need a memory? Take a selfie with the llama mural. No prob llama!
Texas Mesquite BBQ and Grill
Texas Mesquite BBQ and Grill has mouthwatering BBQ and hand-ground burgers (even exotic ones like bison, elk, and antelope), but the insider tip is to order from chef Orlando's scribbled specials on ripped butcher paper inside the door. You might get to try seafood paella, a long, slow, strong marriage of rice, spice, spanish olive oil and bursts of flavor from mountains of fish, calamari, shrimp, and mussels. Or the amazing garlic mussel appetizer where even the toast corners are charred to absolute perfection. Go here. Order the special. You'll love it.
A La Mode Gelateria Dessert & Snack Bar
Need some serious high end comfort food? A La Mode Gelateria Dessert & Snack Bar can make your day! Try a melty Brie, pear, and prosciutto panini: the grilled cheese is heavenly. The Gelato is incredible. Flavors change all the time, based on the creative whims of the award winning, hand-churning gelato goddess owner. Find a new love every day from banana pudding (a customer favorite) to lemon lavender, from Texas Bourbon Pecan to Biscoff Cookies & Coffee. There are also have sugar-free, vegan, and dairy-free options.
Surfside Sandwich Shoppe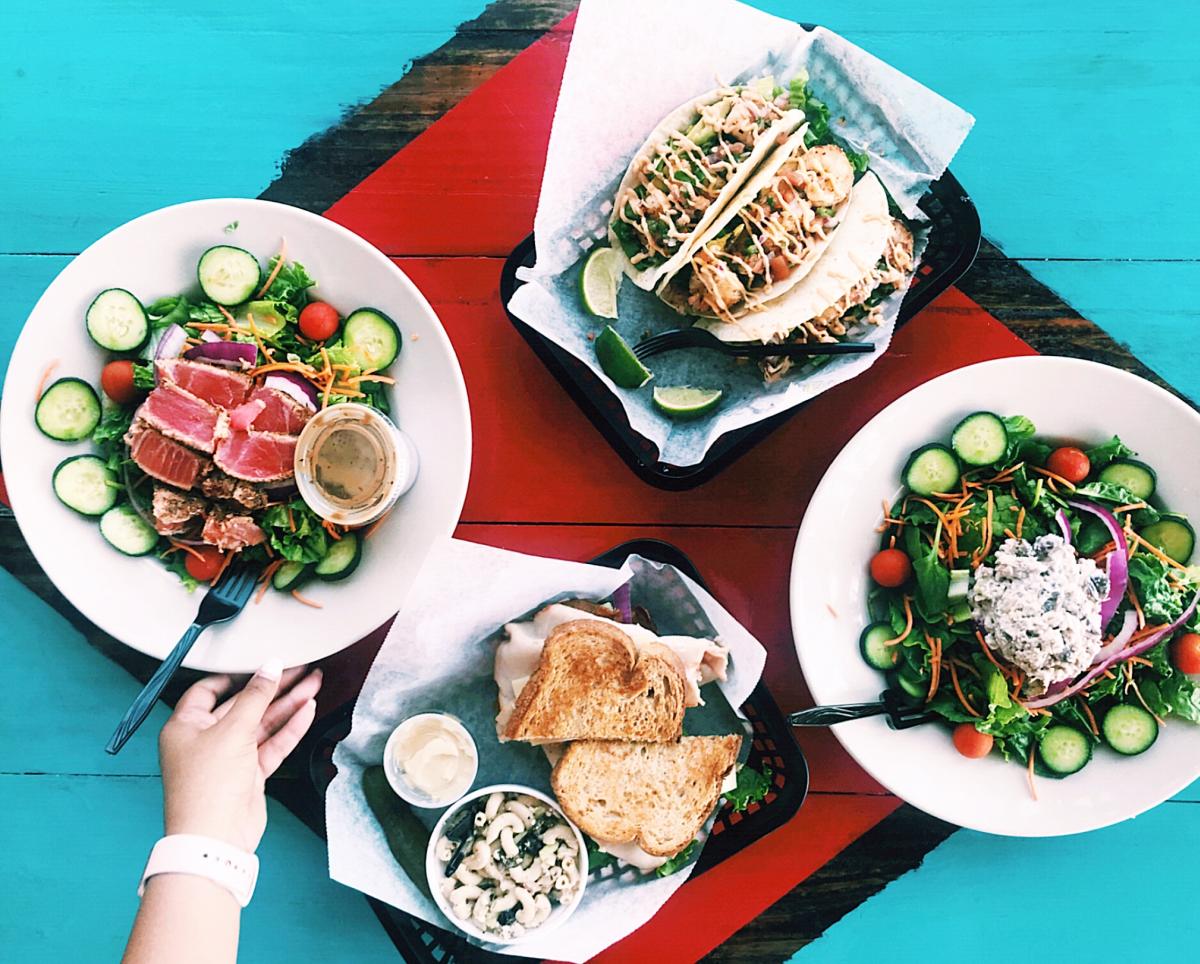 Just want a quick and casual bite or something to take TO the beach? Pick up lunch or early dinner at Surfside Sandwich Shoppe. The Daily Deal varies from meatball sub to mac n cheese sandwich (was that BACON on there??) or roasted turkey sandwich on a perfect, warm sourdough bun with a cup of cheesy, creamy broccoli soup. The banana pudding is a must try! 
Italian Food
Want some classic pizza or Italian?  Padre Pizzeria and Island Italian Restaurant both have locally acclaimed rich and saucy comfort-food lasagna and trendy (and delicious) cauliflower crust pizza. Padre Pizzeria has a delicious raspberry vinaigrette salad and half-price bottles of wine on Wine Wednesdays. Island Italian also serves up some light and flavorful fish and the bread pudding is a dream with ice cream and caramel. Enjoy the super friendly staff in both places.
On the Water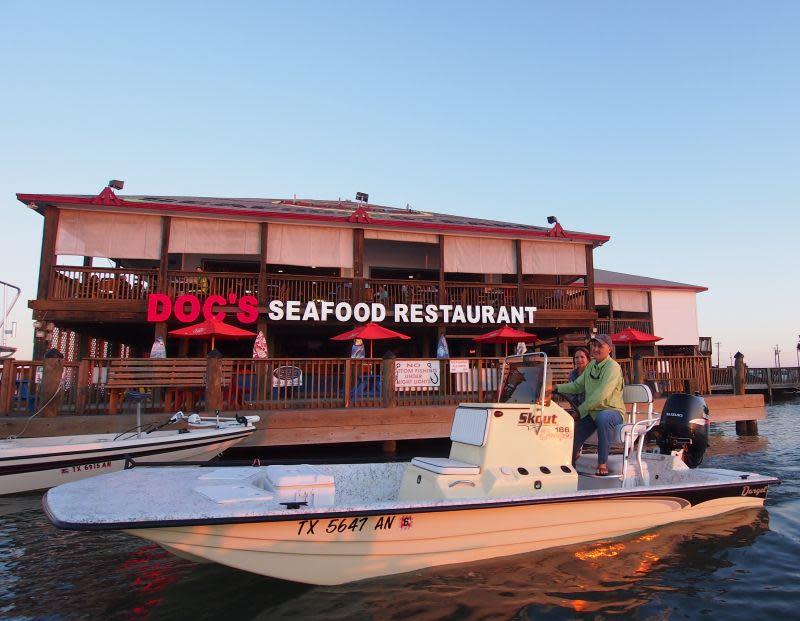 Stop in to one of these simple, casual, and delicious breakfast, lunch, and dinner options on the water.  Fishtales Bar and Grill (at Marker 37 Marina LLC) serves up a perfectly grilled bun piled with sweet, zingy BBQ brisket nestled in crispy-on-the-outside, soft-on-the-inside fries. Breakfast tacos, breakfast quesadillas (you MUST add chorizo) and breakfast sliders (on Hawaiian sweet rolls) perfectly prepare you for your day's adventures. While you wait, take selfies with the octopus and merman carvings and take in the water views. Watch the boats come in and out of this busy marina and watch the pelicans feast when the fishermen get their catch cleaned. Beautiful views, a bar, sooooo much decking, and live music make this an entertaining spot to grab a bite. Also under the bridge is Doc's Seafood and Steaks, featuring waterfront cocktails, seafood, steaks, and sunsets.
Eats Epicurea Restaurant & Bar at Waves Resort

Waves Resort has a water park, gaming center (think virtual reality), escape room, giant outdoor screen movie nights, dog park, and even dancing lessons, but also a world class restaurant. Sunday jazz brunch (bloody mary, mimosa, and smoothy bars), bottomless pasta bowl night, and steakhouse night are great, but don't overlook the artisan taco lunch. The hand-made corn tortilla canvas for the tasty taco art shows that Eats Epicurea Restaurant & Bar means business. The pearly pink shrimp are hiding in a nest of purpley pickled onions and crunchy cabbage with a piquant pale coral drizzle, finished with flecks of fresh green cilantro. And it tastes even better than it looks and sounds. Give this gallery of daily taco art a lunch visit today! 
JB's German Bakery
Interesting architecture, unique and wonderful food, warm and welcoming atmosphere : JB's German Bakery & Cafe is your breakfast, lunch, or snack stop. Be prepared to be distracted by the siren call of the strudel ... savory brisket or sweet blueberry, just to name a few.
Island Time Sushi Bar and Seafood Grill
Island Time Sushi Bar and Seafood Grill is a local go-to dinner choice with conventional tables in the front room and and lounging couches in the back for that casual just-hanging-out vibe. Island Time is always full of friendly faces and tasty sushi, but don't overlook the sizzling steaks served on salt blocks. Start with those tuna nachos and finish with the homemade cheesecakes (stake your dessert claim before dinner just in case) like light and creamy peanut butter or freshly ground cinnamon.
Island Joe's Coffee and Gallery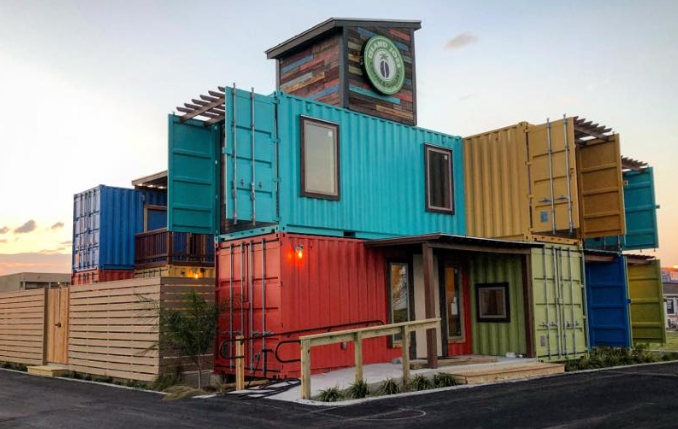 Made of colorful. stacked shipping containers and serving up some of best coffee in town, Island Joe's Coffee and Gallery whips up homemade flavor syrups, and also makes smoothies, energy balls, bars, biscuits and more. A chicken salad and pocket pie (yes, POCKET PIE) might be just what you need. And add a hot, frothy, spicy dirty chai (they make their own chai, too) as the perfect afternoon pick me up. Need to do a little work while you are on vacation? The Wifi here is fast and free, even on the outdoor patio.
Angry Marlin Restaurant & CoolWater Bar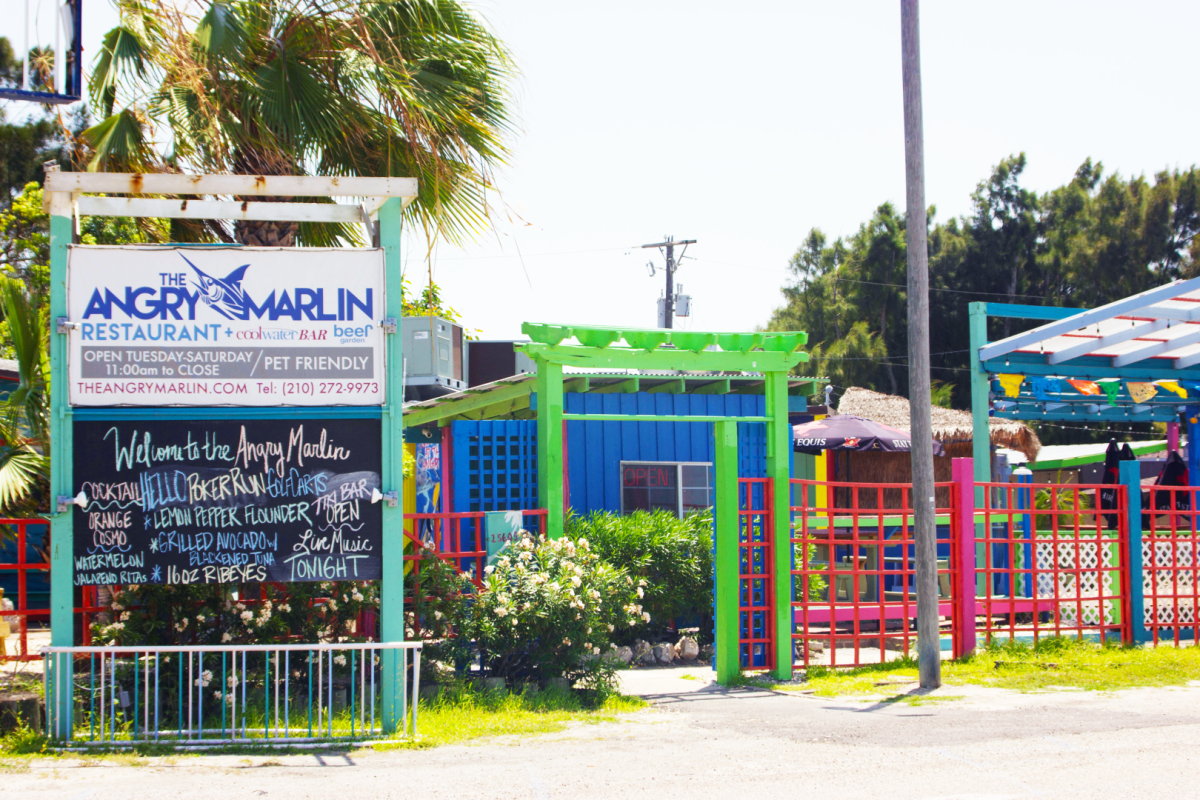 Angry Marlin Restaurant & CoolWater Bar delivers some serious Santa Fe flavor Island style. Bring your own fish to cook your catch, or get it fresh there. Try the blue corn onion rings (or tender chicken tenders) with a tasty dipping sauce. The bread pudding is smooth, warm and not too sweet. Fruit infused liquors from the illuminated bar make illuminating cocktails. The patio is full of bright colored photo-ops, a tiki bar, a stage for live music, and even a turtle pond for the kiddos. Open for lunch and dinner, this menu has something for everyone.
Check out some (or ALL) of these restaurants on Padre Island on your visit to Corpus Christi!