The Gulf Coast Capital is a destination for more than just beachgoers and sun seekers! In Corpus Christi, you're bound to discover unique aquatic life that calls the coast home, especially because numerous turtle species found in the Gulf of Mexico seek shelter along Padre Island.
Fun fact: Kemp's ridley sea turtle is one of the rarest species of sea turtles and the most endangered species of sea turtles in the world. Because turtles love to nest in our region, there are several organizations in the area that are dedicated to rescuing, conserving, and rehabilitating them.
Shell-ebrate your love for sea turtles and support turtle conservation at these spots in Corpus Christi!
Since its opening in 1990, the Texas State Aquarium has been sharing the stories of rescued marine and coastal animals and bringing their habitats to life through its many exhibits. Visit the Islands of Steel exhibit, modeled after an offshore oil platform, where sharks, rays and sea turtles live among stingrays and schools of fish.
Then, coast over to Tortuga Cay, where you can watch the sea turtles as they gracefully glide in a natural lagoon-like habitat. The turtles who call the aquarium home are all rehabilitated and deemed non-releasable due to their injuries or repeated strandings. Be sure to participate in the aquarium's daily Turtle Tales presentation to learn more about how the turtles are cared for, watch them enjoy a feeding of lettuce and vegetables, and learn about the aquarium's partnership to rescue turtles with the Padre Island National Seashore.
If you want to see a beautiful sunrise and baby sea turtles in their natural habitat, head to a Kemp's ridley sea turtle hatchling release at the Padre Island National Seashore! Every year, thousands of the endangered Kemps ridley sea turtles are nested and hatched in Corpus Christi, then thousands are released into the Gulf of Mexico. It's a once-in-a-lifetime experience! Sea turtle releases are unpredictable. When those Kemp's ridley sea turtles are ready to go, they are ready to go. Call the Hatchling Hotline at 361-949-7163 for the latest information on a sea turtle release or continuously check the PINS Facebook page to see if there is a release happening soon.
Check out this post for everything you need to know about the sea turtles releases.
During the summer, you may notice reflective lollipop stakes in the sand near the dunes. These red markers serve a fundamental purpose in protecting Kemp's Ridley sea turtles (Lepidochelys kempii) and their nests. Since the turtles and their nests are difficult to see, biologists use these reflectors and flagging tape to mark their locations to avoid them being crushed by vehicles on the beach. By making these delicate areas more visible, these markers ensure that drivers steer clear of them. 
It is imperative that the reflectors remain undisturbed until the biologists remove them once the nest has been recovered. If you witness someone tampering with the reflectors, sea turtle nests, or eggs, act quickly and report the incident by calling 1-866-TURTLE-5 or notify any park official in the vicinity.
Texas Sealife Center is dedicated to the rescue, rehabilitation, and release of Texas coastal and aquatic wildlife. Since 2013, the Texas Sealife Center has rescued and rehabilitated local turtles, birds, and reptiles in Corpus Christi. The center offers public tours that allow you to meet their turtle patients, learn from the experts, and visit their nature trail and gift shop!
Get up close and personal (no touching) to the rescued Green Sea Turtles at Texas Sealife Center and be sure to time your visit carefully to watch the feeding frenzy as the tour guides dole out meals for each species, usually around mid-morning. Every time you visit the center, you're supporting the rehabilitation and rescue efforts of local aquatic and land animals. Tours are available Wednesday - Saturday from 10:00 a.m. to 3:30 p.m. and Sunday from 12:00 p.m. - 3:30 p.m.
40 years ago, the UTMSI became the first marine science public education program in Texas. Visitors regularly enjoy the various education centers on the premise of UTMSI, which is just a short drive up Padre Island! Facilities like the Bay Education Center and Wetlands Education Center are must-see stops that are free and open to the public. If you're looking to take a tour of turtles, coast over to the Amos Rehabilitation Keep (ARK). Here, visitors can see endangered sea turtles, sea birds, and raptor ambassadors at the facility on Wednesdays and Fridays at 10 p.m. Registration is required, so be sure to visit this link before coasting over.
Other attractions include seven aquaria displaying typical Texas coastal habitats and the organisms that live in them, including Spartina, black mangrove marsh, oyster reef, open bay bottom, rock jetty, and offshore artificial reefs. See the map below to get a glimpse at all the center has to offer!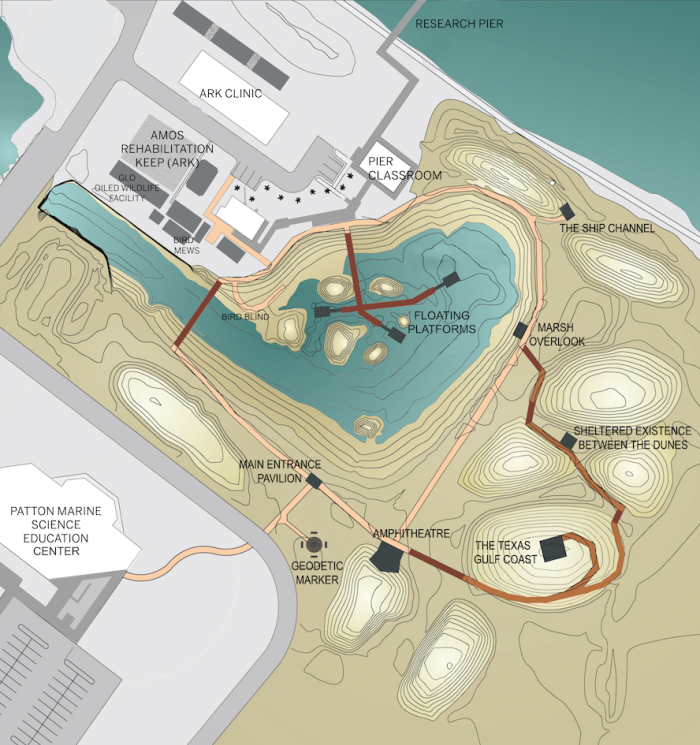 Explore Corpus Christi with the Coast Your Own Way Attractions Pass! Gather friends and family to experience the best Corpus Christi has to offer with everything bundled into one, easy pass.
Read More