There's no shortage of Tex Mex, barbecue, or traditional American fare in the Coastal Bend. But did you know that Corpus Christi is also home to restaurants with all kinds of international inspiration? From Vietnamese bowls to Italian dishes, you can get a taste of the world all in one city. Explore these places below and build your own Corpus Christi cuisine trip around the world!
If you're looking for Vietnamese cuisine, stop by Pho D'Noodle House in Southside. Their menu features traditional Vietnamese dishes such as bun (vermicelli bowl), com (rice dishes), pho (Vietnamese soup), mi xao (lo mein) and an array of appetizers and sides.
Try one of their signature dishes like Birdnest Combo, Bun Dac Biet Combo, Pho Dac Biet, Com Suon Combo or Com Bo Luc Lac. A children's menu is also available.
For traditional Italian fare and dinner entertainment, visit Bella Luna in Downtown Corpus Christi. The sauces are made from scratch, dishes are prepared fresh to order, and wines are hand-selected by Executive Chef Salvatore Colicci, providing you with a quality Italian experience in the heart of the Coastal Bend.
Bella Luna features live jazz every Thursday, Friday, and Saturday evening. The restaurant is also home to Comics Live, a venue that hosts national headlining comedians in Corpus Christi.
What would a worldly cuisine trip through Corpus Christi be without a taste of Mexico? Especially since the breakfast taco was named the official state breakfast item! Also located in Southside, Taqueria El Potro, known for their street tacos and tacos al pastor, provides a full, authentic Mexican menu and a breakfast menu with a mix of Mexican and American fare.
Craving some awesome Japanese or Chinese fare? Takeniwa, located in Central Corpus Christi, features a dining room, high-top sushi bar, and hibachi grill. Visit the restaurant during lunch hours to take advantage of their lunch menu and specials or stop by in the evening to grab a few drinks at their full bar.
Another Southside eatery, family-owned Kuzina's Lebanese Grill serves Lebanese and other Mediterranean cuisine. Here you can find authentic dishes such as shawarma, kebab, hummus, falafel tabbouleh, and baklava. Kuzina is BYOB and all of their dishes are Halal and preservative-free.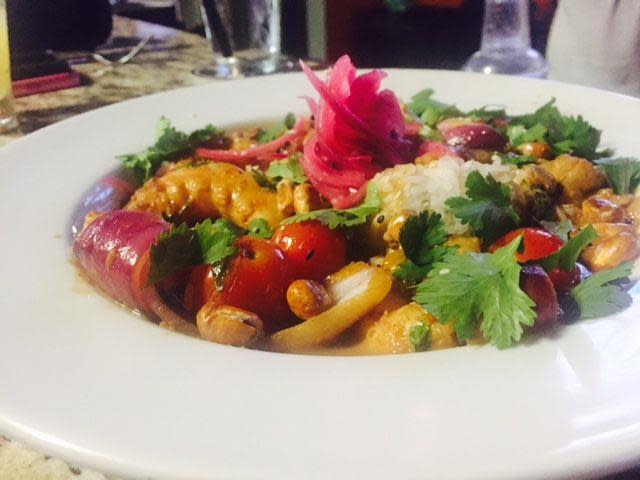 Costa Sur Wok & Ceviche Bar's head chef Nick Mackrizz studied at Le Cordon Bleu in Austin. A native of Peru, Mackrizz spent months in South America perfecting his Peruvian cuisine to bring it back to Texas. Located on Padre Island, Costa Sur features authentic Peruvian cuisine with the option of gluten-free or vegetarian-friendly dishes. Just don't stop by on a Tuesday when Costa Sur is closed!
---
You don't have to leave the Coastal Bend to immerse yourself in global cuisine. Start your day off with famous breakfast tacos from Taqueria El Potro, grab lunch at Pho D'Noodle House, visit Takeniwa for an afternoon drink, and end your night at Bella Luna with pasta and jazz. The combinations for your food tour are endless!
Learn more about these restaurants and others when planning your next trip to Corpus Christi at visitcorpuschristitx.org!