From Latin jazz to country, Corpus Christi has always been a hub for music along the Coastal Bend. Corpus Christi is home to the family-owned Galvan Music Co. located in the city's Northwest side. With a rich history steeped in American and Latin musical traditions, Galvan Music is a must-visit for every audiophile to visit Corpus Christi. Keep reading to learn more about this local, musical landmark.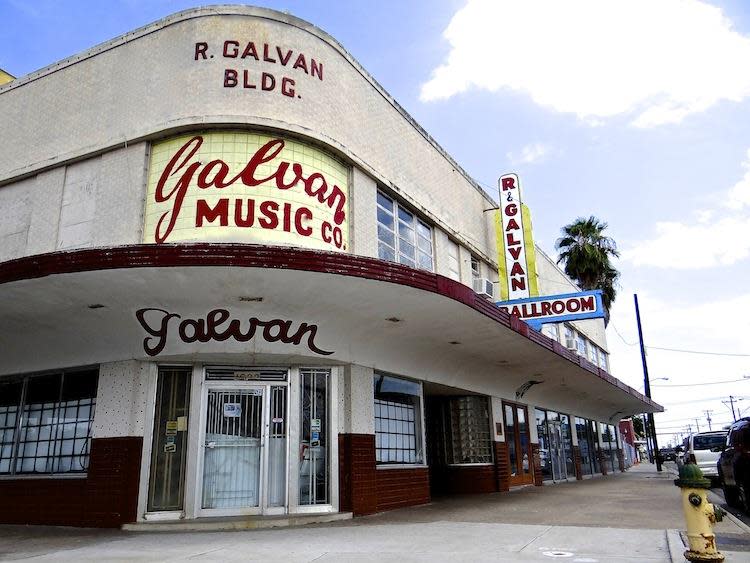 More than just a music shop, Galvan is a piece of living history. Transport yourself back in time to an age of Latin jazz, rockabilly and good old-fashioned cowboy country music. From the building's iconic facade to rooms filled with fascinating musical memorabilia, there's an amazing artifact or photograph around every corner.
The coolest exhibit might just be the building itself! In its heyday, Galvan hosted a ton of famous entertainers such as Jimmy Dorsey, Gene Krupa and Duke Ellington. What to know what the big band scene was like? Make sure to talk to Bobby, the current owner and former bandleader.
2. A Fully Stocked Music Store
If you've got any instrumentalists in the family, you're probably already aware that music never really takes a vacation. For musicians, there's nothing cooler than checking out a new, independent shop. Galvan won't disappoint even the snootiest instrument aficionado.
Run in for a new set of guitar strings (the salty air along the beach can wreak havoc on them!) or browse a wide array of instruments including guitars and drums, as well as band, orchestra and folk instruments like accordions and bajo sextos. Staying in town for a while? Galvan offers music lessons for all skill levels on an assortment of instruments!
3. Ballroom and Event Space
As if functioning as a living museum and music shop weren't enough, Galvan has one more gem to add to its crown. The building also offers an event space for private parties, banquets, and quinces.
This space once functioned as a ballroom and live music venue where the acts mentioned earlier (as well as plenty of others) bopped and rocked night after night. Try to think of a cooler venue for your next outing or family reunion!
While vacations can often leave you feeling like there's too much to do and not enough time in which to do it, make an effort to explore what brings you joy. For many, there is nothing better than good music. If you're a music fan of any stripe, be sure to make a visit to Galvan Music Shop.
Looking for more to do when you visit Corpus Christi? For tons of exciting trip ideas, click here!