Corpus Christi has miles of shoreline that are easily accessible to the public, along with many convenient fishing piers and jetties on the Gulf and on area bays.
Anglers without boats have lots of safe, affordable choices. And some of these fishing spots are free. Adults will need a fishing license, but kids younger than 17 do not.
Many of the fishing choices are family-friendly, while others would better suit the more adventurous angler. Some local piers rent fishing equipment and sell bait, while dispensing advice and tips at no charge. Pick the one that suits your tastes and your family's needs.
Cost: $3 per person; $4 per pole (3 pole limit per person); $2 to bring a cast net; $1 entry for seniors 65 and older, active/disabled military; $1 per pole for seniors, active/disabled military; $20 for 72-hour pass with 2 poles.
Hours: 24/7, year-round.
Fish species: Trout, redfish, whiting, pompano, black drum, jack crevalle, sharks, tarpon, kingfish, and sheepshead.
Bird Island Basin
Acres of shallow seagrass flats on the backside of Padre Island National Seashore are easily accessible from this spot with or without a kayak. But if you go, it's important to understand the parking rules within Padre Island National Seashore. The Bird Island Basin boat ramp parking lot has only four non-handicap spaces available for vehicles without trailers. And the consequences of parking illegally can be expensive. Additional parking is available at the far north end of the campgrounds. You may launch a kayak or easily park and wade just south of the ramp from the day-use parking lot north of the windsurfing/kayak rental shop, except from January through April when campers take over that area. Kayakers usually head to the nearest spoil islands. Or they paddle a big loop either north or south. The water here is usually clear because of a thick layer of seagrass. Anglers without a kayak who launch here can wade the island shoreline or the seagrass drop-offs, either north or south of the basin. The bottom is mostly firm. Park entry is $10 for a day pass, $20 for a week pass, or $40 for an annual pass. A Bird Island parking permit is $5 daily or $10 annual.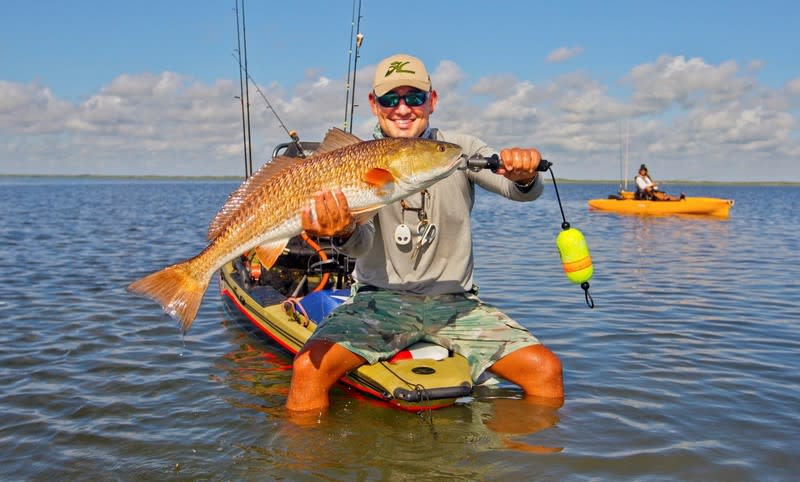 Directions: From SPID, cross the JFK Causeway onto the island and follow Park Road 22 for about 10 miles until it enters Padre Island National Seashore. Not far beyond the gate a road on the right leads to Bird Island Basin boat ramp and parking lot.
Padre Island National Seashore (Surf-Fishing Beach)
Where: South of Corpus Christi on north Padre Island. This national park offers 65 miles of surf-fishing along its Gulf beach. But beyond the first four miles of beach, four-wheel-drive traction is recommended. Cell-phone service is unreliable throughout the park. A jetty marks the park's southern boundary at Port Mansfield. Most anglers use light tackle with live bait or artificial lures, but shark fishing also is popular. Summer and fall are best, but a calm surf in any season can offer good fishing. Pompano generally run in cooler months.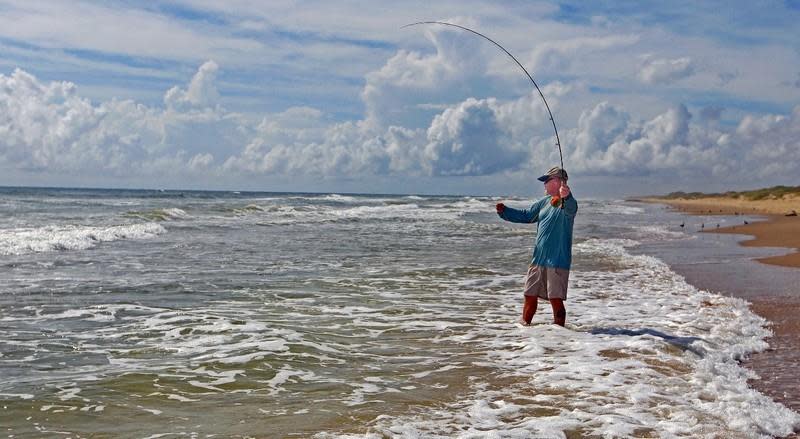 Fee: Park entry is $10 per week or $20 for an annual pass.
Directions: From SPID eastward, cross the JFK Causeway onto the island and follow Park Road 22 for about 10 miles until it enters Padre Island National Seashore. Follow the main park road until you reach the beach. Turn right. About four miles south of entering the beach, you will be advised to use 4-wheel drive.
Indian Point/Sunset Park
This is a traditional wading spot in Portland for either Corpus Christi Bay or Nueces Bay. Here you will find a hard bottom with deep guts and oyster shell. Long wading pants or waders are recommended to protect yourself from jellyfish during warmer months. And hard-soled reef boots (www.Foreverlast.com) are best for wading in shell.
Directions: From Corpus Christi take the Harbor Bridge and cross the Nueces Bay Causeway into Portland. Take the Indian Point exit for the pier. For the park, exit Moore Avenue off Highway 181. Before you get to Moore Avenue turn right onto Bayview Boulevard and follow the road to Sunset Street and turn right. This will lead you to Sunset Park and the Corpus Christi Bay shoreline. Find parking along this road. If you fish the park, please note that fishing and using a cast net in the tidal pools and smaller ponds of the park are prohibited. Limit your fishing to the main lake. Read the entry sign for other rules.
Packery Channel Nature Park & Kayak Launch
This is an easy-access spot on north Padre Island, with a paved road and parking area right near the water. It provides about 200 yards of shoreline for bank fishing or wading. Kayakers have a very short paddle to access Packery Channel's depths or nearby seagrass flats. These waters are fairly well protected from prevailing southeast winds. No admission. Within Corpus Christi city limits.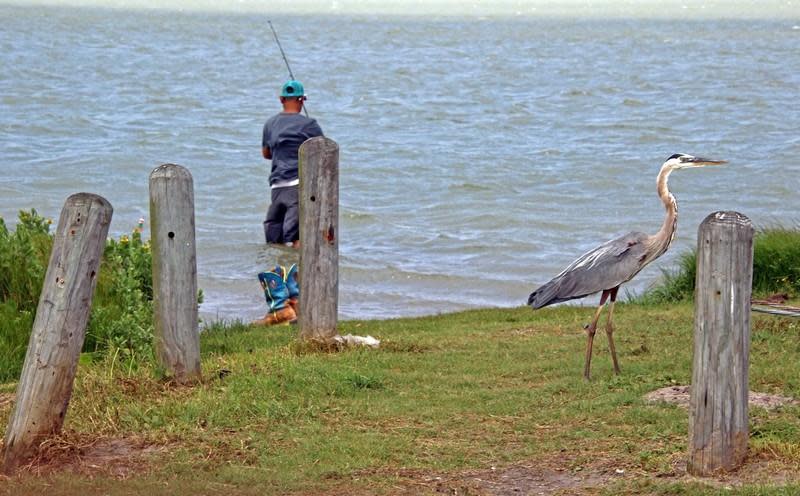 Directions: Head east on South Padre Island Drive and cross the JFK Causeway onto north Padre. The park entrance is within a mile of bridge on the left. Look for the brown park sign that reads Packery Channel County Park.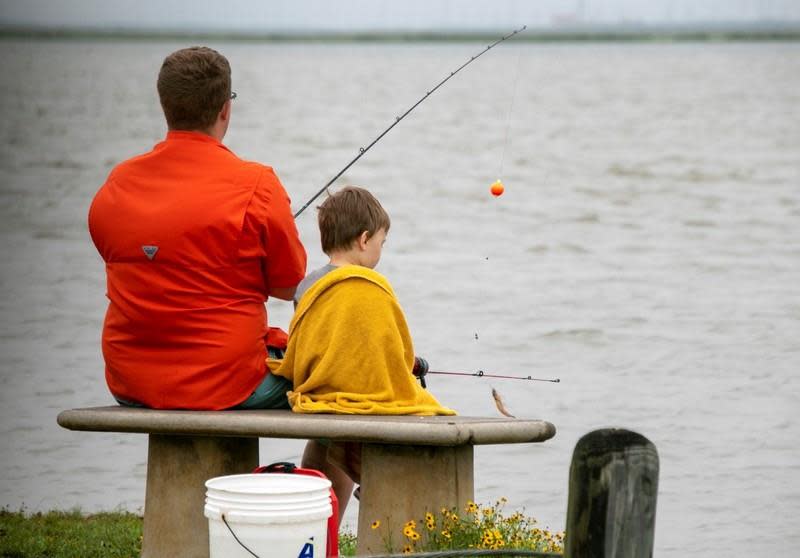 Packery Channel Jetties
This is one of the most convenient jetties in Corpus Christi. The two jetties flanks Packery Channel, which flows between Mustang Island to the north, and Padre Island. Both are paved with sidewalk-smooth concrete, with handrails the entire length. The north set of rocks is accessible via Zahn Road off Texas Highway 361 on Padre Island. Access the south jetty by going east on Whitecap Boulevard from Park Road 22 on Padre Island, turning left on Windward Drive until you reach the beach at St. Bartholomew Avenue. You must have a $12 beach parking sticker to park at the base of either jetty. They are available at most area convenience stores, CVS stores, and from vendors at beach entrances. Portable restrooms are nearby.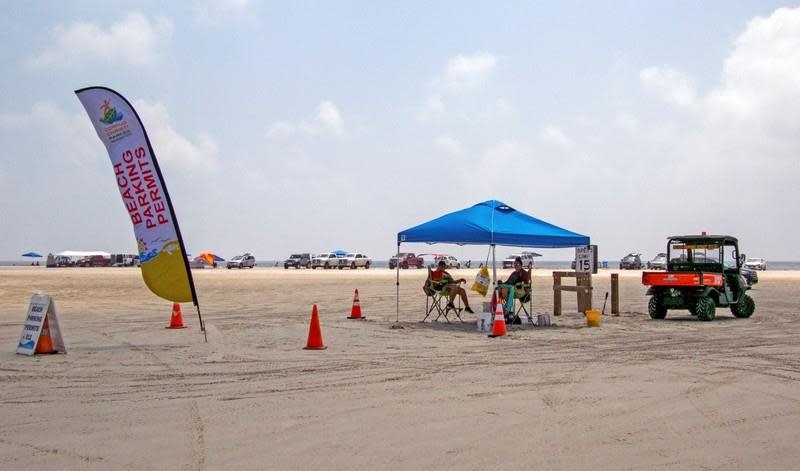 Expect to catch trout, redfish, Spanish mackerel, sheepshead, mangrove snapper, black drum, jack crevalle, sharks, whiting, and occasionally snook and tarpon. The best method to use is live shrimp under a float.
Shamrock Cove/Wilson's Cut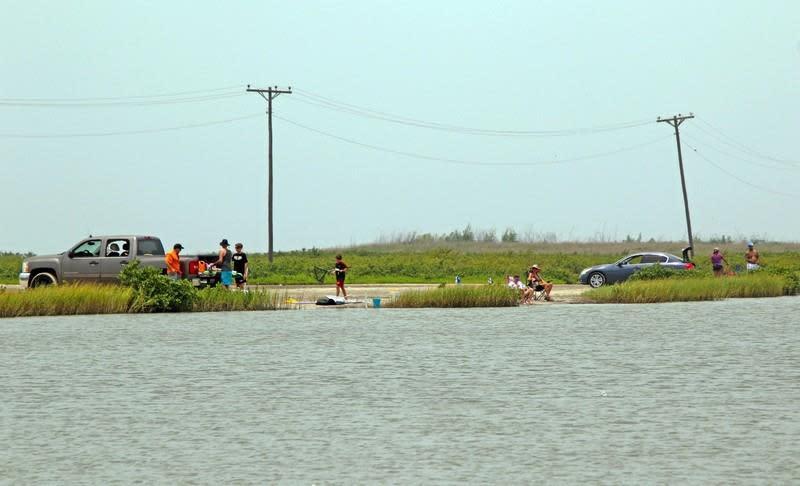 There are several dirt/sand roads westbound along Highway 361 on Mustang Island that lead to Corpus Christi Bay, which has many wadeable seagrass flats, spoil islands, and bottom contours. Some of these roads flood or might require four-wheel traction after heavy rain. Towing services are expensive in this area. The east end of Wilson's Cut provides a good kayak launch, but the road just south of the main path, which parallels the cut, will reduce your paddling time and distance. On the flats you'll find a maze of spoil islands, channels and shell reefs, most of which are protected from a southeast or northeast wind.
Directions: From north Padre Island, take Highway 361 toward Port Aransas and look for the dirt road entrance directly across from the Sea Gull and Sandpiper Condominiums signs on the east side of the road. Either park and launch at the end of the cut or take the road to the left of the cut where you should find several spots to pull over to park and bank fish, or launch a kayak.
Laguna Shores
This is an obvious and easy Flour Bluff wading spot or a good kayak launch location that provides access to the Upper Laguna Madre, just south of the JFK Causeway. You'll find mostly firm bottoms for wading, with contours, seagrass, sand and a few scattered rocks. There is adequate water depth during high or low tide. And baitfish tend to concentrate along the sand and seagrass edges, as well as the distinct drop-offs in the area. The down side is that parking can be difficult, and space is very limited.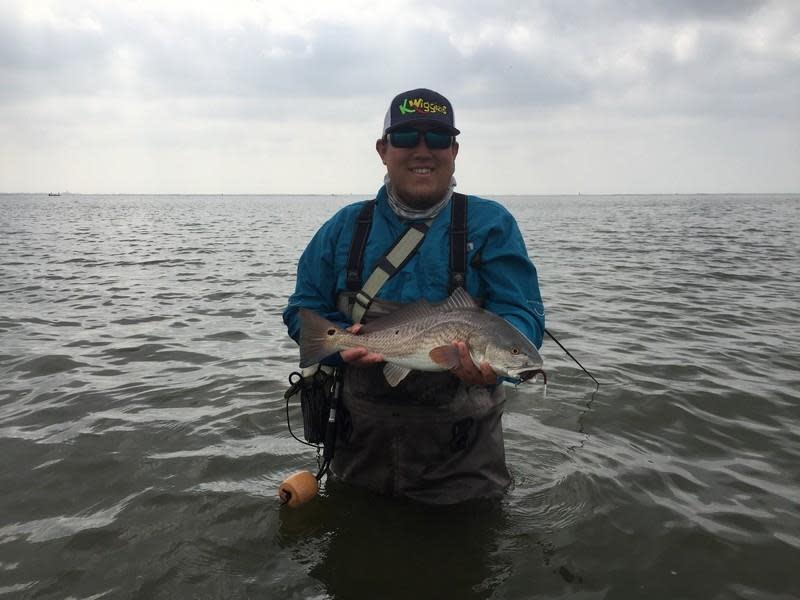 Directions: From SPID, exit Waldron Road from either direction. If you're coming from town, then stay on the feeder and turn at Wind and Wave Watersports (10721 SPID). From the Island, make a U-turn at Waldron Road to get to Wind and Wave. There are several options along Laguna Shores Road. But the easiest might be to park at the first oil field peninsula, being careful not to block vehicle access to the rig or gate.
Nueces Bay Marsh Restoration Area
This spot is along the west side of Texas Highway 181 in Portland, across the highway from Sunset Lake. The Coastal Bend Bays & Estuaries Program has created a launch site with adequate parking in this 160-acre project area. You'll notice a series of grassy berms extended from the surface. The depth between these berms can reach 5-6 feet, providing dramatic bottom contours that attract fish. The marshy middle area periodically becomes inundated and exposed by tidal fluctuations. And outside a perimeter rock barrier is a 6-foot-deep trench. Beyond there, into the bay, are platforms and shell reefs that can hold good numbers of trout.
Directions: From Corpus Christi, cross the Harbor Bridge and causeway. Take the first Portland exit (Moore Avenue) off Highway 181. Make a U-turn and exit at the Indian Point exit and look for the observation deck near the parking lot and turn in there.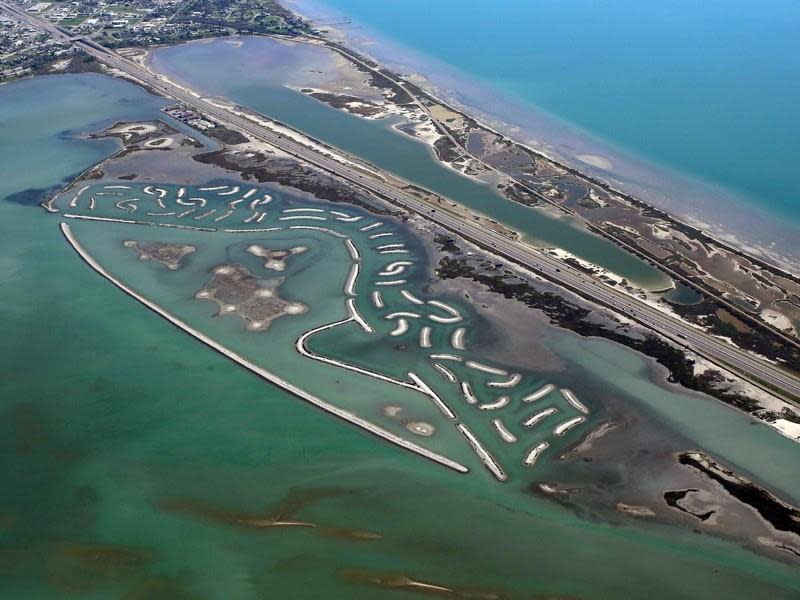 Oso Bay
This is a convenient free launch/wade spot if you're looking for a short paddle and an excellent spot for beginner or novice kayakers and waders. You'll know pretty quickly whether this spot will yield good results.
From the old south Corpus Christi Bay boat ramp (directions below) paddle or walk about a quarter mile east to the Naval Air Station bridge. Fish under the bridge or paddle under it into Oso Bay and target the western edge of the narrow channel with your favorite bait or lure. Best times to fish are late summer through early fall; early morning and high tide.
Directions: Head east on Ocean Drive toward Texas A&M University-Corpus Christi. As you pass the second entrance to the university (Sand Dollar Boulevard), continue on for about a half-mile. On your left you should see the remnants of an old abandoned boat launch on Corpus Christi Bay. Park and launch there.
San Jose Island (Port Aransas North Jetty)
This spot is known as the north jetty in Port Aransas, accessible by taking the Jetty Boat out of Fisherman's Wharf, 900 Tarpon St. in Port Aransas, across from the Tarpon Inn.
Cost: Round-trip tickets run $15 for adults; $8 for children; or $120 for a 10-trip pass. $10 each for parties of 10 or more.
Departures: 6:30 a.m. (summer), 7 a.m., 8 a.m., 9 a.m., 10 a.m., 11 a.m., noon, 2 p.m., 4 p.m. If there are no passengers, the Jetty Boat will not run to the island except at designated times (see below).
Scheduled return trips: 10:10 a.m., 12:10 p.m., 2:10 p.m., 4:10 p.m., 6 p.m.
Amenities: No restrooms or conveniences of any kind on San Jose Island.
Tips: Rent a jetty cart at Fisherman's Wharf to carry equipment. To keep from getting hooks snagged on rocks, try a lemon rig to suspend baits in the water column. If fish are not biting, there's always beach combing, swimming, birding, turtle watching, or bicycling along the remote San Jose Island beach. Wear closed-toe shoes on the rock. In winter, some of the rocks may be covered in slick algae. Some anglers wear metal cleats to improve footing. Watch out for racoons that steal bait and fish. They can open ice chests.
Call: 361-749-5448 or 800-605-5448.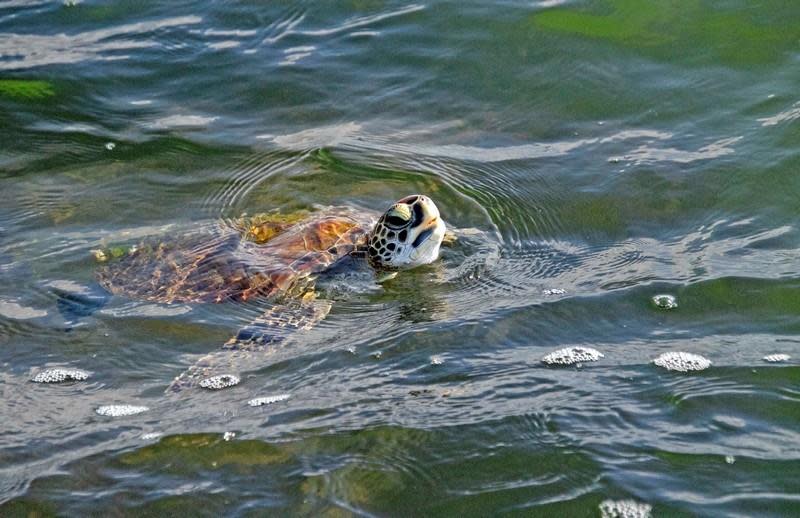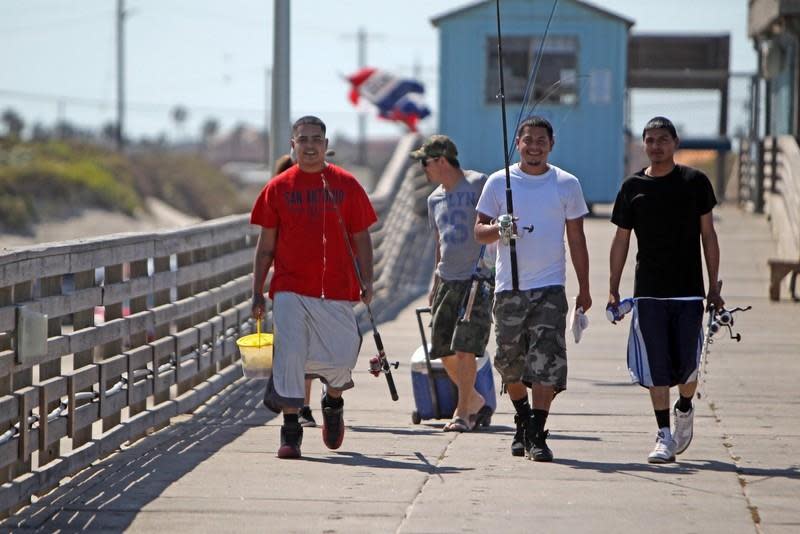 Amenities: Concessions, restrooms, nearby bathhouse and covered picnic tables, plus bait and tackle sold during the day. Rod and reels for rent. Free parking (no beach parking sticker required in lot). Full-service restaurant, Mikel May's Beachside Bar & Grill, serves lunch, dinner, and weekend brunch.
Call: 361-949-7300.
Humble Channel Fishing Piers (Red Dot & Cos Way)
Take your pick. Red Dot Fishing Pier is on the east side of the channel and Cos Way Fishing Pier Bait & Tackle is on the other side. Both are lighted for night fishing. Both are on the JFK Causeway, which spans the Upper Laguna Madre. And both are open 24/7. These piers are low to the bay surface, with benches and rod holders for the sedentary angler and families. Plus, restrooms and concessions are convenient. The night-fishing can be excellent, especially during the black-drum run in winter. Anglers on both piers catch black drum (keeper October-December; oversized January-March), redfish (September & October), trout (year-round), flounder (October-December), croaker, and sand trout.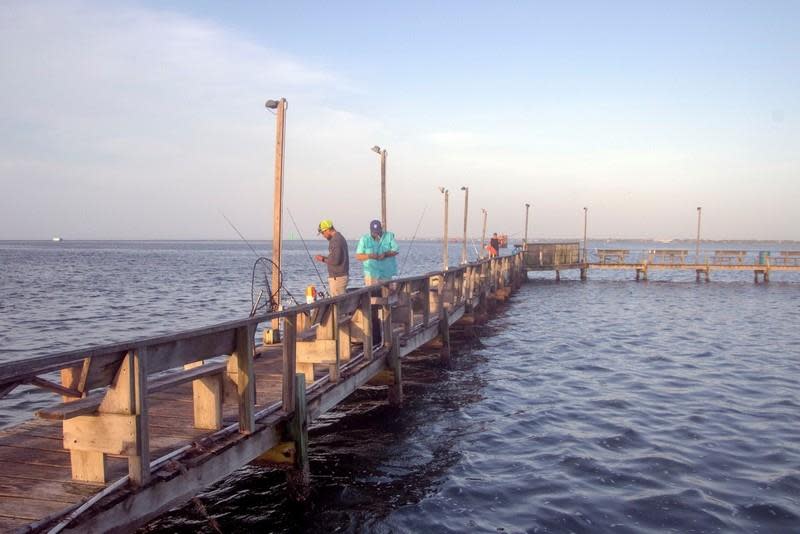 Cos Way Pier
Address: 11645 South Padre Island Drive
Cost: $2 per person; $2 per pole, with a three-pole maximum.
Hours: Pier fishing open 24/7. Store open from 5:30 a.m. to midnight.
Restrooms: Yes
Amenities: Fully stocked tackle, supplies, snacks, drinks, and extras. No rod/reel rentals. Fish-cleaning station. Does not sell fishing licenses.
Bait: A wide variety of live and dead baits.
Rules: No pets, no cast nets, and no chairs (pier has benches).
Phone: 361-939-7513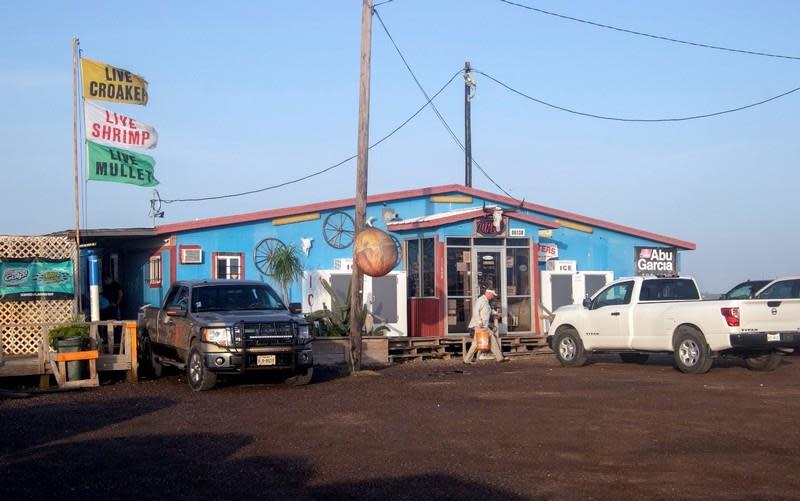 Red Dot Pier
Address: 11801 South Padre Island Drive, along the JFK Causeway.
Cost: $2 per person; $2 per pole, with a three-pole maximum.
Hours: Pier fishing open 24/7. Store open before daylight, closes midnight on weekdays, 1 a.m. weekends.
Restrooms: Yes
Amenities: Limited tackle supplies, snacks, drinks, and extras. Fish-cleaning station. No rod/reel rentals.
Bait: A wide variety of live and dead baits.
Rules: No pets and no cast nets, but you may bring a chair.
Phone: 361-937-5347
Clem's Marina & Fishing Pier
This popular bait house has the area's only submerged green-lights along its pier to attract fish at night. It's within casting distance of the Intracoastal Waterway. The pier is open 24/7.
Where: Under the JFK Causeway on north Padre Island. 13304 SPID.
Phone: 361-949-8445.
Cost: $3 per person; $1 per pole.
Amenities: Bait (live & dead), restrooms, tackle shop, snacks, drinks, pier benches.
Store hours: 5 a.m. to 11:30 p.m.
Fish species: Mainly black drum, redfish, trout, sheepshead, croaker.
Fish Pass Jetty
Where: Near Mustang Island State Park, between Corpus Christi and Port Aransas.  It's not for small children. This remote, short jetty gives sure-footed anglers a high and dry perch to fish the gulf surf. The basic angling style is dead bait on the bottom, but live mullet or shrimp works best. Try live shrimp under a float. Soft plastics lures and topwater plugs also produce fish during calmer conditions. And because the jetties are within Mustang Island State Park, no fishing license is required. If you access the jetty through the state park, you must pay an entry fee ($5 per person; kids 12 and younger free; $70 annual park pass for all state parks). There are no amenities or restrooms near this jetty.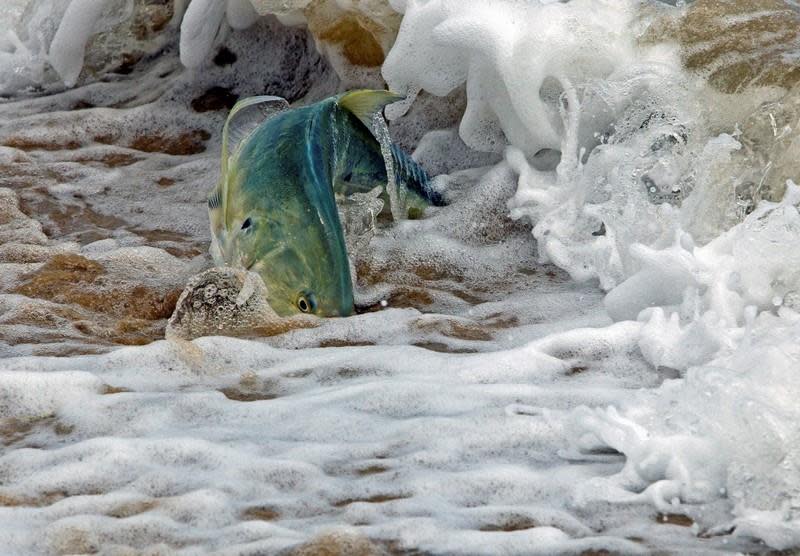 Species: Expect to catch black drum, sand trout, speckled trout, sheepshead, redfish, flounder, jack crevalle, and occasionally snook, and mangrove snapper.
Directions: Accessible from the main park entrance as well as from Beach Access Road 2 off Highway 361. Four-wheel-drive is recommended. The channel this jetty once flanked silted in many years ago.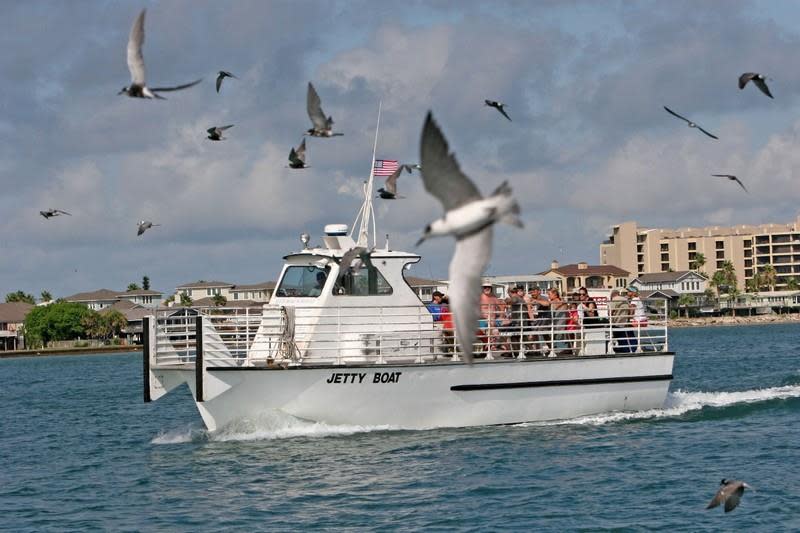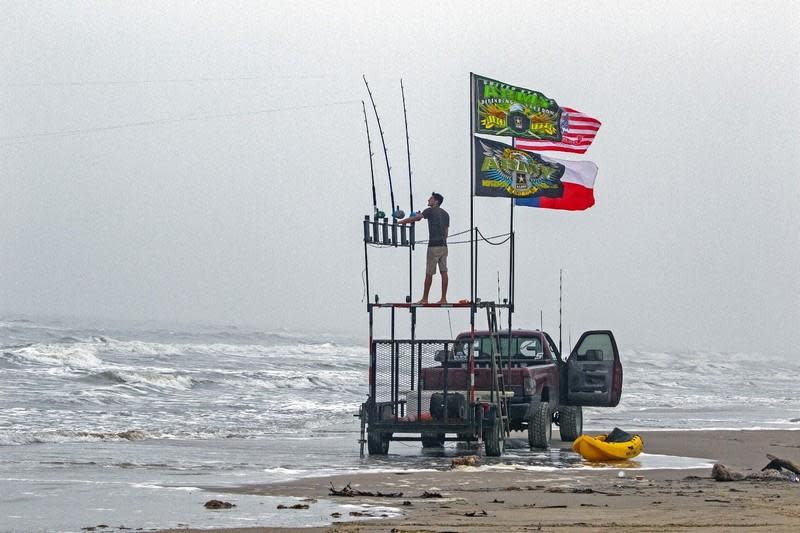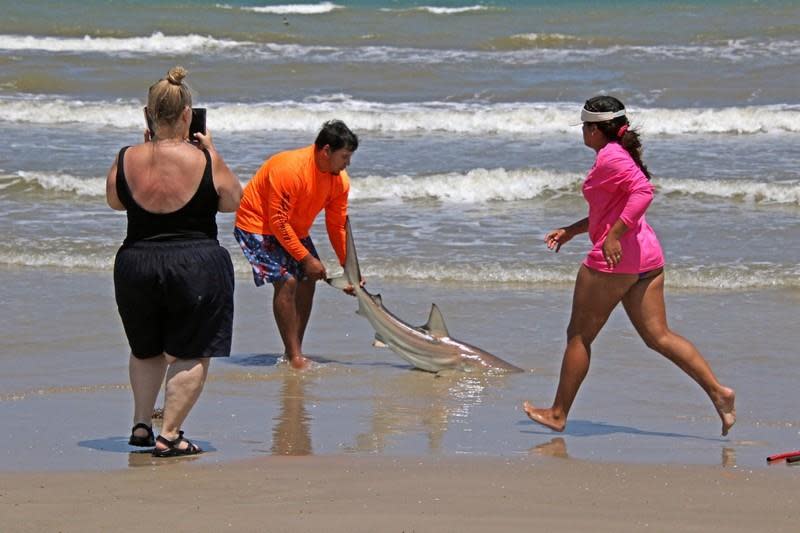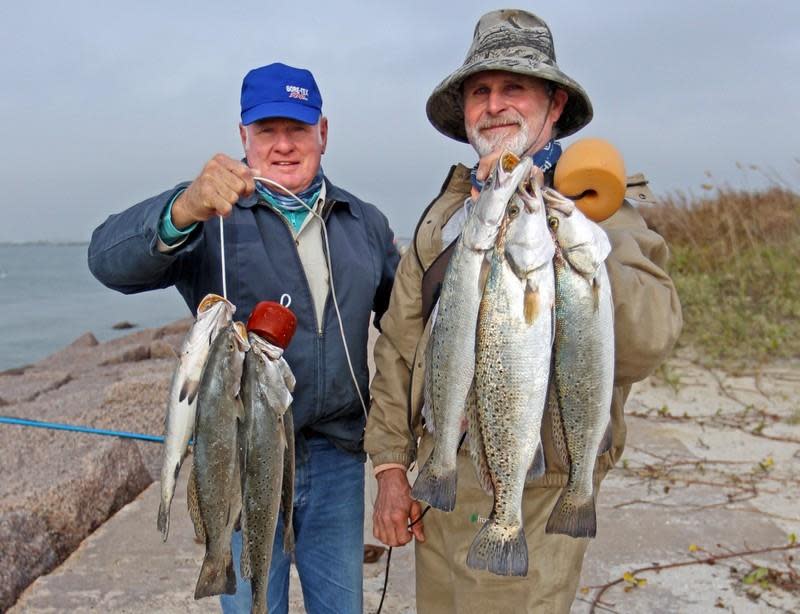 ---
Go Wild with David Sikes is an ongoing nature and outdoors series for Visit Corpus Christi. David Sikes has over 20 years of outdoor columnist experience and is an incredible resource for all things nature in the Coastal Bend. Follow along with Visit Corpus Christi as David gives us everything we need to know about fishing, hunting, birding and so much more!