Calling all yogis! Whether you want to connect with your spiritual side, or just take your relaxation to the next level while on vacation, Corpus Christi yoga studios have you covered! There are several yoga studios located around the city where you can pop in, enjoy a rewarding class and interact with other yoga-lovers in the area! Get ready to find your zen!
With a solid mix of traditional and instructional classes, Crossroads Yoga is the perfect place for yogis of all shapes, sizes and skill levels! The convenient hours make it possible for even the busiest tourist to find time in their itinerary to stop by for a quick flow and savasana. This year, the instructors are introducing a drop-in Happy Hour flow on Fridays from 6-7 pm open to all levels of practice!
Location: 5830 McArdle Road, Corpus Christi TX 78412
Established in 2005, Youga Yoga is a staple of the Corpus Christi yoga scene! They strive to bring the local community together through donation-based yoga classes, partner events and year-round workshops all over the Coastal Bend. Visit their website for current events going on to aide in your spiritual self-discovery!
Location: 100 N Shoreline Blvd, Corpus Christi, TX 78401
In its peaceful downtown location, the Yoga Studio of Corpus Christi welcomes new and familiar faces, offering various types of classes, including hot yoga, beginner's yoga and Vinyasa flow. The studio's experienced staff will have you feeling at ease in no time! 
Location: 509 Clifford Street, Corpus Christi TX 78404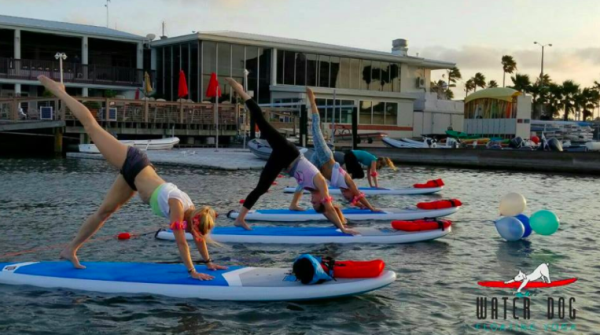 Ever wondered what'SUP with yoga?  If you want an extra challenge, Water Dog Floating Yoga offers the world's first floating yoga and fitness studio. This unique studio (boat!) offers both stand up paddleboard (SUP) yoga, pilates and fitness classes on the water AND traditional yoga and fitness classes on the upper deck. You can also schedule private and group classes to get the whole family involved!
Location: 89 Coopers Alley, Corpus Christi TX 78401
If you thought yoga was a peaceful, restorative practice—you're in for a treat with Bayside Pilates and Fitness. This Southside fitness studio takes the flow up a notch with a schedule of classes that combine yoga, pilates, barre and other intense exercises! You'll definitely leave with that incredible post-workout feeling.
Location: 1324 Airline Road, Corpus Christi TX 78412            
---
If you're looking for some zen while visiting the Coastal Bend, look no further than these studios. Whether experienced, intermediate or a beginner, Corpus Christi has a wide variety of classes that are suitable for everyone. Namaste!