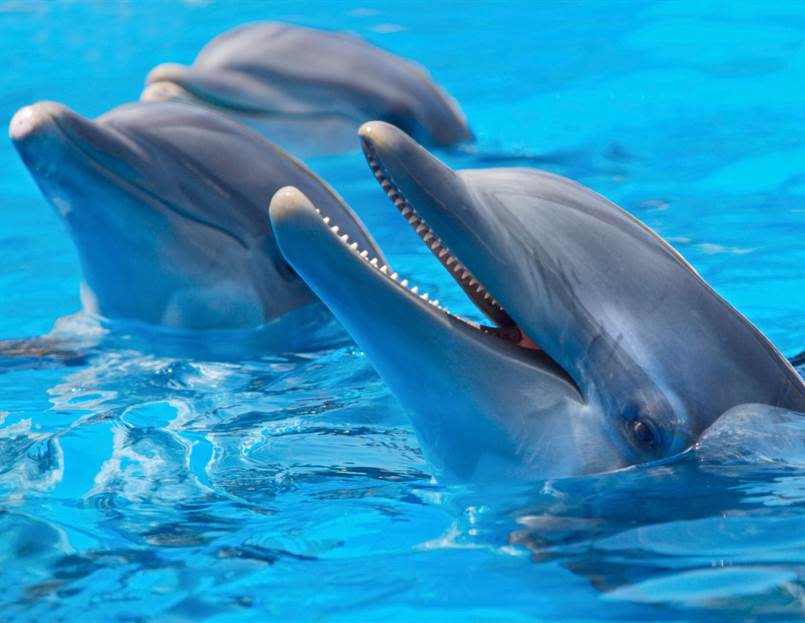 There's nothing like a sunny day on the water with the fascinating dolphin families of the Gulf of Mexico and Lydia Ann Channel! Here you'll find how these friendly creatures exist in their natural habitat—they are certainly a fun-loving, playful bunch. Don't miss out during your stay Corpus Christi! We have a variety of dolphin tour options to fit your family's needs.
Kohootz Dolphin Encounters
Join Captains Gary and Susan as they take you on an extravagant two-hour dolphin watching and lighthouse tour around the Gulf of Mexico. Watch happy dolphins in their natural environment as they catch fish, interact with each other and welcome their newly acquainted visitors (you)! And don't be surprised if you even get to pet one! After dolphin watching, the tour moves toward the Lydia Ann Lighthouse where you can find shrimp boat fleets, a WW2 shipwreck, St. Joe Island, Seamen's Memorial Tour and more.
Location: 506 Bigelow Street, Aransas Pass, TX 78336
Prices:
Children under 2: $8
Children ages 3-12: $19
Adults: $30
Seniors age 60+: $28
Scarlet Lady Dolphin Cruises
The Scarlet Lady features one of the most exciting dolphin tours on the entire Coastal Bend! Cruise along the waters of the Lydia Ann Channel in search of wild dolphins and flocks of seabirds, and enjoy a breathtaking view of the iconic Lydia Ann Lighthouse.
Three different tours are available. The Adventure Tour – which is the most popular – departs two times a day and lasts an hour and a half. The Sunset Dolphin Adventure Tour allows you to watch Dolphins play in front of a magnifying sunset on the Lydia Ann Channel. Private charters of up to 49 people provide a personalized experience for you, your family and friends.
Location: 440 W Cotter Ave, Port Aransas, TX 78373
Prices:
Children ages 3-11: $30
Adults: $38
Private charter prices vary
Captain Jacks Jet Ski Rental
Captain Jacks Jet Ski Rental is a premier spot for jet ski tours around the Coastal Bend. Follow Capt. Jack, who has been giving tours for over 19 years, as he shows you the beautiful sights and sounds of the Gulf of Mexico, where dolphins inhabit the waters. Banana Boat rides are available as well, along with a full-service Tiki Bar Wednesday through Sunday.
Location: 702 N Chaparral St. Corpus Christi, TX 78401
Prices
Jet Ski: $15 per 15 minutes, $50 per half hour, $90 dollars per hour.
Banana Boat: $10 per seat, seats up to 12.
Other options to see dolphins:
Japonica Boat Tours at Harrison's Landing
Cruise on the Texas Tease
Short right on the Port Aransas Ferry for free! 
A day spent with dolphins is the perfect way to kick off your Corpus Christi vacation.
These playful creatures will welcome you to their home with open fins! We hope you have an amazing time!