Several events, activities, and celebrations will be held by community organizations alongside the Corpus Christi Black Chamber of Commerce on Dr. Martin Luther King Jr.'s birthday this year in Corpus Christi! Here are three ways to honor MLK's legacy and spend the weekend in the Gulf Coast Capital.
MLK Jr. Prayer Breakfast
January 14: Emerald Beach Hotel at 9:00 a.m.
The public and local business leaders are invited to a free community event and breakfast at Emerald Beach Hotel on January 14, 2023. During the event, donations will be accepted for diapers, bottles, and wipes for Esperanza de Tejas Inc., a local non-profit that provides access to fresh food, educational and workforce opportunities, and promotes healthy relationships at home.
YWCA Corpus Christi Racial Justice Forum
January 16: City Hall, 6th Floor at 10:00 a.m.
Join the community and YWCA for the 18th annual Racial Justice Forum. This year's theme is "Together We Can Be The Dream." A panel discussion will take place with community leaders followed by the annual MLK Jr. March starting at City Hall at 12:00 p.m.
37th Annual MLK Commemorative March
January 16: City Hall at 12:00 p.m.
The Corpus Christi Black Chamber of Commerce will bring the community together on Monday, January 1, 2023 to celebrate the 60th anniversary of Dr. King's "I Have a Dream" speech with a commemorative march starting at noon at City Hall and ending at Church of the Good Shepherd. All are welcome!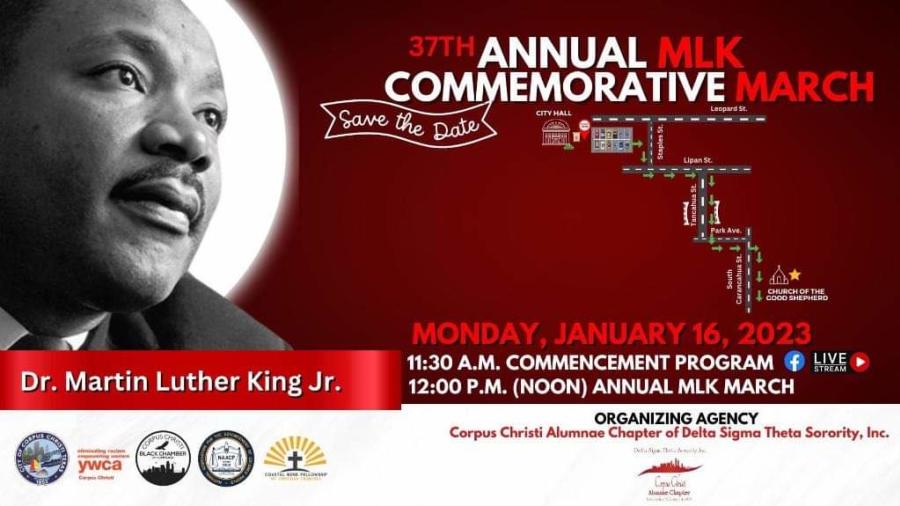 Corpus Christi's cultural vibe comes from many diverse influences, including the city's talented Black entrepreneurs, restaurant owners, and local businesses.
Read More