Every night is a great night for a bar crawl through Corpus Christi! Whether you're looking for laid-back vibes or something more swanky, we've got you covered. From cocktails and wine to craft beers, these fantastic locations in the Downtown/Bayfront area have it all, and will provide you with a night you'll never forget.
House of Rock
We're starting off strong for those who want to rock n' roll all night. House of Rock is an upbeat bar comprised of two sections: The Venue and The Main Bar, which also includes The Kitchen. Open 7 days a week with live entertainment and a full bar offering more than 80 beers, there is always something new to try. House of Rock is a popular location for community events and gatherings of large groups to watch the big game or play bar games.
There's also a huge food menu that offers a wide variety and to-go options for all selections. Stop by throughout the week for Happy Hour from 4pm to 7pm as well as daily drink specials. Don't miss Open Mic Night on Tuesdays!
Executive Surf Club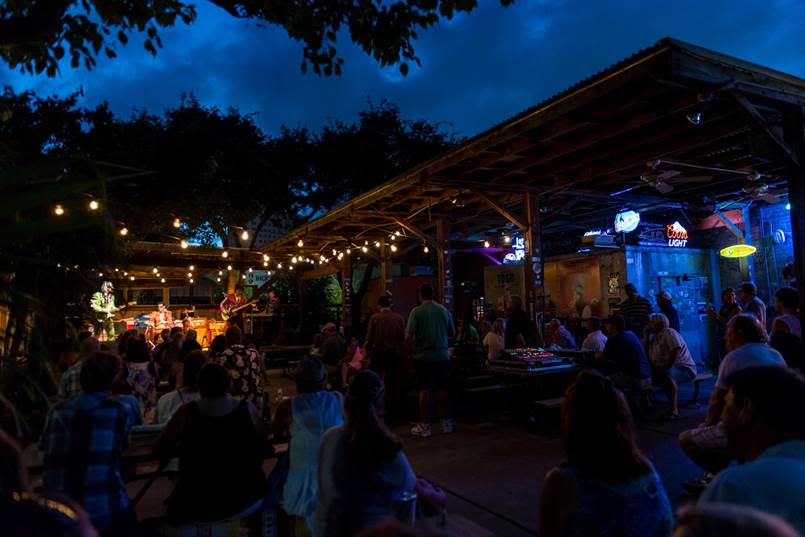 This is the place to go not just for drinks, but for terrific food when you need to stop for a bite during your bar crawl. The Executive Surf Club features Tuesday Pint Nights and live music outside on their patio in addition to their extensive menu from bar bites to desserts. With a full calendar of events, you'll never miss out on the action, especially when you are the one taking the stage for Open Mic Night every Wednesday.
The Executive Surf Club boasts more than 30 beers on tap, hard ciders and a variety of wines for the vino-lover in your group. Browse their website for upcoming featured events and performers to start planning your night out on the town with a stop at this Water Street Market location.
Bar Under the Sun (BUS)
This unique spot has an interesting history and an even more intriguing atmosphere. The former Greyhound bus station in Downtown Corpus Christi, The Bar Under the Sun (BUS) is a patio-style bar that offers a wide selection of beer, wine and signature cocktails. While you're relaxing outside with a drink in hand, challenge your friends to yard games or grab a bite to eat from one of the many local food trucks that frequent this cozy hangout spot. Open for lunch and dinner with outdoor TVs, it's also a great place to cheer on your favorite team during the big game. Feel free to bring your four-legged friends with you, too, because they are also pet-friendly!
Comics Live Downtown
Come ready to laugh until it hurts at the next stop on your Corpus Christi bar crawl!  Comics Live Downtown is a stand-up comedy club located in Bella Luna in the Downtown/Bayfront area. This fun stop regularly features comedic guests, but also allows for aspiring comedians to take the stage and test their chops during Open Mic Nights. The laid-back vibes along with the food and drinks are also worthy of a standing ovation. Take your pick from a large array of pizzas and a wide selection of beer, and get ready to laugh all night long.
The Gold Fish

There's a good chance you will leave this next bar with more friends than when you entered! Yes, you'll fall in love with the friendly and knowledgeable bartenders. The Gold Fish sits in the heart of the Downtown area and offers craft beers and specialty drinks that are truly made with the utmost care and love. The bar tends to its own herb garden, meaning their garnishes are always fresh. It's the perfect destination on those warm summer nights, as most of the seating is outside with a back porch-feel. Take in all the sights and sounds of Corpus Christi in a hip and modern setting.
---
There are many different ways to enjoy Corpus Christi and a bar crawl around the downtown area is a great way to take it all in! With a variety of options in atmosphere, food and drinks, there is something for everyone at every stop along the way. Start planning your trip to the Gulf Coast now at visitcorpuschrisitx.org!